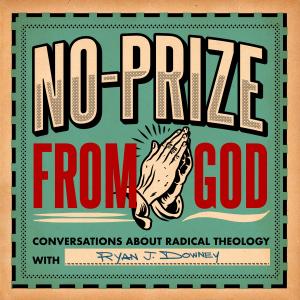 No-Prize from God. Conversations about belief, unbelief, and everything between.
My name is Ryan J. Downey. I've worked for MTV News, MSBNC, The Hollywood Reporter, and Billboard, as reporter, writer, and producer. I've contributed to Huffington Post and the San Francisco Chronicle. My writing and production credits include work with Marvel Entertainment, Lionsgate, Sony, Warner Bros., Universal, Hearst Digital, Verizon go90, and IFC.
I've written over a dozen cover stories for publications like subcultural tastemakers Alternative Press, Metal Maniacs, and Rockpile. I'm also the founder of PopCurse, a new pop culture brand.
I was born and raised in the Midwest. My father came from an Irish-Catholic family; my late mother was a devout Presbyterian. In my life, I've developed strong relationships and shared rich experiences with Christians of various denominations, Buddhists, Muslims, Rastafarians, Krishna Consciousness devotees, agnostics, atheists, self-described magicians and witches, and others across the belief spectrum.
During a conversation about theology unfolding on Twitter, someone told me I was trying to get "a No-Prize from God." I immediately understood the reference, as any faithful reader of Marvel Comics would. I also recognized the truth in the comment. The more I reflected on it in the coming days and weeks, the more I realized that in fact, yes, I have been trying to get a No-Prize from God for most of my life.
The faith discussion in America seems to be dominated by right-wing evangelicals and the emerging voices of the "new atheism."
Where, pray tell, is the conversation for the rest of us?
I started No-Prize from God as a means to broaden that discussion. Specifically, I'm inviting creative people from various fields (film, television, music, literature…) to tell me about their experiences, their worldview, what shapes and drives them. I want to know where so many brilliant people who produce immersive and engaging art land on life's bigger questions, as we journey together into the great mystery.
This blog will serve as a companion piece to the podcast, where various conversational threads and tangents can be explored in greater depth. Max Cavalera, legendary band leader of Sepultura and Soulfly, spoke to me about his mother's immersion in the tradition of Candomblé. My new blog on Patheos is the place where I will explore something like that in more detail. Dwid Hellion, musician and occult inspired artistic provocateur, talked with me about our shared love of late Indiana horror host Sammy Terry, who introduced b-movies on Saturday nights for several decades on local access television beginning in the 1960s. I'll be posting here about Sammy Terry.
Most importantly, No-Prize From God is a conversation. I want to hear from you. What interests you? What drives you? Who should I interview? Let's talk. Perhaps we can earn that No-Prize from God.
Subscribe to the No-Prize from God podcast here.