By Evan Koons
Our mailbox keeps on getting filled with letters from you, and all we can say is "thank you, thank you, thank you." Please keep sending them in! It's awesome hearing your thoughts and stories, just like in this letter from exile Carolina Hinojosa.
She wrote this letter to us after viewing episode two on the Economy of Love.
———
I was caught in an array of emotions after having watched "The Economy of Love." Knowing that the Trinity is represented as family and therefore a direct reflection of what God's love looks like toward the world is astounding. When we say yes to family, we are saying yes to living out a life of offering. The model of God's grace is family. Deep.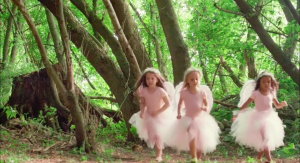 The idea that the Trinity is also expressed in my marriage with Erasmo is so moving. Me, him, and our family together representing divinity and the love expressed from that divinity completely shatters my tiny idea of what family looks like. It is generational work that makes me want to build higher and on firm foundation.
I let that thought fill my soul for a while and thereafter had more questions. If something so beautiful can't be applied to everyone, then what is the point? Jesus came for everyone, did he not? I pressed further.
Can the Trinity exist in a union that does not have children? Absolutely. There are plenty of couples that are role models and parents to so many other people, astounding with each and every act of selflessness. After all, love is the economy of the world.
Can the Trinity exist in a single parent household? Absolutely. Mom or Dad, God, and child(ren) all work together to become an offering to the many lives that are touched by watching a single mom tirelessly pour into her children and have her children pour into their communities.
There are no picture perfect models of families in the bible so why would I expect mine to be any different? It's these imperfect models of family that are needed to understand that God uses each and every one of us to fulfill a greater purpose in our understanding of what surrounds us. 
Trinity. I'm hanging on to that. Thank you, Jesus.
Sincerely,
Carolina Hinojosa
———
Because Carolina's writings were so spot on, I was wondering if she might have thoughts about how "singleness" fits into the Economy of Love. There is so much pressure to find a spouse, but marriage isn't for everybody. So I asked her, "how might the Economy of Love speak to people who are single?"
She had this to say:
———
I believe the Trinity can most certainly be represented in singleness. With some fear of sounding heretical, I hope that my words come across as I intend them. 
When a person's mind, body, and soul become engaged in the progression of love in world I believe it is a great representation of the Trinity. Giving of self (Father/Mind), continuing to build upon the foundational work of God (Son/Body), and fostering good in others (Holy Spirit/Soul) are God's expression to the world through one single, solitary person. You don't need to be in a relationship with anyone to represent the Trinity; you need only be in relationship with Christ, no matter your marital status, in order to be the Economy of Love onto the world.
Blessings,

Carolina Hinojosa
Originally published at the FLOW blog