News and views on all-things Muslim for March 23-April 2, 2015.
From a prominent Muslim woman on the list of Badass Women to a must-read article on how to foster our daughters' voices, I give to you newsworthy links I think you should know about. Check out the links and let me know if you think I should add anything!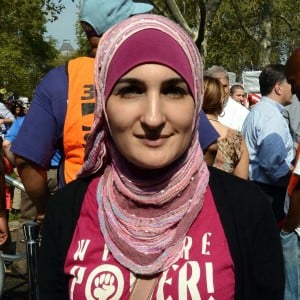 (pic from NYMag)
Articles About Muslims 
The first picture you will see on 14 Badass Women You've Never Heard Of is that of superstar, Linda Sarsour. Of course, if you have your finger on the pulse of American Muslims, you would know that she is (as the article quotes), "every Islamophobe's worst nightmare."
A Picture Of A 4-Year-Old Syrian Girl "Surrendering" To A Photojournalist Has Gone Viral A heartbreaking picture by Gaza-based photojournalist Nadia Abu Shaban shows a four-year old Hudea raising her hands in surrender to the camera. This picture shows us a glimpse of her world in war-torn Syria.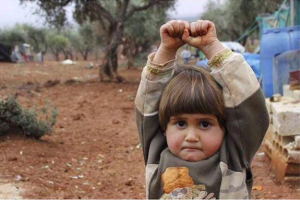 (Pic by Gaza-based photojournalist Nadia Abu Shaban- yeniakit.com.tr / Via Osman Sağırlı)
We all saw Aamer Rahman's hilarious video about the absurdity of reverse racism. Now the Australian Comedian Aamer Rahman Thinks Stand-Up Can and Should Tackle Racism. And you know what? I think he may be right.
Sigh. A Gaza man feels duped after selling Banksy mural for $175. The man didn't realize the true value of the work of art and says he would have never sold the piece to a local for such a meager price had he known who Banksy was.
Horrific news from Yemen, Witness to air strike on Yemen refugee camp: women and children burned beyond recognition. Praying that there is some relief for the innocent.
Chinese state media deleted their report that a Muslim man was jailed for his beard. A court has sentenced a Uighur man to six years in prison for "picking quarrels and causing trouble" as well as for having a beard. Note: "After this post was published, the news article citing this news was deleted as was an apology on social media from a reporter claiming to have misreported the story."
Uh oh #CreepingShariah. Islam Could Become the World's Largest Religion After 2070. According to the Pew research Center, the Muslim population is expected to "grow twice as fast as the rest of the world's population between now and 2050, largely because Muslims tend to be young and have high fertility rates." (pic from Pew Research Center).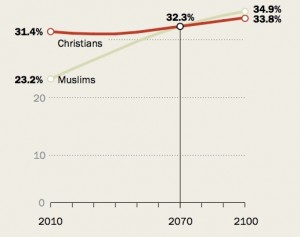 (pic from Pew Research Center)
More bad news for Islamophobes, 'A Hardliner's Nightmare': Religious Tolerance in Europe's Only Majority-Muslim Country. Albania is the only overwhelmingly Muslim country in all of Europe and for a number of reasons mentioned in the article, it's religious tolerance is news worthy.
Articles By Muslims 
'Patriot' Terrorist Frames Muslims With Quran Bomb is a thoughtful article by Dean Obeidallah about the Georgia man who planted a bomb was willing to see innocents die so that people would blame Muslims. And he called himself a 'patriot.'
Nafeez Ahmed writes that the'Islamic State' is a symptom of a deepening crisis of "civilisation premised on fossil fuel addiction, which is undermining Western hegemony and unravelling state power across the Muslim world" in his article, Islamic State is the cancer of modern capitalism.
Maham Javaid writes, Don't arm Pakistan's teachers. She believes that arming teachers against terrorism is not the answer and long term solutions should be looked at instead.
I know we have all had enough of Ayaan Hiri Ali, but here is an article you will be glad you read, Ayaan Hirsi Ali's Heretic: With Friends Like These, Who Needs Jihadis? By Haroon Moghul.
If you want to read an article about the current situation about Yemen, this is a good place to start: What do the leaders of Yemen's Houthis want? This thought provoking article by Najam Iftikhar Haider discusses the Houthi rebellion and it's roots.
Interesting Stories
If you have daughters (or sons) I suggest reading this blog: Helping our Daughters Trust their Voices: The Queen of Sheba. An excerpt that resonates with me- "No matter how qualified I was for a position or how excellent my work was, I distrusted my own abilities."
This one is not about Muslims, but if you are like me, the news of Trevor Noah taking over Jon Stewart's Daily Show as host is huge. The fact that anyone who was not white and male heading the show brought tears to our eyes. Soon, however, we were bombarded with articles about his infamous misogynistic and anti-semetic tweets from years before went viral. Noah responded to the critics:
To reduce my views to a handful of jokes that didn't land is not a true reflection of my character, nor my evolution as a comedian.

— Trevor Noah (@Trevornoah) March 31, 2015
Videos to Watch
This video is not new but worth watching again. It Aamer Rahman's video on Reverse Racism.
---
Sabina Khan-Ibarra is a freelance writer and editor. She regularly contributes to her blog, Ibrahim's Tree which she created after the loss of her infant son in 2011. She created Muslimah Montage as a platform for women to share their stories. Sabina currently lives in Davis, CA and working on her memoir. Follow Sabina on Twitter: @muslimahmontage