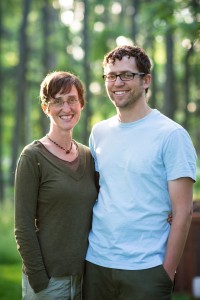 After years of living and working in Nicaragua, China, and South Africa, we have come back to the U.S., trying to follow this wild fellow named Jesus in a kind of normal, middle-class place.
It's hard.
We wrote a book, This Ordinary Adventure: Settling Down Without Settling, about the first year and a half of this process. But we're still learning (and often failing), trying to live out Christian faith in all the extremity we see in the Bible. This blog is about that on-going process. We are also gathering people on our Facebook page to interact and try to follow this wild fellow Jesus.
While overseas, we lived in abject poverty, taught English, directed a microfinance project, taught at a seminary, rode motorcycles, got MBAs, raced sunrises, chased sunsets, and added two kids to the mix.
Christine (Facebook, Twitter) teaches for Eastern University and is pursuing a Ph.D. in cultural Anthropology at the University of Wisconsin. She also wrote Into the Mud: Inspiration for Everyday Activists. She speaks and blogs about development, justice, and faith at Into the Mud.
Adam (Facebook, Twitter) serves as the director of new media for InterVarsity and helps to lead Urbana. He previously contributed to Outspoken: Conversations on Church Communication. He blogs about communication, culture, and leadership at Executing Ideas, and speaks frequently, too.
We look forward to interacting with you here on Patheos. Nobody feels like they're really nailing the life of a disciple here in the U.S.
Maybe we can do better, together.
Adam and Christine Jeske