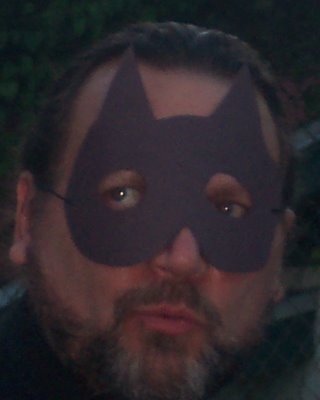 Er … I'll explain later.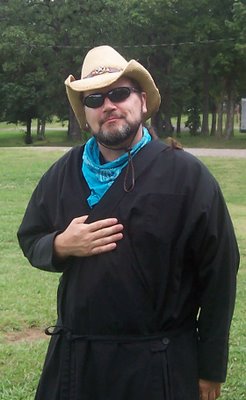 Can you say campy? This was my official Camp Outfit. In case you missed it, Fr John Monto and I performed a song about it on last week's Orthodixie Podcast.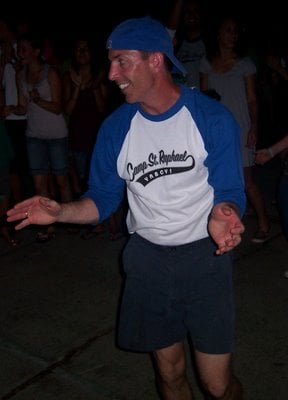 This guy? Well, this is Doctor Mark. In this photo, he is, believe it or not, preparing to Break Dance! Not bad for an 85 year old man. (I think that's right.) Anyway, Dr Mark receives an honourable mention (i.e., an "also ran") in this week's Orthodixie Podcast.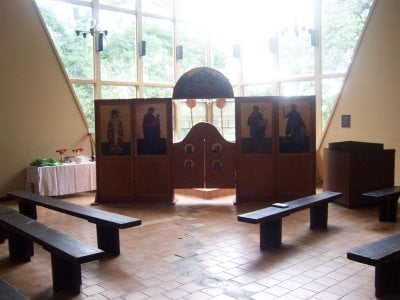 The chapel at Camp St Raphael. When asked by a camper about my favorite part of camp, I hesitated to sound trite but, I replied: "The services — Orthros & Vespers — with all the campers singing."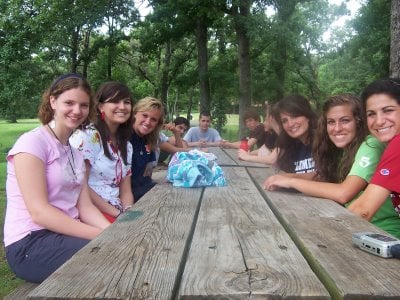 Ah, yes … "Ask Abouna." This is where the campers get to ask any question, hopefully about the Faith. I believe this group, no doubt the less attractive portion at the other end of the table, asked: "What kind of car do you drive?"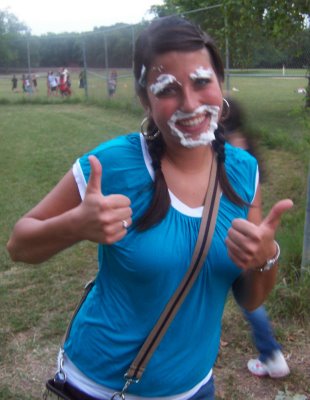 Honestly …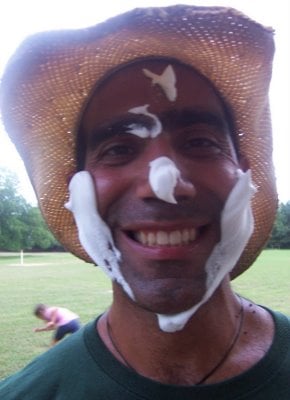 I have no idea.
One minute sanity reigned; the next, boys and girls were running around happily looking like the two goofy pics above.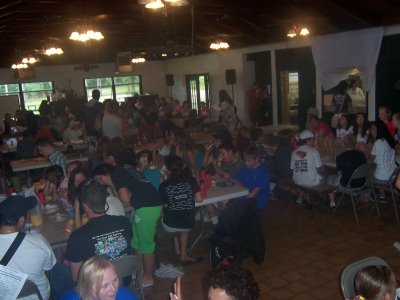 Did I mention sanity? For the truly insane, there's mealtimes. (The rest of us just gotta eat.)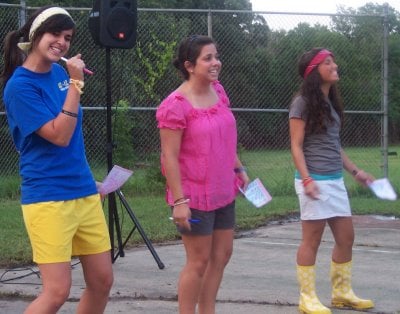 Dream Girls?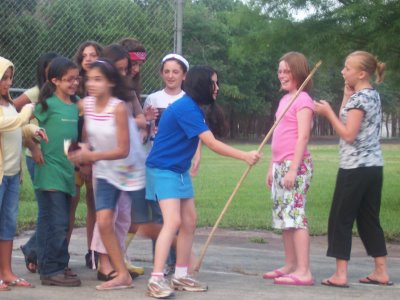 Bad dream girl.

Hippies …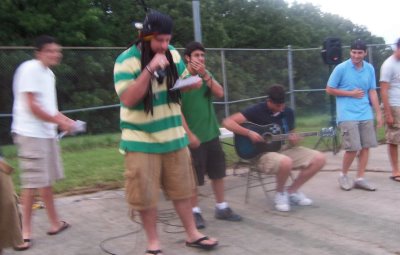 Rastas?
By now I'm sure you've all heard these guys. Just in case, they are the finale here and here.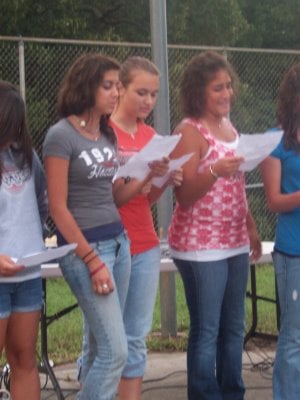 The one in the middle calls me "Dad."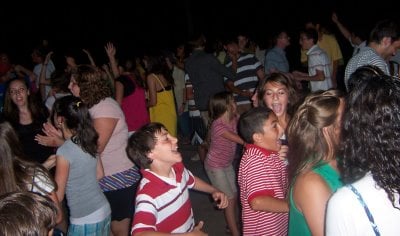 Hafleh!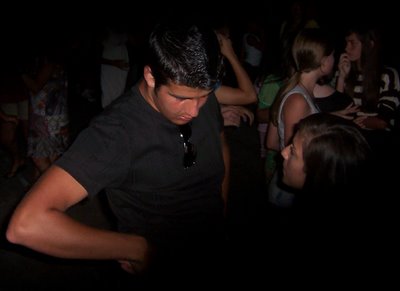 It was Oklahoma. It was July. It was one million degrees. A Big Corp from up north sent down a male model to market their anti-perspirants and deodorants. Here he is demonstrating the fragrance for a young female participant.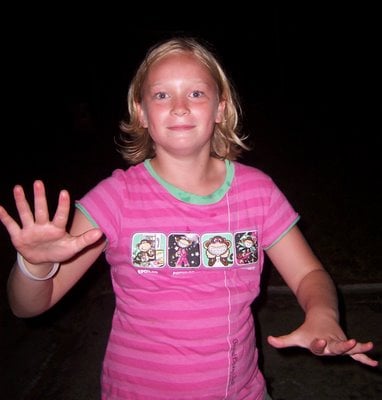 A young lady paralyzed, no doubt, by the sweet smells of Yankee perfume.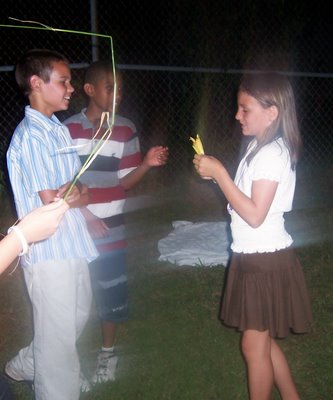 Speaking of which …
The boy = mine. The girl = his (in his dreams). Note, he has given her a flower.
Lord.
Speaking of which …
This guy? Dead Man Walking. He's going to the chapel …
Yo Camille! –Gonna get
There's less than
–married
30 days!
… the chapel of love.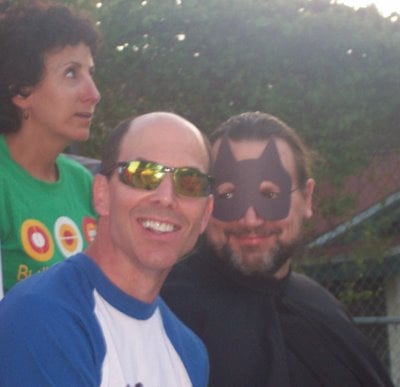 Aha! You have figured it out! And, of course, you are right. That's Stevie Wonder to my right, and Toto (the dog in the tornado movie) behind me. That said, I probably look even more like Batman now! Dontchya think?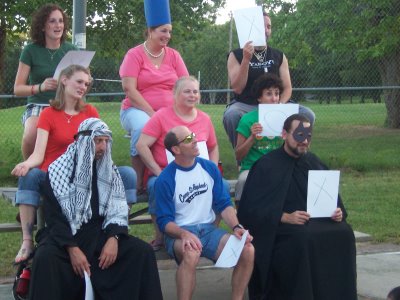 Truth is …
It was Hollywood Squares. (Can you find Marge Simpson?)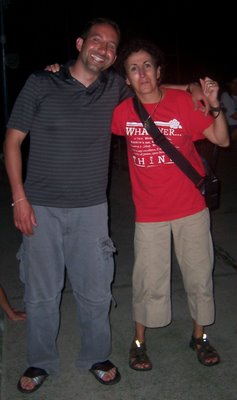 The real Dynamic Duo. Fr James Shadid & Gayle Malone.
Glory to God for all things!
* I am away for a few weeks: Clergy Symposium at Antiochian Village and a spell in North Carolina. Posting and comment approval may be sporadic. Prayers coveted.
PS: Look for me in a movie near you. 🙂