Iconographer Dmitry Shkolnik and his helper, Aleko Michedlishvili have begun the latest icon install at St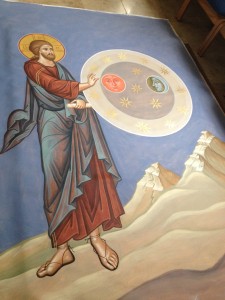 Joseph Orthodox Church, Houston, Texas.  Pictured below, unfurled on the floor and out of order, are:
Christ creating the Universe.
Christ creating Adam & Eve.
The Temptation & Fall.
The Expulsion of from Paradise.
Beneath these four scenes, on the north wall of the Narthex/Baptistery, will be some of the Evangelizers of the Nations:
Nina of Georgia
Cyril & Methodius
Mary Magdalene
Photini, the Samaritan Woman
Nicholas of Japan
Joseph of Arimathea
[And, in my haste not pictured below, Thekla and Patrick of Ireland.  Also, I'm a newbie to Patheos blogging, please forgive the redundant images.]
A huge wall mural on the east wall will greet those entering the Temple, logged here in three separate images, depicting Christ commanding the Disciples to go and make disciples of all nations, baptizing them in the Name of the Father, and the Son, and the Holy Spirit.
Above this huge scene, cresting three arched window openings will be medallion icons of Christ, the Theotokos, John the Baptist, Peter & Paul.
An image of the scaffolding shows the north wall — with east facing wall to the right of the scaffold in another pic.
Click the images (below) to enlarge — click again for clarity & hugeness.
For images of the Dome Installation (2011) click here.
For images of the American Saints and scenes on the south wall of the Narthex / Baptistery (2013) click here.
Your prayers.