In 2005, my mother and I attended a Speaking of Women's Health conference event in Columbia, Missouri. While there, we attended a session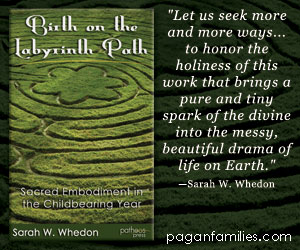 on labyrinths. I had only briefly heard of labyrinths before this time and they were new to my mom, but we were both instantly captivated by the symbol, metaphor, and process and have remained so ever since. The speaker shared that there was a labyrinth on the grounds of Boone Hospital, designed for patients to walk and also open for community use. My mom and I couldn't help ourselves—we drove through the streets of town looking for it and walked it together feeling an exhilaration of discovery. It took me a little while, but I eventually discovered that a labyrinth is a perfect metaphor for birth and could be of potent use during birth education, as well as a tool for birth preparation and for processing one's birth story, feelings about birth, and birth experiences. I was inspired by Pam England's work with the LabOrinth and began to incorporate the concept into my own birth classes. Most couples seem to connect with it, regardless of their own religious background, though I think on the surface it feels a little too "New Agey" to some of them. Labyrinths are actually ancient (oldest found is 3500 years old!) and have been found in many cultures and places. According to England, they were used by midwives in England 500 years ago as tools for healing. And, centuries ago, mosaic labyrinths inlaid in the floors of churches were walked by pilgrims on their knees (those who could not actually make pilgrimages to the Holy Land in person, would crawl through the labyrinth in the church on their knees as their pilgrimage). I use the crawling example in class to explain that in the "labyrinth" of birth, you can go at your own pace and speed and you can even crawl if you need to! You can also find your own way blindfolded or walking or running or dancing. When Pam subsequently wrote a book expanding on the labyrinth as a metaphor for birth, I eagerly bought the first edition and then the second as well!
Last year, while browsing through the Kindle store on Amazon, I made the chance discovery of a delightful little treasure of a book called Birth on the Labyrinth Path, by Pagan Families' own Sarah Whedon. It was very affordable and so I snapped it up and devoured it right away! The book's lyrical explorations inspired a brief blog post, through which Sarah then discovered me. After some time enjoying each other's writing, she invited me to become a contributor here at Pagan Families. How fun that our life labyrinths led us together in this way 🙂 This week we're celebrating the anniversary of Sarah's lovely book with a fun giveaway and a series of thematic posts. I'm also running a companion giveaway on my personal blog.
Labyrinths are not mazes. There is only one path to the center and the same path back out again (though the route is circuitous). They can be used a walking meditation, a spiritual pilgrimage, a metaphor for life, prayer walks, healing, balance, etc. There are several historic churches with labyrinths on their floors and, as with the one at Boone Hospital in Columbia, MO, there is a move to include them on the grounds of hospitals as a tool for healing and renewal. The book Childbirth Education: Practice, Research, and Theory actually suggests that there should be a labyrinth available at every hospital specifically for pregnant women to walk during labor.
Based on Pam England's LabOrinth article, during birth workshops or in birth art sessions, I enjoy showing expectant parents how to draw a birth labyrinth. Drawing a labyrinth with an explanation of how this type of image can be used to explain/explore the progress of labor as opposed to medical models such as cervical dilation charts or labor progress "bell curves," can be a very eye-opening exercise for parents. The resulting image is a powerful visual of "normal birth," instead of "clock watching" birth. I've made two posters than I use when I teach birth classes. The first shows a rough Friedman's curve and a cervical dilation chart—these images are part of a deeply ingrained cultural view of birth and it is hard to shake these associations. This linear birth structure may be how we view labor from the outside, but it is not how we experience it from the inside, the labyrinth is a more appropriate birthing image as it feels from within and this is why…
No shortcuts—have to keep going til the end.
Speed varies.
Can't get off the path (no falling off the curve).
Can get through blindfolded.
One step at a time will get you through—one foot in front of the other (one contraction at a time).
Can't get lost. If you get out of the lines, you get lost—try to take shortcuts, get lost. Have to continue on your path.
Can

crawl

if you need to (or run!).
Circular (nonlinear)
No right way to finish.
Contemplative
Meditative
Journey
Everyone gets to the same place eventually—can go own speed, some fast, some slow
Do not need instruction to complete (no birth plan)
No timeline
No need to study.
Can rest if you need to.
In the summer of 2008, my mom built a seven circuit Cretan labyrinth on their property (in a dry pond bed, which is the perfect recessed nook for a labyrinth—it has a bank around it that separates it from the rest of their place). Special people in her life contributed rocks for it and she continues to add to it with rocks from travels, meaningful events, and friends' homes.  In this process, she really created something special and it has a palpable sacred energy there. It is also the most effective walking meditation tool I've experienced. On our tenth wedding anniversary five years ago, my husband and I built a small three circuit Cretan labyrinth in our front yard. I wrote a simple ceremony and we walked our new labyrinth together to commemorate our ten years of marriage. We each walked in separately symbolizing our separate paths through life and then met in the center, symbolizing our joining. Our kids walked in separately to join us, we shared some special readings with each other and then we all walked out together to symbolize our joined life paths. On our eleventh anniversary, we were in California and we drew a labyrinth in the sand with our toes and walked it together at sunset.
Then, just this week we were back at Pismo Beach in California and we drew another three circuit Cretan labryinth with our toes in the sand and enjoyed walking it as a family.
The remainder of this post is a pictorial exploration of the ongoing significance of the labyrinth in my own life and how I have expressed my connection to the symbol artistically. (*Please note that I had a lot of trouble with the images in this post—captions not showing up, alignment not working properly, etc. I hope to go back in when I have more time and try to fix them, but for now, this is what I can do! See the end of the post for some links to previous posts that help explain more about the images shown):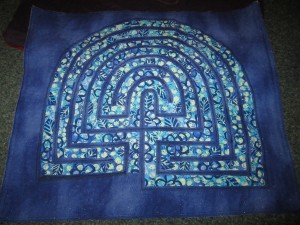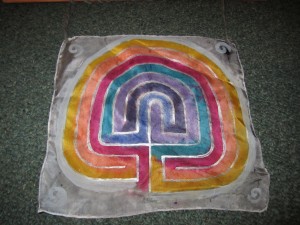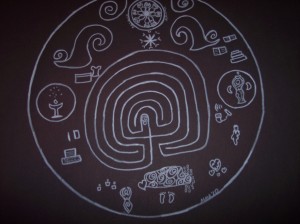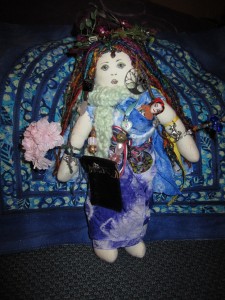 Congratulations to Sarah on her book-aversary! Remember to enter the giveaway!
—
Some past posts on my personal that include descriptions of some of the art shown: