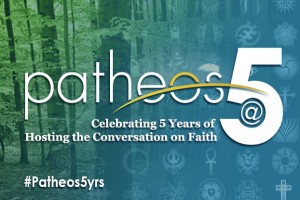 This week Patheos is celebrating its 5th birthday and later this month Pagan Families will be 3 years old. In honor of these milestones, here are the 5 most popular Pagan Families posts (by page view) since we joined the Patheos family.
5. Advocating for Pagan Children in the Public School System by Aurora Lightbringer. "Ultimately, here's the bottom line: all students have the right to a safe, supportive and welcoming environment in which to learn."
4. Symbols of Protection by Molly Khan. "I've started using protection symbols as a way to not only mitigate some of my own worry, but also to help my children feel more confident and in-control when they're away from home."
3. Seven Spiritual Habits to Set During Pregnancy by Kira Nuit. "Fortunately, I dove into my spirituality during pregnancy and instinctively established some practices before the baby was born."
2. Rituals For A 5-Year-Old by Niki Whiting. "In the end, this was a very different experience than either Adam or I expected. We learned a lot about our son."
1. Abstinence-Only Sex Ed Is Against My Religion by Sunweaver. "Abstinence-only is a religious teaching and it isn't my religion they're teaching."
What are your favorite Pagan Families posts?