Since superstorm Sandy hit the eastern seaboard in October, parts of Freemont, NY are still without power and many people are in shelters. Mercy Chef, a faith based nonprofit, is preparing their mobile unit and will be serving a full Thanksgiving meal with all the trimmings to over 1000 people at lunch and dinner in Freemont.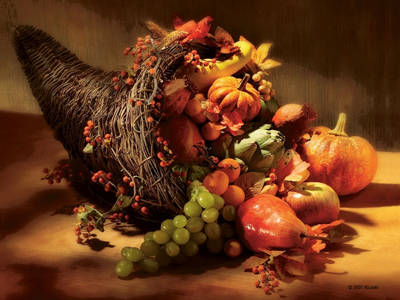 image: A cornucopia, horn shaped basket, created with wicker and trimmed with holly berries. It is filled with fall colored leaves, small guards, a bunch of green grapes, and a red pear.

Lots of Hope is being shared in Ohio:
"Someone has been leaving blankets, hats and gloves at a bus stop outside of Cleveland, Ohio. The anonymous donors also leaves a quick note signed "The Turkey Fairy."
Workers at the nearby Family Urgent Care Center discovered the anonymous donation."
KXAN Television
Couponing as a superpower:
"Spending only $37.17, Rodney Osborne was able to give $975.06 worth of groceries and living essentials to local charities in Ohio. Rodney is an expert couponer and knows all of the tricks to get an exceedingly large bang for his buck.
His method is to collect coupons from at least 10 different Sunday newspapers and to go to various grocery stores only when there are sales or double coupon days." (Good News Guardian)
I enjoy reading Raise the Horns blog by Jason Mankey at the Patheos Pagan Portal so I thought you would like these uplifting Thanksgiving posts.


Thanksgiving
and
Perfect Love and Perfect Trust: My Thanksgiving Ritual