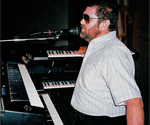 How did I, a Unitarian Universalist Pagan, end up at a Christian church listening to a gospel concert? Well, my mother is a Lay Minister at Mt. Hermon United Methodist Church. Though I don't believe as they do, I do believe in the importance of socializing and keeping an open mind. Besides, Mom said Walter Plant was a good performer.
For those of you who may not know, a Pagan is someone who participates in one or more types of Paganism. There are many different branches and belief systems. They are all similar in that they understand the world to be material rather than sinful. In other words, we weren't born into sin. The world is very special because the Divine is all around us. We are each responsible for our actions and our misdeeds won't simply go away through Divine forgiveness. Instead we must take action to correct our wrongs when possible. Many have a sense of social and ecological justice. We see that the Divine can manifest itself in many ways, including those from other cultures such as the Gods of Greek and Rome, Africa, or Asia to name a few. As an Earth-Centered tradition, we honor the sacred natural cycle of life. Really though to understand this religion you have to talk with a member. My personal philosophy is that the Divine is not a zealous or jealous being but one of such compassion they would not condemn mortals to hell.
Unitarian Universalism draws from many religions including Paganism.
There are seven principles which Unitarian Universalist congregations affirm and promote:

The inherent worth and dignity of every person;
Justice, equity and compassion in human relations;
Acceptance of one another and encouragement to spiritual growth in our congregations;
A free and responsible search for truth and meaning;
The right of conscience and the use of the democratic process within our congregations and in society at large;
The goal of world community with peace, liberty, and justice for all;
Respect for the interdependent web of all existence of which we are a part.
Our Unitarian Universalist Principles http://www.uua.org/beliefs/principles/
So here I was at church on Saturday night willing to talk with a member of a different faith. Of course, I already knew a lot about Christianity since that is how I was raised.
The Concert
It's amazing enough that Walter Plant can play four keyboards and bass pedals at the same time, but he's also blind. His concert at the Mt. Hermon Methodist Church had people stomping and clapping to his original songs that included the sounds of drums, fiddles and even banjos. One of the most impressive feats was his rendition of "Dueling Banjos".
Plant and his wife, Joy or "techie" as he sometimes calls her, are from Texas.
"If you like the songs, tell me. If not, tell my wife," Plant said as he opened up the concert.
They make a living driving around the US in their bus doing concerts mainly for donations or love offerings. They've gone as far south as the Rio Grande and as north as Iowa. They are usually gone most of the year with just a few months at home in Texas, usually part of April and May then October and November. In the summer he performs some country and gospel songs in RV parks but he's trying to move away from country.
"It's hard to make money on just gospel," Plant said "but god provides for us."
Plant's love of music began when he was a child. He was born in 1952 in Corpus Christi, Texas and raised in the coastal bend area. He greatly enjoyed the church hymns. At the age of five, when the sermon began, he would sneak out to another building and play on the piano trying to learn. Eventually his parents bought him one.
It wasn't until his last year of High School that he started playing the keyboard as part of a four person country band. Plant's baritone voice is very professional. In 1975 and 1991, he recorded country albums in Nashville. All together Plant has sixteen albums. He recorded his first gospel album in 2000.
His concert at Mt. Hermon focused on the theme of his new album which is salvation and turning from sin. His songs such as "I will do anything for the invisible God" also emphasized taking action along with prayer. That's part of my religious practice as well. In another song when a person tells God they feel alone, God answers that He is everywhere. As a panantheist, I too know that the Divine surrounds us, is in everything, and also greater than the world.
The song "You can't do that anymore" was about how times have changed such as people keep their windows locked and don't allow their children to ride around the block on bikes. Part of the lyrics go "…trade in freedom for a little more play it safe." The song also advocates starting school with the Pledge of Allegiance and prayer.
When asked about children of other religious faiths Plant said, "Everyone has a right to their own beliefs. You don't hear from the people for prayer in school as much as the opponents." He wouldn't mind time set aside for silent prayer.
For more information about Walter Plant visit www.walterplant.com