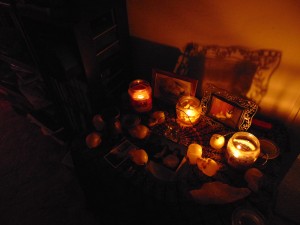 Each Samhain I review my life from the year before and ponder my own death. Though the veil is thin and divination is much easier, I don't do any candle, mirror or tarot readings to discover the time or nature of my death. I don't want to know so I can live every day to the fullest. I do think about my funeral plans and living will to see if any of my wishes have changed. If they have, I update them. It's been several years though and so far everything is the same. I want my funeral to be more of a memorial party. There will be food and drink, my favorite music playing. The instructions encourage people to tell their favorite stories about me and share photos. I'm in an area where there are few Pagans and I don't know any well enough to have them preside. At my funeral no one will be made to feel guilty or afraid of death so they will convert to any religion. Instead I want it to be a time where people can mourn my passing and celebrate my life and their own.

Each Samhain I also perform a ritual evoking the mighty dead and my beloved dead. This year I focused more on my beloved. There is a history of abuse in my family so I made sure that only the loving helpful spirits were welcome and I made sure to make my mind and circle secure. I consider myself to be a natural medium. I've seen and heard spirits since I was six years old. My mother and aunt have a passion for family genealogy. Mom has told me about Sara Crites, my great grandmother, a midwife who helped birth babies and nurtured the sick. Sara learned her craft from Belinda Crites, her mother-in-law who was part Indian.
On Samhain I wore my black cloak, performed a ritual to sanctify and protect my circle, then sat before the candle lit altar. This year I focused on the bones of my beloved dead. How the dead are still part of the world around us offering their flesh to produce nutrients for life. I believe that the souls of the deceased can move from one life to the next through reincarnation or if they are in the afterlife they can still move between this world and the one they are in. Especially when the veil is thin.
The room filled with spirits. Only a few were left in the circle. Those on the outside were more than likely random passers. They wished to speak but after a powerful possession years ago, I've learned not to reach out to just anyone who wishes to speak with me. Much like staying away from manic looking strangers on the street.
My grandpa Crites was in the circle and I felt his love for me. Sara also stood beside me. She and I have had an ongoing connection for many years. I saw her standing with straight shoulders, wearing plain dresses holding newborns in blankets and placing compresses on the chests of the sick. She said to me over and over ginger, basil, allspice.
After the ritual was over, I looked up the herbs in an herbal book. For this to be clear I need to explain some of my medical history. I have turner's mosaic which causes a collapse of my endocrine system. One of the complications is diabetes type two and hypothyroidism. These two disorders have caused me to have a low functioning immune system. About over a year ago I caught an intestinal infection that wasn't cured until I spent the night at the hospital in ICU. I was given bag after bag of powerful antibiotics.
Ginger – for stomach pain and nausea
Basil – added to homemade potpourri to make your bathroom smell fresh
Allspice – mixed with a spoonful of honey will end diarrhea when taken after the first loose bowel
Sara had been watching out for me and was offering her own advice. For me it was also confirmation of the afterlife.