Shōgatsu, or New Year's Day, is the most important day in the Shinto calendar. It is a time for putting behind the old year and making a fresh start. It's also a time for welcoming the Toshigami, the kami spirits of New Year, to thank them for their blessings and ask them to continue to watch over all. There are a wide variety of traditions associated with New Year in Japan, including visiting a Shinto shrine and eating special food (Osechi). You can read more about Japanese New Year traditions here.
Celebrating Shōgatsu in the Japanese way in the UK is challenging. This is partly because there are no Shinto shrines to visit, and food and goods associated with Shōgatsu are hard to come by. It's also because the British way of celebrating the New Year can be difficult to mix with the Japanese customs. In Japan, New Year's Day is a time for getting up early and celebrating with the family by eating a large meal and visiting the local shrine. It's quite similar to Christmas in the UK in that it mixes religion, family and tradition.
By contrast, New Year in the UK is very much secondary to Christmas, and the main focus is usually on New Year's Eve, not New Year's Day. New Year's Eve is a time for drinking lots and partying, as well as launching fireworks at midnight. New Year's Day is all about recovering from the previous night's exertions and because of this many Brits would not be in the mood for getting up early and participating in a festival!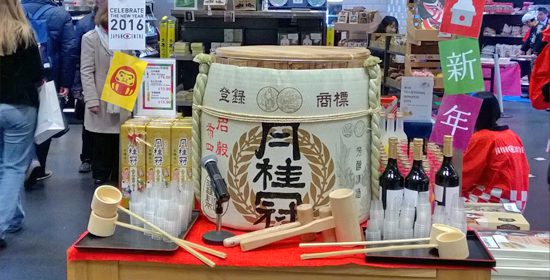 Despite this, I do manage to celebrate Shōgatsu in my own way, adapting Japanese traditions for my UK environment. I thought I'd talk about how I celebrated Shōgatsu 2016.
While the UK may not (yet) have any Shinto shrines to visit at New Year, other institutions play the role of maintaining Japanese cultural traditions. For New Year, Japan Centre (the UK's largest retailer of Japanese goods) held a number of activities associated with Shōgatsu on January 2nd. This timing allows the British public to recover from their New Year's Day hangovers!
Things began with kagami-biraki; a ritual opening of a cask of sake with a hammer.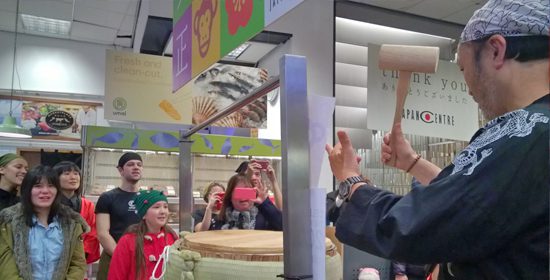 We all got to sample some of the sake too!
This was followed by mochi-tsuki – making Japanese rice cakes, in the traditional manner using mallets and a very large mortar.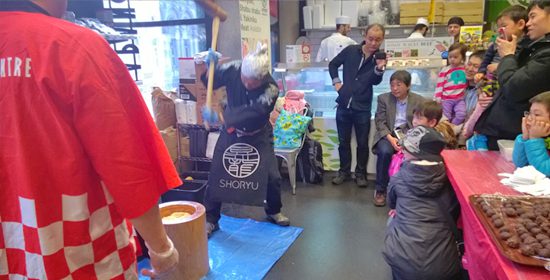 While I was at Japan Centre, I took the opportunity to buy a few goodies. Because I ended up spending more than £25.00, I could take part in the New Year raffle they were holding as well.
I was delighted to be able to do something for Shōgatsu with the Japanese community. It was a lot of fun and really quite meaningful. It just goes to show that, while we may lament the commercialisation of religious festivals, it's actually retailers and other private, commercial organisations that often help to preserve and continue traditions, and serve as cultural centres where no community or spiritual institution is available. I am very grateful to Japan Centre for fulfilling this role. If you would like to keep up to date with all the goings-on at Japan Centre, you can follow their blog here.