Beltane is subversive. More so than Samhain, in my opinion, even though the latter may seem pretty subversive with its skulls and darkness and trappings of death and the otherworld. But Samhain is somewhat softened by the child-friendly costume parties and trick-or-treat of Halloween, as well as its association with the Christian All Saints' Day. In contrast, Beltane has no real Christian equivalent and moreover, it has yet to experience the sanitising, mainstreaming effect of commercialism like Samhain or Yule. Beltane, or its secular equivalent May Day, is still a day of anti-establishmentism and breaking taboos. It's a time of rowdy and drunken music festivals, of passion and sexuality, and of marches for workers' rights and protesting the establishment in London.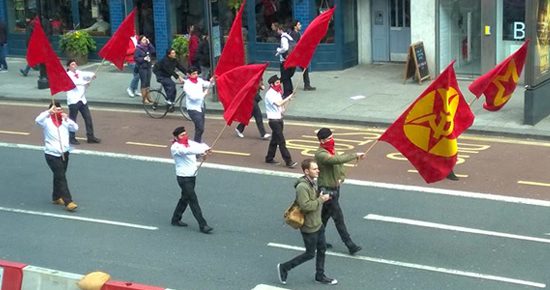 It therefore seems befitting that a subversive festival would inspire some secretive rites. Where I live in Kent, May Day is quite a big deal. One of Rochester's biggest festivals, the Sweeps Festival, is a Beltane festival in all but name and it is hugely popular. On May Day morning itself a variety of rituals, usually in the form of Morris Dancing, take place throughout wild places in Kent to celebrate the rising sun. Some of these dawn festivals are large and well-known, like the dances at Bluebell Hill: the site of a Neolithic longbarrow which attracts crowds of Pagans and non-Pagans alike.
But there are many other May Day dawn celebrations in Kent that are something of an "open secret" known only by locals. I won't reveal all of these here, to protect their mystery and sense of intimacy. But there is one that I think I can share publicly without fear of spoiling it, as it's one that's not so much a secret as simply little-known. And that is the congregation of Morris dancers at Windmill Hill, the highest point in the town of Gravesend.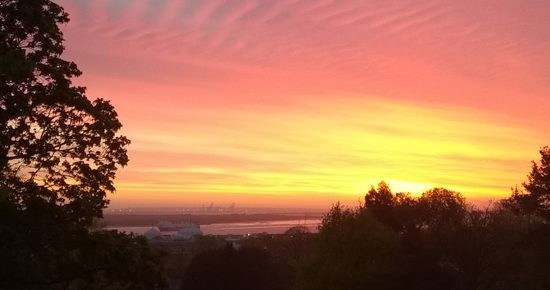 I discovered the Windmill Hill May Day dances as most people do – completely by accident. Three years ago, I decided to go up to Windmill Hill to see in the rising sun at Beltane, simply because it's the highest point in my hometown with good views over the River Thames. So while I was pouring some libations and making offerings to the trees there just before dawn, I was really surprised to hear the tell-tale jangling bells of Morris dancers who suddenly arrived and began to make preparations to dance.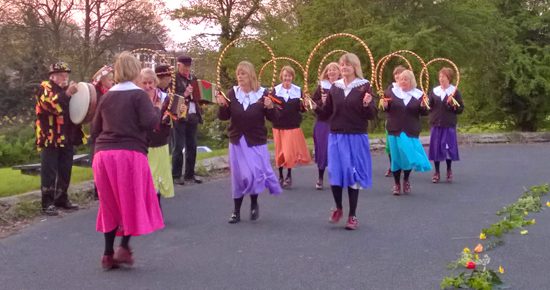 There are two Morris sides who take part in these May Day celebrations each year: 
St Clement's Clogs Morris
and
West Hill Morris
. Small they may be in number, but they are extremely passionate about what they do. They have been holding the Windmill Hill dances for 20 years. Despite the relatively small audience, usually consisting of bemused dog-walkers among a few dedicated fans, the dancers are always cheerful, friendly and enthusiastic, despite the early hours and often cold and rainy conditions!
The dancers always bring fresh flowers and greenery to mark out their dance area, and they usually dance for about an hour. At the end, they invite audience members to take part in their dancing. Although not specifically Pagan, there can be no doubt that there is something deeply meaningful in what these Morris dancers do. They are continuing decades of tradition, not for the benefit of large crowds but for themselves as Morris dancers, and the dedicated onlookers who know their secret.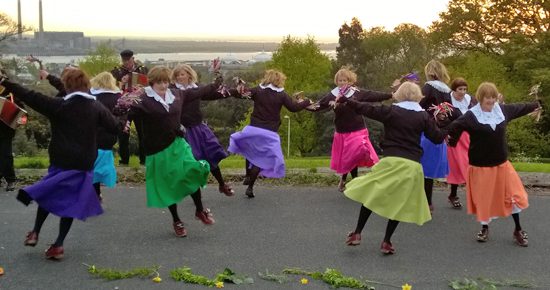 So when you're thinking about observing the May Day dawn but you want to do something different from joining the larger, more popular celebrations, consider simply visiting some prominent point like a hilltop in your local area. You may well run into people who are there for the same reason. And if not, why not get some friends together and start your own May Day morning tradition, be it Morris dancing, a maypole, or a Pagan ritual. You never know what you might start…