Top stories in Paganism and Shinto this week:
Federal court backs Wiccans and others in Florida discrimination suit
Ornaments for mikoshi used in ancient Kyoto festival found
Chechen authorities battling 'witchcraft', persecuting 'witches'
Read more below…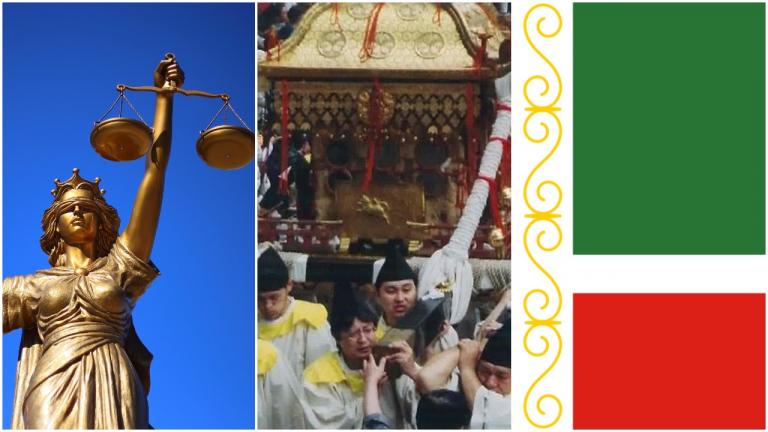 Pagan News
Federal court backs atheists, wiccans in Florida discrimination suit
The Washington Times
The 11th U.S. Circuit Court of Appeals said Brevard County, Florida, favored Christians and discriminated against Deists and Wiccans who wanted to deliver a prayer…
Northern California Local Council of Covenant of the Goddess issues statement on child detention and family separation
The Wild Hunt
he Northern California Local Council of Covenant of the Goddess has released a statement condemning the practices of the United States government in detaining children and separating them from their families…
Outrage as forest workers clear 'clouties' at fairy spirit site
Scotsman
Folklorists are up in arms after forestry workers cleared away years' worth of mementos at a beauty spot in Perthshire said to be home to supernatural spirits and fairies…
Huon Valley Mid-Winter Festival salute to the apple lives on through pagan festival
ABC News
Tasmania's Huon Valley can now lay claim to the largest wassailing gathering in the Southern Hemisphere…
Woman who 'married ghost of 300-year-old pirate' says her beliefs are no different to believing in god
The Independent
Pagan spiritualist claims she spoke to ghost who inspired Captain Jack Sparrow…
Tea, Witchcraft, And Paganism/Polytheism: The Craft Of The Brew
Patheos Pagan: Scarlet Magdalene
Yes, it took me over a year of having a blog called "Tea Addicted Witch" to actually blog about tea…
Modern-day witch Fiona Horne on learning to 'live better'
9Honey
Fiona Horne was just 10 years old when she built an altar in bushland in near her home in southern Sydney…
How millennials replaced religion with astrology and crystals
LA Times
Millennials increasingly identify as "nones" when asked about their religious affiliation, according to a 2017 Pew survey: They are atheist or agnostic, or say they are "spiritual but not religious."…
Written In The Stars: Why Astrology Is More Than A Fad
Study Breaks
Here's why so many young people lean on astrology and the stars to help guide them through life…
Shinto News
Ornaments for 'mikoshi' used in ancient Kyoto festival found
The Asahi Shimbun
Centuries-old metallic decorations for a portable shrine were discovered at a famed shrine here, raising hopes for a revival of an ancient festival that was halted because of war…
Man dies after being hit by float in Gion Festival parade
Japan Today
A 54-year-old man died after he was hit by a float while taking part in a Gion Festival parade in Usuki, Oita Prefecture, on Friday night….
Volunteers Help Rid Park of Trash That's Killing Treasured Japanese Deer
VOA News
Volunteers on Wednesday began the cleanup of plastic bags and trash in Japan's famous Nara Park to try to protect the area's wild deer…
Child of Kamiari Month Anime Film Project Launches 2nd Crowdfunding Campaign
Anime News Network
The campaign seeks to raise 1.6 million yen (about US$14,800) to support the production of a Shinto-inspired anime…
Evripides' Bacchae to combine Japanese Noh theatre and ancient Greek drama
In Cyprus
The internationally award-winning Director Izumi Ashizawa collaborates with the Cypriot theatre company Belacqua Theatre and directs Euripides' Bacchae, combining the techniques of Japanese Noh theatre and ancient Greek drama…
Animals, Shinto serve as gateways into Japanese art
The Japan News
A festival of events introducing Japanese culture to the culturally diverse United States is being held in Washington and other cities this year. Shinto, animals and "The Tale of Genji" are all key to the series of events, being held under the banner of "Japan 2019."…
What is Tanabata 2019? Japanese star festival and Google Doodle in Japan for July 7
The Sun
The Google Doodle for July 7 celebrates the Japanese festival Tanabata which looks to the sky…
Shinto and Buddhist priests hold memorial ceremony in hotel parking lot
Marianas Variety
On Saturday morning, Shinto and Buddhist priests from Japan held a memorial service for the souls of the war dead in the parking lot of Aqua Resort Club in Achugao, a mass burial site for American and Japanese servicemembers…
Other News
Chechen authorities battling 'witchcraft', persecuting 'witches'
JAM News
Two residents of the city of Gudermes were detained by security forces of Chechnya – a republic within Russia in the North Caucasus – for practicing magic, witchcraft and 'healing.'..
Egypt's 'bent pyramid', a 4,600-year old landmark in ancient construction, opens to visitors
The Telegraph
Egypt on Saturday opened to visitors the 4,600-year-old "bent" pyramid, a 101-metre tall structure located just south of Cairo considered a landmark in the evolution of pyramid building…
British Museum announces return of looted Iraqi and Afghan artefacts
Archaeology News Network
Looted ancient artefacts from Iraq and Afghanistan seized in Britain will be returned to their country of origin after appraisal by the British Museum, the institution said on Monday…
Edinburgh dad called Damien who named son Lucifer defends decision
Edinburgh News
The father explained to the newspaper how he got his own name from his white witch gran and wanted something unusual for his son…
Mini model of Stonehenge could reveal how the ancient monument sounded during rituals
Mail Online
The first-ever scale model of Stonehenge that lets researchers explore how the monument would have sounded in its heyday has been created by UK researchers…
Public cash has to 'entirely fund' £1.7b Stonehenge Tunnel, says Highways England boss
Salisbury Journal
One of the country's top roads bosses claims that public cash will have to "entirely fund" the £1.7billion Stonehenge Tunnel, as there "is not enough time left" for any other option…
Giant marble pyramid-shaped island complex rising from sea uncovered, revealing secrets of ancient Greece's origins
Independent
Dating back 4,600 years, the site may also have been part of the inspiration for a key aspect of Greek religion – the idea that mountain tops were the dwelling places of the gods…
Fact-checking folk horror Midsommar: from human sacrifice to Pagan sex rituals
The Telegraph
Midsommar's neopagan rituals are a heady and horrifying mashup of the real, the half-real and the utterly fanciful…
"Midsommar": an Objective Review
The Wild Hunt
One simply can't watch Ari Aster's new film, Midsommar, without thinking of Robin Hardy's classic…
The History of Yemaya, Santeria's Queenly Ocean Goddess Mermaid
Teen Vogue
From the Yoruba religion, Yemaya was brought over to the New World by enslaved Africans as early as the 16th century…
Why is mythology having a moment?
The Irish Times
Glancing through the book review sections one can't help noticing the preponderance of mythopoeia in literary fiction and wondering if there any new stories at all or just reworkings of old tropes…
India: Family tortured on suspicion of 'witchcraft'
The Pioneer
Police have arrested three persons in connection with an incident in which a family of Nuaguda village in the district was tortured on suspicion of performing black magic…
India: Old man killed for 'witchcraft'
The Pioneer
An elderly man was allegedly murdered over suspicion of practising sorcery at Sendhakapa village under the Sadar police limits in Keonjhar district late on Saturday night…
India: Woman branded as sorcerer dies in Warangal
Telangana Today
A woman, who attempted suicide after being branded a sorcerer at Wardhannapet town on Thursday, died while undergoing treatment at MGM Hospital on Friday…