Top stories in Paganism and Shinto this week:
Pagans criticise neo-Nazis for damaging ancient sites
Archaeologists in Pompeii find amulets and charms that may have been used by Roman sorcerer
Yasukuni Shrine's bid for emperor to visit on 150th anniversary was rebuffed
Read more below…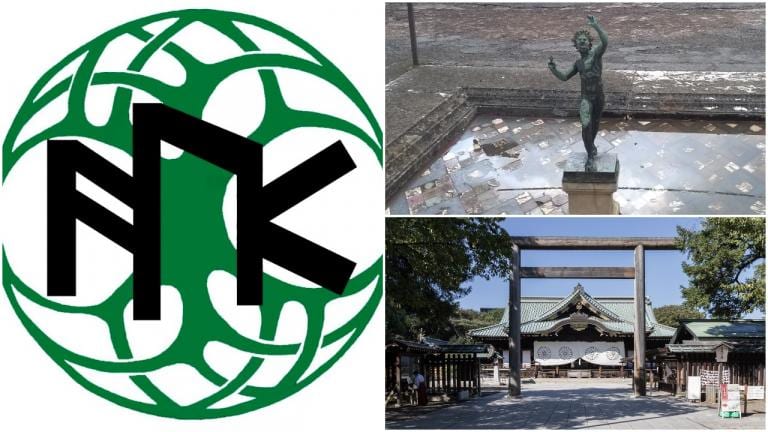 Pagan News
Pagans criticise neo-Nazis for damaging and hosting rituals at ancient sites
Swindon Advertiser
Pagan Federation president Robin Taylor and Asatru UK chair Rich Blackett issued a joint statement after the Daily Telegraph uncovered right-wing groups gathering at Avebury stones and carving swastikas into trees at Wayland's Smithy in Uffington…
Tennessee law restricts online ordinations
The Wild Hunt
This "No Online Clergy Credentials" law may make it more difficult for members of four groups to find clergy for their marriages: Pagans, LGBT+ people, non-English speakers, and people wanting personalized weddings…
First ever Whidbey Island Pagan Pride Festival held
Whidbey News Time
A new addition to the annual festivities was the first ever Whidbey Island Pagan Pride Festival held by Whidbey Witches, Heathens, Druids & Pagans. Vendors at Coupeville Town Park offered items such as wood carvings, honey, flower crowns and several lucky people left with "magic beans."…
From Baba Yaga to Hermione Granger: why we're spellbound by 'witcherature'
The Guardian
Vengeful, seductive, feminist, misogynist … witches have appeared in many forms in literature. Now a new generation of novelists are falling under their spell…
Shinto News
Yasukuni's bid last fall for emperor to visit on 150th anniversary was rebuffed
The Japan Times
Yasukuni Shrine, seen by critics as a symbol of Japan's past militarism, last fall sought a visit by then-Emperor Akihito to mark the 150th anniversary this year of its establishment, but his aides declined the offer, it was learned Tuesday…
S. Korean activist fights to have his father removed from Yasukuni Shrine
Hankyoreh
Lee Hui-ja's father was forced to serve in the Japanese imperial military during WWII…
Shinzo Abe sends offering to shrine for war dead
The Straits Times
Japanese Prime Minister Shinzo Abe sent a ritual offering to the controversial Yasukuni shrine for war dead yesterday, the anniversary of Japan's World War II surrender, but refrained from visiting in person amid tense ties with South Korea…
Rugby World Cup shines a light on Japan's forgotten shrines
NZ Herald
This autumn, fans from around the world will descend upon Japan for the 2019 Rugby World Cup, the first time the tournament will be held in Asia…
Flaming characters light up Kyoto hillsides in fire festival
The Mainichi
Tens of thousands of people gathered here on the evening of Aug. 16 for the Gozan no Okuribi bonfire festival, watching as flames formed the shape of kanji characters on hillsides surrounding the city…
Other News
Archaeologists in Pompeii find amulets and charms that may have been used by Roman sorcerer
The Telegraph
Archaeologists in Pompeii have discovered a treasure trove of good luck charms and fertility amulets which they think may have been used for casting spells by an ancient Roman sorcerer…
Archaeologists Discover Sculptures of Artemis, Apollo in Crete
Pappas Post
A team of archaeologists on the island of Crete have discovered rare statuettes of the twin ancient Greek gods Artemis and Apollo dating back nearly 2,000 years…
Lost grotto of ancient seductress from Homer's Odyssey found, archaeologists claim
The Sun
A mysterious cave said to be inhabited by a temptress who turns men into pigs has finally been found, according to scientists…
Inscription Found in Paleochoria Links Goddess Artemis to Amarynthos Sanctuary
The National Herald
A partially preserved inscription linking Artemis with the ancient town of Amarynthos was found in Paleochoria, Evia, 2 km east of the modern-day town with the same name, the Ministry of Culture said on Monday…
Face of female druid from the Scottish isles brought to life 2,000 years after her death
The Scotsman
Her name was 'Hilda' and she lived in the Western Isles around 2,000 years ago….
Lonely Planet top 500: Stonehenge one of UK's best travel experiences
Salisbury Journal
A new book from Lonely Planet ranking the top 500 unmissable experiences in the UK has placed Stonehenge at number eight…
Ancient Roman temple unearthed below Kent building site
Metro
Historians have stopped a 2,000-year-old temple from being bulldozed by developers by offering to rebuild it in their village…
Fairfield Woman Hanged For Witchcraft To Be Honored With Memorial
Patch
Despite tremendous pressure, she refused to name other 'witches' before her execution in 1653…
Ancient Celtic Woman in Fancy Clothes Buried in a Hollow Tree Trunk
The Vintage News
A Celtic woman buried in a tree trunk has excited archaeologists for a while now…
Exhibition: The Cultural Legacy of Animals in Japanese Art Over 17 Centuries
Hyperallergic
With more than 300 works drawn from 66 Japanese institutions and 30 American collections, this is likely one of the largest exhibitions of Japanese art that a generation of Americans will ever see…
Machynlleth Festival 2019: Talk on Gallo-British druids to feature
Powys County Times
'DREAMS, Divination and Devotion: Exploring the Ancient Druids of Britain and Gaul', is the subject of this year's Hallstatt lecture during the Machynlleth Festival at 1pm on Wednesday, August 21…
Mystery as rare Ancient Greek chamber tombs unearthed with 14 skeletons inside
The Sun
Archaeologists have discovered two large chamber tombs dated to around 1300 BC in an important Mycenaean Greece-era burial ground…
Burlington Witches Ball is canceled this year
Burlington County Times
Organizers of the annual Witches Ball in Mount Holly have announced that the event will take a hiatus this year as they go back to the drawing board to find a way to return the event to its roots…
Update from Mauna Kea
The Wild Hunt
The Kanaka Maoli (native Hawaiian) struggle to preserve sacred Mauna Kea is intensifying…
Mystery hole in Sphinx 'leading down to hidden chambers' could reveal 'lost Pharaoh's treasures', top historian claims
The Sun
Secret chambers hidden below the Great Sphinx of Giza could lead to undiscovered treasures, a top historian has claimed…
Japanese Bon dance picking up popular tunes as it goes international
The Japan Times
The Bon Odori dance, once a community event and a midsummer ritual for consoling ancestors' spirits, has evolved drastically in recent years, picking up popular disco and anime tunes and attracting people regardless of their age or nationality…
India: Man kills two on suspicion of practising witchcraft
Gulf News
A youth allegedly killed his uncle and aunt on suspicion of practising "black magic" in Jharkhand's West Singbhumh district on Tuesday, police said…
South Africa: Life term for man who killed woman he suspected of practicing witchcraft
IOL
A man who killed a woman he suspected of practicing in witchcraft has been jailed for life.