Top stories in Paganism and Shinto this week:
Nigerian University cancels venue for witchcraft conference
Long-running website Witchvox announces shut down
Emperor of Japan informs sun goddess that all ceremonies now completed
Read more below…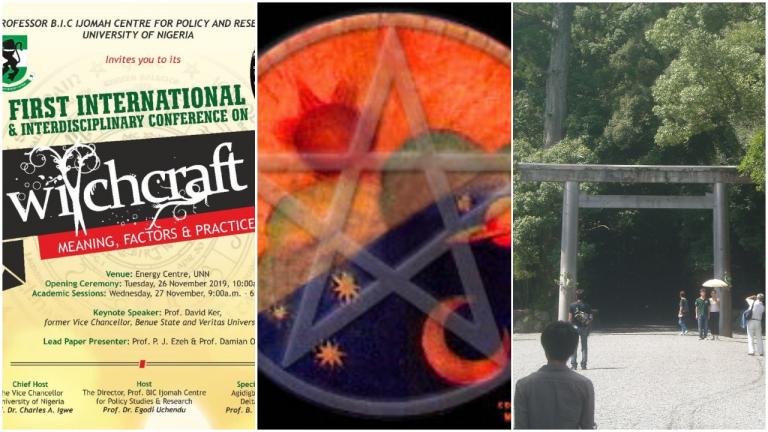 Pagan News
UNN Cancels Venue For Witchcraft Conference
Information Nigeria
The University of Nigeria, Nsukka has cancelled the venue for the scheduled Witchcraft conference set to take place on the 26th November in the school…
The Witches' Voice is Shutting Down
Patheos Pagan: Jason Mankey
On November 19, 2019, the staff at the Witches' Voice website (also known as Witchvox) quietly put up a notice announcing that the site would shut down at the end of 2019…
Connecticut Witch Granted Permission to Display Sign on Town Green
NBC Connecticut
Michelle Piercey, who practices witchcraft, has been pushing for years to be allowed to display a sign marking the Winter Solstice on the town green…
Reporting on witchcraft and child abuse in UK inconsistent with data
The Wild Hunt
Despite the headlines and the claim of "witchcraft" and "black magic", the UK report says nothing of the sort…
The impact of misconstrued headlines
The Wild Hunt
The Guardian ran an article last week with the headline, "Witchcraft and black magic contribute to increase in child abuse," despite the fact that original report from the U.K. Department of Education does not make any mention of "witchcraft," "black magic," or "spirit possession."…
Salisbury shuttle busses planned Stonehenge Winter Solstice
Salisbury Journal
Shuttle buses are being put on for those wanting to get to Stonehenge to mark this year's Winter Solstice…
Diverse prison populations lead to growing need for jail ministry, including non-Christian faiths
West Fargo Pioneer
Each month, Kersey-Russell sets up a Skype conversation between the Asatru prisoners and an adjunct professor from the University of Minnesota, who gives a 90-minute lesson on Asatru beliefs…
Want To Write A Book About Witchcraft? Here's Why You Should
Patheos Pagan: Astrea
I've come up with a few answers for why I, or anyone, would want to write a pagan/witchcraft book. I thought I'd share, just in case you want to write a book and people ask you the same questions…
Overcoming Spiritual Programming: The Journey From Fear To Freedom
Patheos Pagan: Cyndi Brannen
We've been told what to think and how to be for too long. These are the days of reclaiming our power through spiritual freedom…
Shinto News
Emperor of Japan informs sun goddess that all ceremonies now completed
The Asahi Shimbun
Emperor Naruhito and Empress Masako observed a ritual steeped in Japan's mythological beginnings by visiting Ise Jingu shrine on Nov. 23 to "report" to ancestors and deities the completion of all enthronement ceremonies…
Japan's emperor and empress mark end of enthronement ceremonies at Ise shrine
The Japan Times
Emperor Naruhito and Empress Masako visited the Grand Shrines of Ise in Mie Prefecture on Friday to mark the completion of two major rites signifying the emperor's enthronement…
Japan Imperial Household Agency opens site of ancient Shinto thanksgiving ritual to public
The Mainichi
The Imperial Household Agency opened the grounds of the Daijokyu Halls, the site of a major ceremony for Emperor Naruhito's enthronement, to the public on Nov. 21…
Votive tablets by Hong Kong supporters vandalized
NHK World
Wooden tablets carrying messages of support for the protestors in Hong Kong have been found vandalized at Shinto shrines and Buddhist temples in Japan…
Shinto priest: With the Pope in Japan, our efforts to serve peace
Asia News
Nabeshima Tomohisa, 52, kannushi (chief priest) of the shrine of Yutoku Inari in Kashima (Saga prefecture, Kyushu island, speaks of his hopes linked to the visit of Pope Francis to Japan (November 23-26)…
Spirited away: The haunting complexity of Japanese art
The Sydney Morning Herald
Directors' forewords in exhibition catalogues are usually perfunctory affairs but there was one line in Michael Brand's comments in the Japan Supernatural volume that caught my eye…
Japan's Exotic Celebrations to Become Backdrops for Upcoming Olympic and Paralympic Games
Business Traveler
Festivals celebrating poetry, purification and pawns are among the quirky benefits of traveling to Japan in 2020…
Japan's Top Festivals in 2020
Luxury Travel Magazine
With the arrival of the Olympic and Paralympic Games in Tokyo next summer, Japan is preparing for record numbers of tourists from around the world in 2020…
Other News
6800-year-old Ritual Site Three Times Bigger Than Stonehenge's Sarsen Circle Discovered
Newsweek
A huge ancient ritual site dating back over 6,800 years has been discovered in Poland…
Bronze Age sword discovered in archaeological breakthrough but location remains a mystery
Daily Express
Experts believe that the sword was buried as part of a religious ritual…
Stonehenge tops South West's tourist hotspots
Salisbury Journal
One of the most widely recognised prehistoric monument in Europe, Stonehenge, is the most visited attraction in the South West, according to a new study…
Two sheep are stabbed to death and marked with pentagrams in 'satanic sacrifice' in Hampshire
Mail Online
A church was also sprayed with Satanic symbols in quiet village of Bramshaw…
Netflix Sets Kids Animated Series Based on Japanese Folklore
Hollywood Reporter
The streamer has ordered Oni, a show inspired by Japanese folklore…
Repatriation of African art gains momentum and funding
The Wild Hunt
Repatriation of African art gains momentum and funding…
Pokemon Sword and Shield Turns Stonehenge Into an Actual Pokemon
ComicBook
Pokemon Sword and Shield has a Pokemon that's just an animated part of Stonehenge…
Why do we know so little about the Druids?
National Geographic
The powerful Celtic social class posed a threat to the Roman Empire before being subsumed by Christianity – but their origins remain shrouded in the past…
Dark side of Venus: goddess represents more than nudity, romance and sex
The Sydney Morning Herald
Born from abuse and suffering, this sublime force is being described to us not just as the goddess of mortal love, but as the deity of both the cycle of life and life itself…
Should the Parthenon Marbles Be Returned to Greece?

The New Yorker
The Parthenon Marbles were taken—or "rescued," depending on your point of view—from the Acropolis by Lord Elgin in the early nineteenth century and now reside in the British Museum…
India: Woman born with 12 fingers and 20 toes branded a witch by her neighbours
Metro
A woman born with 12 fingers and 20 toes has described how neighbours 'keep away' from her because they think she's a witch…