Top stories in Paganism and Shinto this week:
Charity website says Wiccans "will die in their sins"
'Pagan police' called in to solve New Forest 'occult' crimes
Nigerian University witchcraft conference goes ahead under different title
Read more below…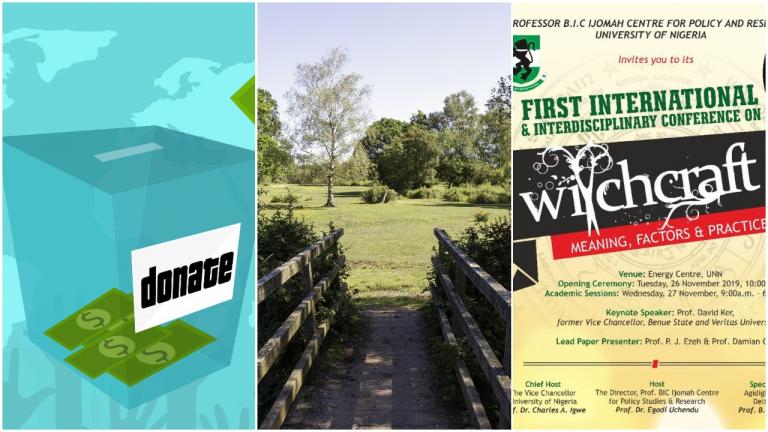 Pagan News
UK charity website says Wiccans "will die in their sins"
National Secular Society
The registered website for a number of Christadelphian charities condones death for LGBT people and Wiccans…
Pagan police called in to solve New Forest occult crimes
The Times
Pagan police officers from a group specialising in occult investigations have been called in to investigate a series of grisly crimes in the New Forest that have been linked to witchcraft…
Nigerian University witchcraft conference goes ahead under different title
PM News Nigeria
The two-day international conference on witchcraft, organised by Prof. B.I.C Ijomah Centre for Policy Studies and Research, University of Nigeria, Nsukka (UNN), kicked off Tuesday with a new theme, "Dimensions of human behaviours."…
Former Emmerdale star and self-proclaimed witch Samantha Giles claims she used magic to help This Morning's soap expert Sharon Marshall fall pregnant
Mail Online
The 48-year-old soap star, from Kent, claimed that it was a 'change of luck charm' that helped Sharon, 48, conceive – after she underwent seven rounds of IVF costing £70,000 before becoming pregnant with daughter Betsey, now one…
Tarot cards and feminists: the modern-day witch
Brig Newspaper
"If witchcraft is such a bad thing, what is Wicca and why are so many women today attracted to it?"…
These witches and Wiccans say their coven is a 'family'
AOL
There are an estimated 1.5 million witches and Wiccans — who share beliefs with witches but adhere to different practices – in America today. And that number has been rising in recent years, leading more people like Collette to find comfortable sharing their beliefs publicly…
Millennial women (and a few men) are rebooting ancient 'witchcraft'
The Sydney Morning Herald
More and more young people are turning away from organised religion in favour of more personalised and adaptable practices…
Yule Coverage
Putting the Yule in Yuletide: Lansing pagan talks celebrating the holidays
Lansing City Pulse
Elayne Glantzberg, a reverend with Wiccan group Weavers of the Web, said the holiday festivities have deeper pagan roots than we realize…
Pagan Things By Pagans For Pagans 2019: A Holiday Gift List
Patheos Pagan: Jason Mankey
Whether it's a Witch who needs a little bling, or a Ceremonial Magician who needs a new book, I've probably got you covered…
When is the winter solstice 2019? Date of the shortest day of the year, and how it's celebrated
iNews
Thousands of pagans continue to gather every year at Stonehenge, and it is thought that the iconic stones were carefully placed to frame the sunset on the winter solstice…
Chester to head back in time for Winter Watch and Roman Saturnalia events
The Standard
Chester's Christmas celebrations turn back the clock to the 1400s as the City Watch returns for the Winter Watch parade…
Shinto News
Emperor Naruhito Reports Enthronement at Emperor Meiji's Mausoleum
Nippon.com
Japanese Emperor Naruhito reported the completion of a series of "Sokui-no-Rei" enthronement-related events and the "Daijosai" thanksgiving ritual, during a visit to the mausoleum of Emperor Meiji, his paternal great-great-grandfather, in the western city of Kyoto on Thursday morning…
Fumihito turns 54, still worried about funds for imperial rites
The Asahi Shimbun
Crown Prince Fumihito expressed relief that his brother's imperial enthronement ceremonies went off without a hitch but reiterated his concern about the use of public funds to pay for events that are essentially religious in nature…
Horned face adorns rare 5th century cup found in Osaka
The Asahi Shimbun
Archaeologists expect the cup to provide important clues to Japan's religious customs of the time, as a similar design has been found on ancient murals in China and the Korean Peninsula…
'Kojiki: The Birth of Japan': Picture this, a nation's creation myth
The Japan Times
Kazumi Wilds retells the myth in a vivid and accessible way alongside her own illustrations…
Review: From sacred monkeys to mysterious cats, marvelous 'Animals in Japanese Art' at LACMA
Los Angeles Times
Much Japanese art is infused with Shinto and Buddhist spiritual values, imported to the island through China and Korea, where nature spirits are a focus of worship…
Welcoming Oshogatsu—the New Year—in Tokyo: How to do it the Japanese way
Lifestyle.INQ
It was New Year's Eve, or Omisoka as it is called in Japan, and the queue to get into the Shinto shrine had already snaked all the way to the main street…
Other News
Remains of 'Amazonian' warrior woman who died in battle fighting for lost ancient kingdom found
The Sun
Experts think the woman fighter belonged to the Urartu Kingdom and was probably killed in battle with an axe or a sword…
Erotic fresco depicting Greek myth unveiled in Pompeii
The Guardian
A fresco depicting an erotic scene from the Greek myth Leda and the Swan has been unveiled to the public for the first time in the ancient Roman city of Pompeii…
Mummified lion cubs dating back 2,600 years discovered in incredible world-first
Mirror
The mummified lions were discovered in a tomb full of cat statues and cat mummies in Saqqara, by researchers from Egypt's Supreme Council of Antiquities…
Ancient necropolis discovered during roadworks in Sicily
The Local
Workers installing cables under a road in the Sicilian town of Gela have uncovered part of an ancient Greek burial site…
A statue of Moloch unveiled in Rome along with controversy
The Wild Hunt
A statue of the Canaanite god Moloch is on display at the entrance to the Flavian Amphitheater, more commonly called the Colosseum…
107 people killed due to witch-hunting since 2011 in Assam
India Today
A total of 107 people have been killed in witch-hunting incidents in Assam since 2011, Parliamentary Affairs Minister Chandra Mohan Patowary informed the state Assembly on Saturday…
The Roots of Thanksgiving in Ancient Greece
Greek Reporter
Thanksgiving day is celebrated primarily in the United States and Canada. Traditionally, it has been a time to give thanks for a bountiful harvest — but this is something that the ancient Greeks also did thousands of years ago…
Through your eyes: 150 years of Stonehenge – in pictures
The Guardian
Last year, to celebrate 100 years since Stonehenge was given to the nation, English Heritage asked the public to share their photographs of the monument…
The Remnants of Armenia's Pagan Past
Armenian Weekly
Throughout the centuries, despite their constant struggles with invasions and domination, the people remained steadfast in their religious beliefs, creative, industrious and true to their heritage…
How Astronomers Are Decolonizing Space
Forbes
Most of the known objects in the solar system are named for Greek and Roman gods and mythical figures. But in the Kuiper Belt, astronomers are beginning to recognize a broader set of cultures, including indigenous groups…
The Gambia confronts the nightmare of witch hunts under former regime
Global Voices
On Monday, November 11, The Gambia's Truth and Reconciliation Commission began a one-month session focusing on the prevalence of witch hunts, a tactic used under the Yahya Jammeh regime..