Top stories in Paganism and Shinto this week:
Druids' Stonehenge trespass appeal thrown out by judge
Celtic warrior from 2,000 years ago buried in chariot hailed as most important find of its kind in UK
Temple of Witchcraft building approved
Read more below…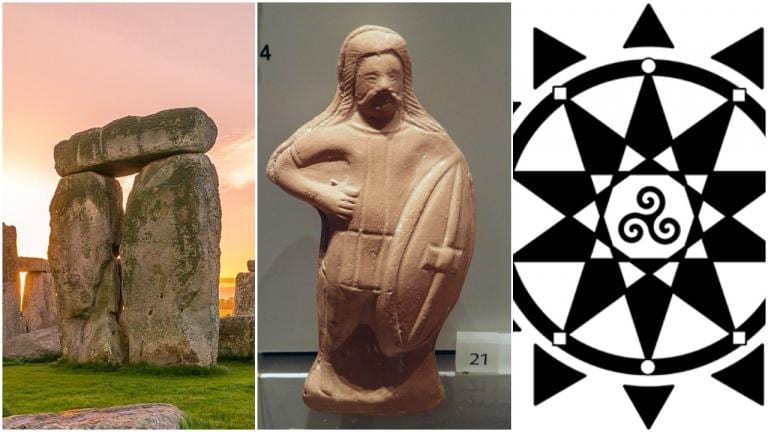 Pagan News
Druids' Stonehenge trespass appeal thrown out by judge
Salisbury Journal
An appeal by druids against a Stonehenge trespass conviction was thrown out by judges – after one of the women admitted she could "charge her crystals" at Avebury…
Temple of Witchcraft building approved
The Wild Hunt
The Temple of Witchcraft's (ToW) plan to build a 5,700-square-foot community center was unanimously approved by the Salem Planning Board last week….
Witches are casting spells for a Labour victory in the election
Dazed
The Culture Witch – AKA Charlotte Richardson-Andrews – has urged Labour supporters to join a mass spell to bring about a Jeremy Corbyn victory…
Wiccan with Alzheimer's chosen as designer of new charity Christmas cards
Mirror
Lorraine, from Gillingham, Kent, describes herself as Wiccan and celebrates Yule rather than Christmas…
Paganism & Witchcraft in the 2010's
Patheos Pagan: Jason Mankey
In 2010 I thought I had a good grasp on what Pagan and Witchcraft are, in 2019 I no longer believe that, and defining either one has become much more challenging…
The Pagan Power of Frozen II
The Mary Sue
When I talk about paganism, it means a few things and that works because the paganism of Frozen II exists on several levels…
Tarot cards are growing more popular among young Singaporeans. I got a reading to find out why
Today Now
As full-time tarot reader Kavita Devi explains it, taken together the cards illustrate the life experiences that one can have….
Pagan Student Alliance emphasizes inclusion, community
The Lasso
Texas Woman's University's own Pagan Student Alliance debuted earlier this semester…
Witchcraft's rise in popularity among youth makes perfect sense
The Gateway
Wicca allows us to see power in womanhood, connect with nature, and adapt to change…
The near-death experience that led Wicken jewellery creator Kim McKay to become a good witch
Now To Love
For jewellery designer Kim McKay, who created the company Wicken three years ago, believing in magic was never the issue. It's how it found her that's the real story…
Ask a Pagan Chieftain: How Was Winter Celebrated Before Christian Traditions?
The Reykjavik Grapevine
Christmas lights and traditions bring much-needed warmth to the cold Icelandic winters. But before Christianity arrived in the country, Icelanders were pagan…
Shinto News
Japan Emperor Reports Enthronement at Tombs of 2 More Ex-Emperors
Nippon.com
Japan's Emperor Naruhito and Empress Masako on Tuesday visited the mausoleums of Emperor Showa and Emperor Taisho in Hachioji, Tokyo, as part of the "Shinetsu-no-Gi" ceremony to report the completion of major enthronement-related events…
Shinto festival carries on centuries-old tradition in Japan
AP News
As fireworks light up the winter night, scores of men, women and teenagers crying "washoi, washoi" haul the last of six towering, lantern-covered floats up a small hill and into the town center, the culminating moment of a Shinto festival that has evolved from a harvest thanksgiving into a once-a-year meeting between two local gods…
NASA reveal location of mystery tomb in Japan from space
Express
The site acts as one of the biggest graves in the world, but because it is considered a sacred site, few details are known about what the site actually contains…
Remembrance Lake: In Japan, climate change unravels 600 years of history held dear
Reuters
For nearly 600 years, priests at the Yatsurugi Shrine have observed ice cover on the lake here in the Japanese Alps, diligently recording it by hand and storing it safely, first in the shrine's vault and later in a local museum…
With traditional Japanese ceremony, Yokota breaks ground on airfield expansion for Ospreys
Air Force Times
The groundbreaking included a prayer recital by a Shinto priest, to purify the site and wish safety on the construction crew, Yokota said…
Immersion in Japanese Culture Expands Students' Thinking about Design
Pratt Institute
For her research proposal "The Design of Awe: A Case Study on Shinto," she concentrated on two Tokyo shrines—Akasaka Hikawa Shrine and Toranomon Kotohiragu Shrine—and interviewed visitors about their interactions and relationships to the spaces…
Other News
Celtic warrior from 2,000 years ago buried in chariot hailed as most important find of its kind in UK
The Independent
Expert says shield in burial site is 'most important British Celtic art object of the millennium'…
Scientists Discover 3000-Year-Old Tattoos on Egyptian Mummies
Inked
Archaeologists have used infrared photography to discover tattoos on the bodies of seven mummified people during a dig at the site of Deir el-Medina…
Scientists uncover Egyptian remains at site of mysterious ancient cult
Express
The Egyptian Ministry of Antiquities announced the discoveries during the thirteenth season of a joint mission by German and Egyptian archaeologists…
Ancient Greek Necropolis Unearthed in Sicily
Archaeology.org
Among the burials, archaeologist Gianluca Calà has discovered the remains of a newborn and bones from a large animal in a hydria, or ceramic water jug, and a sarcophagus containing an intact skeleton…
Statue of Roman goddess Ceres returns to Missouri Capitol
KY3
Ceres spent the last year at the Conservation of Sculpture and Objects Studio in Chicago, after being taken off the Missouri Capitol dome last November…
How Botticelli's "Birth of Venus" Challenged Depictions of the Nude in Art
Artsy
Renaissance master Sandro Botticelli's Birth of Venus (ca. 1484) has become one of the world's most recognizable, celebrated, and parodied paintings—a touchstone of rowdy art-historical debate and pop culture alike…
Nursing mother burns 10-year-old girl's body over alleged witchcraft
Punch
A 10-year-old girl resident in Sandfield Estate, Satellite Town, Lagos, has been rescued from her guardian identified simply as Mrs Anaeme, who tortured her for allegedly being a witch…
Gambia: Survivor Recollects Torture Of Her Husband By Witch-Hunters
Foroyaa
Adama Gassama, a survivor of the 2009 witch-hunting exercise Wednesday gave a detailed testimony of how his husband was abducted by witch hunters…
Fear Of Witchcraft In Nigerian Universities
Modern Ghana
Some months ago, the BIC Ijiomah Centre for Policy and Research at the University of Nigeria Nsukka called for abstracts and presentations at an international conference on witchcraft…