Top stories in Paganism and Shinto this week:
Spring celebrations cancelled around the world
Patheos Pagan writers respond to coronavirus pandemic
UK: Historic Welsh sites to be protected by vandalism patrols
Read more below…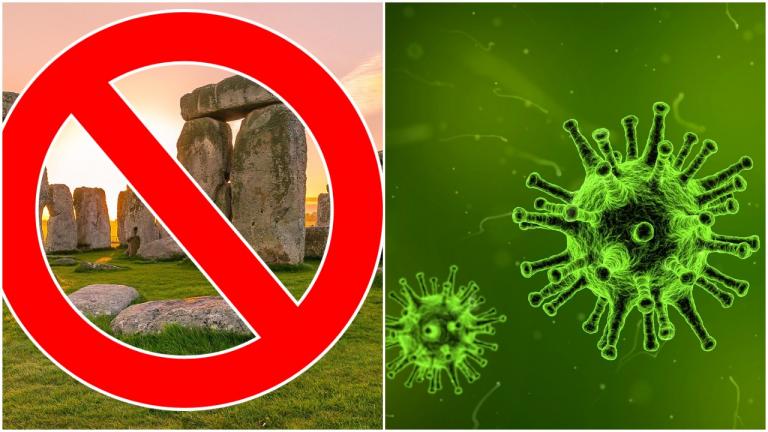 Coronavirus Coverage
UK: Security guards patrol Stonehenge to keep out druids and pagans hoping to celebrate equinox ritual
Mail Online
Stonehenge stood empty on the first day of spring for the first time in thousands of years today after druids were banned because of the coronavirus…
UK: Stonehenge equinox: 'Let's hope by solstice we're in a better place'
The Guardian
Ancient site has closed due to coronavirus but some still camped out for the equinox sunrise…
UK: Padstow Obby Oss celebrations cancelled because of coronavirus
CornwallLive
Organisers of the Padstow May Day celebration, better known as 'Obby' Oss, have confirmed they have had to cancel the event….
Japan: Matsuri for COVID-19
Mimusubi
As COVID-19 continues to spread around the world, Jinja Honchō and jinja in Japan are responding…
Japan: Coronavirus changes how Tokyo shrine handles centuries' old purification process for visitors
SoraNews24
Priests fear traditional custom could lead to infection, provide modern alternative…
VR cherry blossom parties: 360-degree video series provides beauty, dates for those stuck indoors
SoraNews24
If your Japan travel plans fell through due to coronavirus, or you're here but stuck inside, these gorgeous videos are the next best hanami option….
Japan's cherry blossom season has come early. Too bad there's no one around to enjoy it.
Asia One
Japan's eagerly anticipated cherry blossom season has arrived – but a shortage of foreign tourists and government health warnings for people to avoid large gatherings amid the coronavirus crisis is turning the occasion into a damp squib…
Japan: As the old 'rakugo' says, teetotal 'hanami' isn't all that bad
The Asahi Shimbun
In the real world, I expect there will be many more alcohol-free hanami outings this year than ever before…
Canada: Surrey gardeners to gather for spring equinox ritual 'in adapted form'
Surrey Now Leader
'We will still grow things here, that will not change' says member of PLOT Sharing Garden in Newton…
Tourists stay away as Egypt reopens oldest pyramid
Al-Monitor
No tourists are in sight near Giza's pyramids as the coronavirus pandemic takes its toll on the country's tourism industry, casting a shadow over the reopening of Egypt's oldest pyramid after the completion of a major restoration project…
In times of uncertainty, let nature be your refuge
The Guardian
Reconnecting with the natural world – however we can – is a wonderful medicine against anxiety and fear…
US: Not All Is Lost: Goddess Festival concert goes online Saturday
Northwest Arkansas Democrat Gazette
The scheduled Saturday night concert with SJ Tucker, Ginger Doss and Lynda Millard will take place in cyberspace…
Coronavirus Pandemic And Witchcraft Imputations In Africa
Modern Ghana
The Advocacy for Alleged Witches (AFAW) wishes to inform the African public especially those in regions and communities where allegations of witchcraft are pervasive that the spread of the coronavirus has no connection with witchcraft…
Patheos Pagan Responses to Pandemic
Supporting Pagan Community During a Pandemic
Patheos Pagan: Jason Mankey
This is a scary moment in history, but there are things you can do to help the Pagan Community weather this storm…
The Corner Crone: A Prayer to Brigid for Protection and Health
Patheos Pagan: Martha Kirby Capo
Like so many of us around our planet these days, Coronavirus consumes my attention and energy. I don't have much new to say, but I do want to offer a short prayer I crafted to Brigid for protection and health…
Witchcraft For Coping With COVID-19: Banish, Protect And Heal
Patheos Pagan: Cyndi Brannen
Our work for banishing, protection and healing involves both the mainstream practices, like social distancing and hand washing, and the deeper work of our witchcraft…
Witchcraft In The Time Of Coronavirus
Patheos Pagan: Willow Rose
As the witching community responds to the increasing threat of Coronavirus, I'm seeing a lot of protections spells and rituals being shared…
A Pagan Response to the Coronavirus
Patheos Pagan: John Beckett
Work your magic. Magic alone won't keep you safe from the Coronavirus, but magic can give your mundane efforts some extra juice…
Three Calming Practices for Challenging Times
Patheos Pagan: Irene Glasse
Right now, anxieties around COVID-19 are very high. Here are three simple ways to ground and reconnect in order to respond to the world around you from a centered place…
Other Pagan News
Malta: The Pagans Among Us
Times of Malta
The world of modern witchcraft is a far cry from that depicted in popular culture…
Crystals, chocolate, astral travel and good vibes for the soul
Religion News Service
New Age spirituality is everywhere these days…
Spring starts Thursday – the earliest it's been in 124 years
USA Today
Spring is coming earlier this year than it has since 1896…
Ireland's spring equinox and St. Patrick's Day's pagan connection
Irish Central
This year the vernal equinox takes place on March 20, 2020, at 03:48am, when night and day are equal length but what's the ancient connection to St. Patrick's Day?…
Spring Equinox 2020: here's what the vernal equinox is, and how it's celebrated
iNews
The spring, or vernal equinox marks the season's first day under the astonomical definition – here's what that means…
Other Shinto News
Kifune's Two Rocks
Green Shinto
Kifune Shrine to the north of Kyoto stands in the village of Kibune, which is why many Japanese mistakenly call it Kibune Jinja…
Other News
UK: Historic Welsh sites to be protected by vandalism patrols
BBC News
Plans to tackle heritage crime have been extended to protect historic sites across Wales…
Worship of this Egyptian goddess spread from Egypt to England
National Geographic
This goddess proved popular enough to transcend her original Egyptian centers of worship and expand to all corners of the known world.
Spirited Away: 10 Mysterious Japanese Folklores That Inspired The Anime
CBR
Spirited Away is a popular Japanese animated movie, or anime film, that was inspired by folklore. Which ones, though?…
Should we keep the Elgin Marbles? Museums begin rethinking their collections
iNews
Are the ancient artefacts we're viewing ethically acquired? New projects are helping visitors find out…
#Notmymermaid: the Disney row is ridiculous – who knows what mermaids look like?
The Guardian
The backlash against a black Little Mermaid was instantaneous and ugly. But dark-skinned water goddesses swam in our imaginations long before Ariel…
South Africa: Man arrested after gruesome killing of 83-year-old woman for 'witchcraft'
The South African
The alleged killer believed that the woman had performed witchcraft to murder his friend, who he had buried a day earlier…
India: Couple killed on witchcraft suspicion
The Pioneer
A couple of Gapatia village under the Mohana police station in Gajapati district was brutally killed on suspicion of practicing witchcraft on Sunday night…