Top stories in Paganism and Shinto this week:
Japan: PM's wife criticised for taking group tour to Shinto shrine during pandemic
Japanese lawmakers cancel Yasukuni Shrine visit this month
Half of Americans say Bible should influence U.S. laws
Read more below…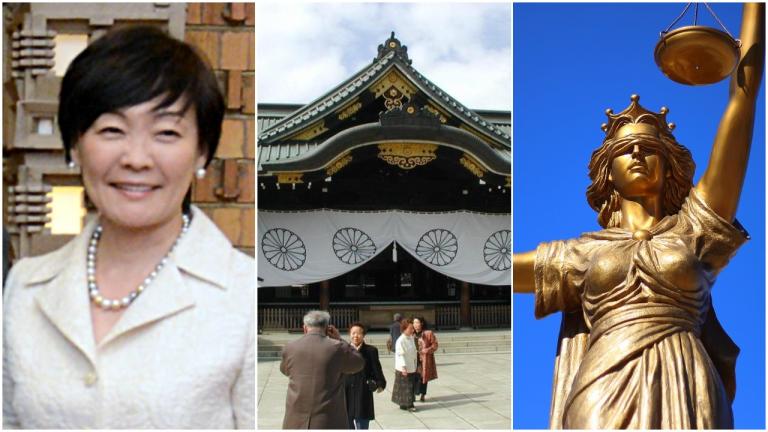 Pagan News
The economic impact of the pandemic on Witch stores
The Wild Hunt
As COVID-19 mitigation efforts continue into another month, retailers across the United States face serious challenges caused by government-mandated stay at home orders and temporary closures of businesses that have been deemed non-essential. Neighborhood metaphysical stores and witch shops are no exceptions…
Four Pagan grocery workers explain the stress of "essential work" during a pandemic
The Wild Hunt
Grocery store workers represent one of the front lines of the COVID-19 pandemic. Many of them have become ill and some have died…
Diversity and tolerance sees paganism rise in popularity
Sunday Post
From ancient druids making human sacrifices to modern pagans welcoming the winter solstice at Stonehenge, paganism has long been shrouded in myth and mystery…
'The Craft' star Lovie Simone: "Witchcraft is a form of feminine healing"
NME
"I've tried to read tarot a little but I feel like my forms of witchcraft are very body and grounding-like," explains Simone…
6 Pagan Roles To Fill During The Quarantine… And Afterward
Patheos Pagan: John Beckett
Here are six Pagan roles you can fill during the quarantine, and in the days to come…
Shinto News
Akie Abe criticized for taking group tour to Shinto shrine during pandemic
The Japan Times
According to the Shukan Bunshun magazine, the first lady visited Usa Shrine in Oita Prefecture on March 15 along with about 50 people and took part in a Shinto ritual service…
Japanese Lawmakers Cancel Yasukuni Visit This Month
Nippon.com
A suprapartisan group of Japanese lawmakers will refrain from visiting Yasukuni Shrine during its two-day spring festival from April 21, due to the spread of the novel coronavirus, Jiji Press learned Monday…
World Heritage Shinto shrines in Nikko close amid outbreak
NHK World
Shrines designated as UNESCO World Heritage sites in Tochigi Prefecture's Nikko, north of Tokyo, have temporarily closed to prevent infections of the new coronavirus…
Lively autumn 'Nagasaki Kunchi' festival events canceled over coronavirus outbreak
The Mainichi
The Hono-Odori dance and portable shrine procession of the Nagasaki Kunchi festival, a lively festival held each autumn, will be canceled this year due to the novel coronavirus pandemic, officials have decided…
Japan Postpones Rituals for Crown Prince amid Epidemic
Nippon.com
The Japanese government decided at a cabinet meeting Tuesday to postpone the "Rikkoshi-no-Rei" ceremonies for Crown Prince Akishino for the time being, amid a state of emergency declared a week ago over the COVID-19 epidemic…
Amabie, the 'spirit' that went viral
The Hindu
A pictorial representation of a 19th century 'spirit' has emerged as Japan's COVID-19 mascot…
Other News
Half of Americans say Bible should influence U.S. laws, including 28% who favor it over the will of the people
Pew Research Center
Today, about half of Americans (49%) say the Bible should have at least "some" influence on U.S. laws, including nearly a quarter (23%) who say it should have "a great deal" of influence…
Like Lego: rare photo shows Stonehenge construction technique
The Guardian
Prehistoric builders used method of locking together giant stones familiar to toy fans…
Five-thousand-year-old Egyptian tomb opens for virtual tour
The Guardian
Egypt's classical wonders are off limits but a royal tomb is one of four sites where 3D modelling gives us a fascinating glimpse of antiquity…
Bringing back the colour to ancient Egyptian coffins
The University of Sydney
Uncovering the secrets of ancient Egypt used to involve a shovel, a gentle brush, and endless patience. Things have changed. Now archaeologists are using some of the most advanced technologies available…
Midsommar: The Hårga Cult & Customs Explained
Screen Rant
Ari Aster's Midsommar induced a daytime nightmare through the introduction of the Hårga cult, who practice some deadly customs…
Lives of Alleged Witches in Africa Matter
News Ghana
This is the first activity report of the Advocacy for Alleged Witches (AFAW)….