Top stories in Paganism and Shinto this week:
Sacred forests in Estonia threatened by demand for biofuels
'Sword girls' lead support for Shinto shrine to fix treasured blades
Protesters at British Museum call for the return of Parthenon Sculptures
Read more below…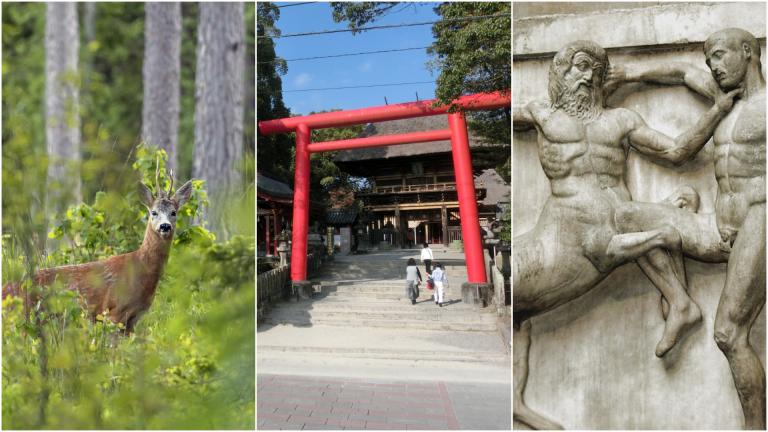 Pagan News
Estonia's 'holy forests' threatened by demand for biofuels
National Geographic
Sacred forest sites  still exist in Estonia, a country where today thousands follow a pre-Christian religion of forest worship called Maausk…
UK: Emmerdale actress Samantha Giles 'cast a love spell' to find her husband
Metro
Former Emmerdale star Samantha Giles claims that she cast a love spell in order to find her husband…
US: Wiccan shares, celebrates cycles of universe with Atwater shop
Merced County Times
The 30-year old Atwater resident just turned her passion for her Wiccan religion and Etsy merchandise into a full-blown local located in downtown Atwater…
Dua Lipa's "Levitating" is a witchy, visual homage to Hekate
Pop Dust
Dua Lipa's latest song "Levitating" officially features Missy Elliott and Madonna, but the real star of the video is an ancient goddess whose dark mythology is enjoying a 21st century renaissance…
Hekate & pop culture : Liminal fantasies, or modern temples?
Patheos Pagan: Sorita D'este
No denying it, the Goddess Hekate has become a pop-culture icon…
The woman who inspired Wicca
First Things
Just under a century ago, in 1921, one of the strangest books ever to be published by Oxford University Press appeared in print: The Witch-Cult in Western Europe by Margaret Alice Murray…
The mistake of dismissing Margaret Murray and the origins of Wicca
The Mary Sue
As many have put it, "There was just one problem. Margaret Murray was wrong." But … was she?…
UK: 'It is a spiritual guide' – meet the tarot reader in Highgate's woods
Ham & High
The archaic practice remains popular in some quarters and, tucked away in Highgate, is the Tarot Forge of Cristina De Rossi…
Ireland: Strong following for Skibbereen's new pagan shop
The Southern Star
Opening a 'witchy shop' in West Cork in the middle of a pandemic could have been a risky endeavour but it's working for one creative couple…
The Pagan benefits of mainstream studies
Patheos Pagan: John Beckett
Perhaps surface-level Paganism can be something we turn on when the moon is full and turn off the rest of the month, but deep Paganism is something we live day in and day out. That means it has roots not just in theology but in all the arts and sciences…
Star power: 8 of the best astrology books
Evening Standard
Clear skies and lower pollution levels in London saw many novice astronomers take up stargazing for the first time, while interest in star signs and the Zodiac is at an all time high…
Everything these sex tarot cards told me about my love life
Yahoo! Life
What could be better or more exciting than injecting a bit more magic into your sex life?…
Date and meaning of the autumn equinox – and why two dates mark the start of the season
The Scotsman
The date that determines when autumn starts depends on which definition you are going with…
Shinto News
'Sword girls' lead support for Shinto shrine to fix treasured blades damaged by floods
The Mainichi
A crowdfunding campaign to restore 77 precious Japanese swords that were submerged by torrential rain that struck the Kyushu region in July, is gaining support across Japan mainly due to young women who are interested in the historical weapons as fans of the online game "Touken Ranbu."…
Folklore 'Kesaran Pasaran' fluffs spark joy for residents in northern Japan city
The Mainichi
"Kesaran Pasaran," a white fluff ball that is said to float down from the sky and bring good luck to whoever finds it, has found a prominent place in this city on the Sea of Japan coast…
Other News
Protesters at British Museum call for the return of Parthenon Sculptures
Greek City Times
The British Museum opened its doors on Thursday after a 163-day closure sparked by the Covid-19 pandemic. On the same day, the first visitors to the museum were protestors calling for the return of the Parthenon sculptures to Greece…
UK: Stonehenge amplified human voices by more than four decibels, scientists find
The Telegraph
Stonehenge amplified human voices by more than four decibels, scientists find, after building a 'mini-henge' to test the acoustics of the megalithic monument…
UK: Falcons return to Stonehenge in revival of Victorian tradition
The Independent
Falcons will return to Stonehenge for a public display this Bank Holiday after an absence of nearly 100 years…
UK: Highways England expects Stonehenge Tunnel work to start in late 2022
Construction News
The expected start date for work on the much-delayed A303 Stonehenge Tunnel project has been pushed into the second half of 2022, according to Highways England…
Does Hades depict Greek mythology authentically?
Screen Rant
A look at the plot and gameplay of the Hades Roguelike RPG released by Supergiant, and how accurately it portrays the ancient Greek underworld…
Anonymous artists invented ancient Egypt's iconic style
National Geographic
The painters who decorated Egyptian tombs and temples followed rigid guidelines for centuries—until a style revolution changed the rules…
Ganesha in Japan: Is he worshipped in the land of the rising sun too?
Business Standard
The presence of temples in Japan for deities that look and sound like Lord Ganesha point to a time when Buddhism and Hinduism were intertwined…
UK: From war to 'witch marks' – graffiti carved into New Forest trees reveals past lives
The Guardian
Some are fading records of passionate woodland trysts, while others tell vividly of the fear of the supernatural that some still feel in the forest: they are the more than 100 pieces of graffiti carved into trees in the New Forest in the south of England that have been spotted by members of the public and collected by the national park authority…
Worldwide 'witch hunts'
US: Dad 'punched, drowned and burned body of his daughter, 5, because he believed she was controlled by witchcraft'
The Sun
A father punched, drowned and then burned the body of his five-year-old daughter because he believed she was being controlled by witchcraft, prosecutors said…
Ghana: 'Witch camp' inmates to be enrolled on poverty scheme – Minister
Modern Ghana
The Minister of Gender, Children and Social Protection, Cynthia Morrison, has disclosed that the ministry will soon enrol inmates of the various 'witch camps' onto the Livelihood Empowerment Against Poverty ( LEAP) Programme.
Sassywood and witch persecution in Liberia
Modern Ghana
'Alleged witch' Sarah Togbe collapsed and died after taking local concoctions made from the bark of the Erythrophleum suaveolens tree.This form of trial by ordeal is called Sassywood, and is used to identify 'witches' in Liberia…