Top stories in Paganism and Shinto this week:
US: Lady Liberty League celebrates 35 years of defending Pagan civil rights
UK: Druids reject 'elitist' offer for 30 Pagans to watch autumn equinox at Stonehenge
US: Murdock residents protest Asatru Folk Assembly
Read more below…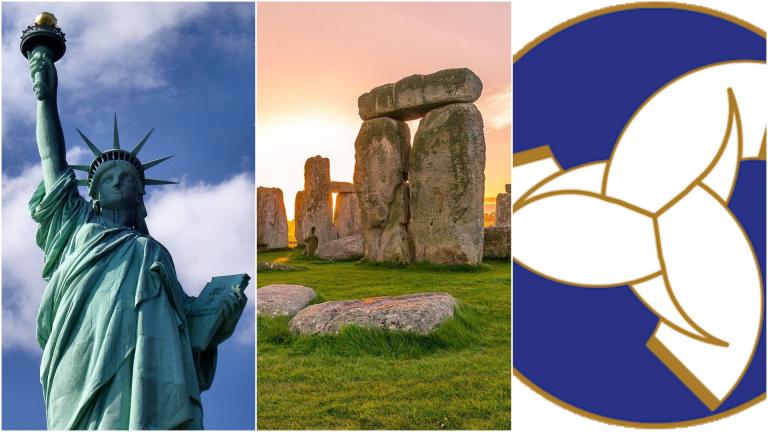 Pagan News
US: Lady Liberty League celebrates 35 years of defending Pagan civil rights
The Wild Hunt
This year marks the 35th anniversary of the founding of Lady Liberty League, an organization that has been at the forefront of Pagan civil rights…
UK: Stonehenge row as druids reject 'elitist' offer for 30 pagans to watch autumn equinox
The Telegraph
Druids hoping to watch the autumn equinox at Stonehenge have rejected an invitation by English Heritage to allow a "small" crowd to watch the sunrise, after dismissing the offer as "elitist"…
US: Murdock residents protest Asatru Folk Assembly
West Central Tribune
A group of Murdock and area residents carried lighted candles and walked through residential streets of the Swift County community on Thursday night to protest the Asatru Folk Assembly…
US: Pagan-run food pantries continue to offer resources during pandemic
The Wild Hunt
In Santa Ana, California, one Pagan shop has been serving the surrounding community since long before Covid-19, and continues to reach out to anyone who needs assistance now, no questions asked…
US: As TikTok faces ban, the WitchTok community reflects on the possible loss of a valuable resource
Chicago Tribune
TikTok's impending download ban could impact more than teens who wish to share funny videos and dance moves. One of the most popular communities on the site that may lose a platform is WitchTok…
One man's journey to bring a sacred flame to Ireland's fire festivals
Irish Examiner
Brian Keane meets a the man who sailed for nine months across the ocean to bring a sacred flame to Ireland in time for the autumn equinox..
Five ways to show your Pagan pride without a festival
Patheos Pagan: Irene Glasse
Vendors, workshops, performances, drum circles and socialization are fun, but the reason we have Pagan Pride Day is pretty serious: we still need to…
Why this Indian woman finds empowerment in identifying as a witch
ED Times
Ipsita Roy Chakraverti is a staunch follower of a religion called Wicca which engages in nature worship and finds power from the idea of witchcraft…
Celebrating autumn, Mabon, harvest: What's in a name?
Patheos Pagan: Gwyn
Recently, Phoenix LeFae of The Witches Next Door shared a post titled "Mabon is Dumb." My first reaction was "Whoa, don't hate on Autumn!" And then I have to admit chuckling a bit as I read her article. Here's why…
Shinto News
Abe visits war-linked Yasukuni shrine days after stepping down as PM
Kyodo News
Former Japanese Prime Minister Shinzo Abe said in a Twitter post Saturday he visited the war-linked Yasukuni shrine days after stepping down from the post, his first visit in nearly seven years…
Shinto's heart: The unique architecture of Japan's "god havens"
Unseen Japan
How did the homes of the gods of Japan's native religion take shape? A look at Shinto architecture – and its outsized influence in Japan…
Ronny Behnert's long exposure photographs capture remote Japanese shrines and torii gates
Design Boom
Ronny Behnert traveled to some of Japan's most remote locations to capture a series of shrines and torii, the traditional Japanese gates that mark the transition from the common world to sacred spaces…
A summer without festivals: Do the dead approve of the cancelled events in Japan?
Nippon.com
What might we imagine the dead, believed to visit their homes during the Obon season, to be feeling about all of this? A renowned folklorist examines this "summer without festivals."…
Jinja and depopulation
Mimusubi
One of the major social problems facing Japan at the moment is the depopulation of rural areas. This creates a particular problem for the Shinto world, because a lot of these settlements have jinja, and those jinja have their own traditional matsuri…
Other News
New 'Stonehenge' type dolmen discovered in Spain's Malaga
The Olive Press
It is believed that this monument would have been part of a sacred space for the Neolithic communities in the area before the Menga Dolment was built…
UK: Stonehenge tunnel investigation work criticised by campaigners
BBC
Investigation work ahead of a proposed £2.4bn road tunnel near Stonehenge should have been done before a public consultation, campaigners have said…
Egypt cuts highways across pyramids plateau, alarming conservationists
The Guardian
Egypt is building two highways across the pyramids plateau outside Cairo, reviving and expanding a project that was suspended in the 1990s after an international outcry…
Nigerian porn star arrested 'for filming' at sacred Osun Osogbo ground
BBC
A filmmaker has been arrested for allegedly recording a pornographic movie at the Osun Osogbo sacred grove in western Nigeria, police say..
The Celtic myths that inspired The Waylanders
Screen Rant
A look at the rich body of Celtic Mythology and cultural traditions that inspired the aesthetic of The Waylanders, an upcoming role-playing game…
Is it possible that Neanderthals had a spiritual life?
The Spectator
Astonishing finds suggestive of shrine in a subterranean cave in the Aveyron continue to baffle anthropologists, says Rebecca Wragg Sykes…
Three main reasons why fewer and fewer Japanese people are having funerals
SoraNews24
Costs and other societal changes have made ceremonies smaller, and certain practices are approaching obsoleteness…
Worldwide 'witch hunts'

Germany: Historians examine case of women executed for 'witchcraft' 400 years ago
The First News
The case of a Pomeranian noblewoman who was beheaded and then burned at the stake after being convicted of witchcraft is being reviewed by academics 400 years after her execution…
India: Elderly couple lynched on charges of 'witchcraft' in Ranchi
The Times of India
An elderly couple accused of practicing 'witchcraft' was lynched by locals at Rogadih-Patratoli village under the Bedo police station area in Ranchi district on Tuesday evening…
Malawi: Man killed over 'witchcraft' allegations
Malawi 24
Police in Rumphi are hunting for people who killed 55-year-old David Mkandawire after accusing him of 'bewitching' another person in April this year…
India: Life term for two for killing woman, young sons for 'practising witchcraft'
Outlook India
A court in Odisha"s Mayurbhanj district sentenced two men to life imprisonment on Monday for killing a woman and her two young sons over three years ago on the suspicion of their being involved in witchcraft…