(I'm currently on the road visiting some Pagan Festivals and bookstores. "Ramble On" is my travel journal chronicling some of those experiences. Last week I was at the Wisteria Summer Solstice celebration at the Wisteria Nature Retreat in Southeastern Ohio.)
I've never been sick at a Pagan Festival before, until last week's Summer Solstice Celebration at Wisteria. As a result my festival experience was a unique one, spent mostly inside of my tent and far away from the usual festival goings-on. I don't expect any sympathy here, these things happen, and I'm not going to die because there was green slime-mold growing in my lungs. Other than the sickness enforced sobriety; the biggest disappointment that arose from being sick was that I was unable to write on this blog. I had all kinds of ideas percolating in my head, and I was tracking down people to interview and share with you all, but all of that came to a sudden halt when the only verbal communication I was capable of involved violent coughing.
It wasn't all bad though. Because I was camping with my summer touring buddy Kenny Klein I was on musician's row and right in front of Wisteria's Main Stage. Wisteria's Main Stage is impressive because it actually looks like a stage. Other festival sites have stages and music, but the musicians aren't really up above the audience by more than a foot. Wisteria's big stage sits at the bottom of a natural amphitheatre and it's a truly beautiful setting (unless it rains of course). Concerts at Wisteria feel special because of that setting. Where the slope levels off at the top of the amphitheatre there are usually people twirling hula-hoops and making planet-sized soap bubbles, if there weren't a bunch of nude Pagans around it would be extremely picturesque. (I'm not going to post pictures of nude people obviously.)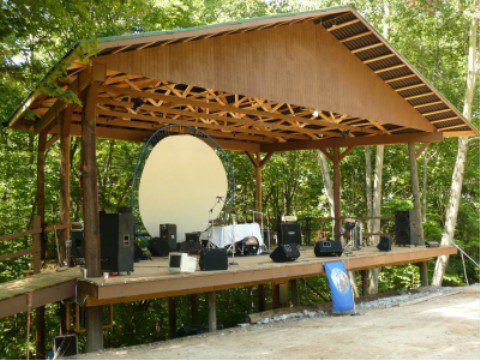 The Stage at Wisteria, had my brain been less muddled I would have taken a picture instead of snagging this one off of the Wisteria website.
I've always had very mixed feelings about "Pagan Music." My favorite Pagan Music has always been more popular stuff that's not really Pagan by the religious definition: The Doors, Led Zeppelin, XTC, Loreena McKennitt, and T. Rex. All of those artists have songs with allusions to Paganism or mythology, or have a musical sensibility that feels Pagan. When it comes to music at Pagan Festivals I've always been more concerned with quality than with the musicians actually being Pagan or not. My favorite show ever at a Pagan Festival involved the band Gaelic Storm, whose lead singer is mostly a good Catholic boy. The whole issue is further complicated because I have a lot of Pagan Musician friends.
I bring this up because this past week changed my thinking on the issue of Pagan Music and Pagan Musicians. I used to think that it was perfectly fine to just go out and hire whomever, but I think it's increasingly important that we support our own. No one becomes a Pagan Musician expecting to make big money. Kenny often accepts a fraction of what he might receive at a Ren Faire to play at Pagan Festivals. These are good folks doing good things. While I still think a Pink Floyd cover band would kill at a gathering, the opening act should at least be a Pagan-one.
Despite the lung slime-monster, I got lucky at Wisteria because they went out and hired a lot of really good Pagan bands. There was actual diversity to the musical line-up (even if the artists were recycled over a couple of performances at various festival venues), and I'm always excited when a festival books more than just acts that showcase drums.* Listening to real Pagan songs sung by actual Pagans in a Pagan setting was a very magickal thing, and it made me vow to be more appreciative of our artists and the benefits they bring to our community.
So in my fevered state I got to listen to some fantastic sets by Kenny Klein, Kellianna (who also camped right next to Kenny and I and was a frequent and welcome visitor to our campsite), Owain Phyfe, and GBMojo. The only problem I experienced with any of those artists involved GBMojo's Bekah Kelso who nearly stole my heart by just being exceedingly kind and incredibly beautiful. My name is Jason, and I admit to having a crush.
One of the things that comes with just lying around a festival listening is that you get to hear the festival, which is a different kind of experience. Some of those experiences are negative, like campsites near the main stage making copious amounts of obnoxious noise while performers are working their asses off for us in the 95 degree heat. There were also times when golf-carts zipped by the road in front of my tent at the rate of one every three minutes, also not a positive. On Friday night though, when most of the campsites emptied out and the golf-carts were put in park the sounds were extremely uplifting.
There were rituals, chants, and drums. Everything sounded like I tend to imagine Paganism sounding. Mother Earth played her harps of crickets and cicadas, and we chimed in with shouts of joy; reveling in creation and the simple joy of being alive. I have no idea what was really going on Friday night, I know that there were two rituals (one put on by pirates!) and a drum circle, but the sounds of whatever was happening brought a contentment to my fevered brain that I imagined expressing more eloquently while it was all happening.
A Few Random Thoughts:
Some of my favorite people from this year's Wisteria were the Pirates of the C.U.C. Constantine. For the record I was over pirates about twenty minutes after the first Pirates of the Caribbean movie ended, and I've always been a little confused by why so many Pagans are infatuated with them. To be honest one of my fondest dreams is to lead all of the world's zombies to a gathering of all the world's pirates and then watch them kill each other all off. Hopefully the battle would end with the last living pirate killing the last living zombie, but not before getting bit. Hopefully that pirate would then do the honorable thing thus ending two of my least favorite trends.
Despite my lack of love for most pirates, these particular pirates immediately made me feel at home when I arrived at Wisteria, sharing both good stories and good mead. It was my favorite night of the festival and I thank all of you for the many kindnesses and medications which were passed my way.
I realize that Pagan Festivals often feel like attempts to recreate the vibe of the 1960's, but I was surprised to find that overwhelming tobacco usage was a part of that recreation. I don't care what people do, but I was really shocked by the amount of cigarettes being sucked down at Wisteria. Perhaps being ill made me more sensitive to the things going on around me, but it was just so unexpected that it ended up being comment worthy. While I found the amount of smokers surprising, what wasn't surprising was how many of them picked up their butts and disposed of them properly.
And finally thanks to the staff at Wisteria for checking in on me around the clock after finding out I was sick. From my tent I heard a constant refrain of "How is Jason doing? Is he drinking enough water?" It's always nice to know people care.
Sorry I don't have more to share, hopefully the next few stops on my Midwest/East Coast Ramble will see me far healthier.
*Nothing wrong with drum acts, I love me some Dragon Ritual Drummers, just give me some variety.