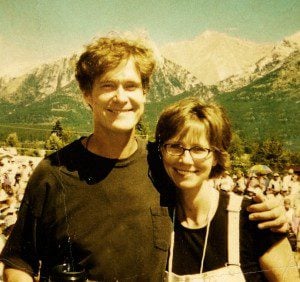 Last Samhain my wife and I were trying to come up with a song to sing near the end of our Samhain Ritual. Our immediate instincts ran towards Loreena McKennitt, and while All Soul's Night certainly fit the bill lyrically it just didn't feel right to us (not to mention it's probably near impossible for most singers). After some thought and search through our music collections we both arrived at the same conclusion: "How about Dave Carter's Gentle Soldier of My Soul?" As soon as we said it we knew it was the right choice, and indeed it worked perfectly. We needed a song about loss, redemption, triumph, love, and all with a few allusions to the natural world, and there it was.
When listening to the music of Dave and Tracy in 2013 it's hard to do so without loss as a companion on the journey. At just 49 song-writer, singer, and multi-instrumentalist Dave Carter died of a massive heart attack in 2002 after completing an early morning run. He died in his hotel room and in the arms of his partner Tracy. A song like Gentle Soldier of My Soul isn't supposed to be about loss, but because of Dave's tragic (and early) passing his ghost haunts every chord when I listen to his music.

Dave Carter & Tracy Grammer-Gentle Soldier of My Soul
I listen to lots of music by people who have begun their next journey. Led Zeppelin (John Bonham), The Doors (Jim, and now Ray Manzarek), T. Rex (Marc Bolan), and Sandy Denny and Nick Drake, but when I think of those artists their spectre doesn't haunt my thoughts like Dave's does. Perhaps because they all achieved a measure of immortality during their lifetimes it's harder to think of them as "gone." Dave Carter's legacy has yet to approach those heights, and perhaps it never will. While putting this piece together I couldn't help but notice how hard it was to even find decent sounding recordings of his music online. Perhaps the blurry videos play into the idea that outside of a few diehards he's more whisper than legend.

Dave Carter & Tracy Grammer-When I Go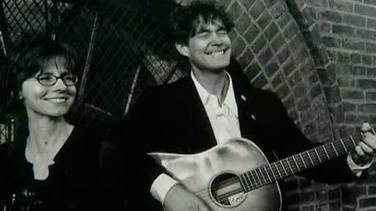 It's probably a little strange to read me waxing sadly about a folk-duo on Raise the Horns but the music of Dave & Tracy ties directly into many of the musical currents that I hold most sacred. First there are the lyrics of Dave Carter; haunting, smart, and the very best of what folk is supposed to sound like. Carter's mother was a Charismatic Christian who walked hand in hand with the Holy Spirit of the Christian Trinity, and believed in everyday wonders and signs, the miraculous just outside her door. Carter himself was a disciple of Joseph Campbell, Carlos Castaneda, and Transpersonal Psychology, and then mixed all of that with a love for the natural world, and the restless journey of the spirit. Dave's lyrics are a summation of all of those experiences with those various competing forces creating words like nothing else in music. While looking for Youtube videos for this article I came across this quote describing Dave's songs as "all-original, postmodern, mystical American folk," that sounds about right. As a Pagan I love the lyrics of Dave Carter because they are full of pagan imagery, emotion, and heart. It's why a song like Seven is the Number which is full of Christian references seems to wholly apply to my own situation.
High as the mountain deep as the sea
Green is the valley where she waits for me
Wild wild river, run in my hand
Seven is the number of a man
In addition to Dave's words and melodies there's Tracy Grammer who perfectly balances out the whole enterprise. There's her voice, perhaps my favorite voice in all of my music, and her instrumental prowess. Much to Carter's credit he knew when to step away from the microphone and let Grammer run the show, and she does it better than nearly anyone else. When the harmonies hit on songs like Tanglewood Tree it's like peanut butter finding jelly between two slices of bread, one of those little things in life that feels like perfection. In addition to Grammer's voice there's that violon which contains nearly as much emotion as those honey-touched vocal chords. To say that Grammer is a fiddle player simply doesn't tell the whole story, sure she can let loose, but some of her solos also sound ready made for an orchestral setting.
Dave Carter & Tracy Grammer-Love Is a Tanglewood Tree
I discovered the music of Dave Carter about a year after his passing. My wife and I went with some friends to see folk artist Richard Shindell (I'll be writing about him later) but when I got home it was Tracy Grammer and the songs of Dave Carter we were raving about. Grammer was opening and playing fiddle for Shindell and of course singing the songs of her fallen partner. Hearing her play Gentle Arms of Eden was one of those moments I sometimes have when listening to music. Tracking that song down became my one goal in life for a span of about 48 hours, it was just one of those things that crept immediately into my heart.
Gentle Arms of Eden is just special, I don't know any other way to put it. If I could have just one "Pagan Song" Eden would be it. Goddess reference . . . love of the Earth . . . . harmonies . . . and just one verse of political awareness, I don't think it gets much better.
on a sleepy endless ocean when the world lay in a dream
there was rhythm in the splash and roll, but not a voice to sing
so the moon shone on the breakers and the morning warmed the waves
till a single cell did jump and hum for joy as though to say

this is my home, this is my only home
this is the only sacred ground that i have ever known
and should i stray in th dark night alone
rock me goddess in the gentle arms of eden

then the day shone bright and rounder til the one turned into two
and the two into ten thousand things, and old things into new
and on some virgin beach head one lonesome critter crawled
and he looked about and shouted out in his most astonished drawl

this is my home …

then all the sky was buzzin and the ground was carpet green
and the wary children of the wood went dancin in between
and the people sang rejoicing when the field was glad with grain
this song of celebration from their cities on the plain

this is my home …

now there's smoke across the harbor, and there's factories on the shore
and the world is ill with greed and will and enterprise of war
but i will lay my burden in the cradle of your grace
and the shining beaches of your love and the sea of your embrace

this is my home …

Dave Carter & Tracy Grammer-Gentle Arms of Eden
This is our home indeed.
Tracy still tours and plays the songs she and Dave recorded before his untimely passing. She's also released a few solo albums over the last ten years, mainly featuring unreleased Carter songs. Sadly, Dave and Tracy only were able to release three albums during Carter's lifetime (Tanglewood Tree, When I Go, and Drum, Hat, Buddha), three posthumous releases followed (Little Blue Egg, Seven is the Number, and the Yuletide American Noel). As a solo artist Grammer has released The Verdant Mile and Flower of Avalon, and while there's lots to love on those albums (especially extra time with that voice I love so much) there's a sadness that shows up when Carter's backing vocals don't show up like I expect them to.
Thanks for the music Dave, I know you are reading this somewhere.
"She's a walking talking breathing New Age wonder, old time heathen, don't know what to make of Mary Jane . . . ."