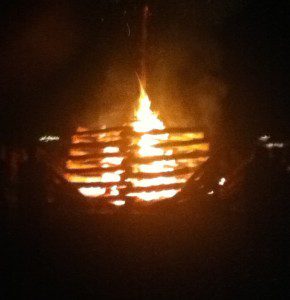 For many folks the summer sunshine means Pagan Festival Season! I've been hooked on festivals for over fifteen years now, since I attended my first Pagan Spirit Gathering at Wisteria way back when. I like indoor festivals quite a bit, but there's something about being outside under a clear sky, stars as far as far as my eyes can see, and the sound of drums off in the distance. Festivals can be a truly magical experience!
Most outdoor festivals feature workshops, lectures, rituals, and panel discussions during the day followed by concerts, more rituals, and drumming at night. Nearly all of the festivals listed here allow children and adults, and many feature special programming for children and young adults. There's almost always something going on at an outdoor festival! Generally outdoor festivals feature tent camping, and almost all of the festivals listed below have the standard creature comforts like showers and coffee available. (The amount of hot water will vary from festival to festival.) If you do hit the festival circuit this summer make sure you are prepared for rain. Nearly every festival I've been to has had at least a day or night or two of rain. Camping can be fabulous too, check out Cara Schultz's Martinis & Marshmallows book if you don't believe me!
Before we start, just a few notes:
-This is not a comprehensive list. There are probably over 100 different Pagan gatherings happening this summer. There are more other listings out there with even more festivals. Click here, and here, and here to see them. (Though you'll miss out on my snark and wit if you leave this page.)
-Because there are so many festivals happening this summer I've limited this list to the longer ones, if something is just a weekend event it's not here.
-Sadly there aren't any big exclusively Pagan festivals out here on the West Coast. Sadness.
-The "Names" part is not meant to imply that the folks listed there are any more important than anyone else. Most of them are just people I recognize and I've included them to give people a feel for the festival. Besides, a lot of people go to festivals for workshops and concerts. Including at least some of that information seemed like a good idea at the time.
-There's been some really good (and long overdue) dialogue recently about safety at Pagan Gatherings and events. I urge you to read up on it. Cara Schultz's recent article on it over at The Wild Hunt is a great place to start.
Pagan Unity Festival (PUF)
Location: Montgomery Bell State Park, Burns TN
Dates: May 15-18
Cost: Day passes start at 30 bucks, 100 dollars for cabin space, 90 dollars for camping. Includes meals.
Names: Oberon Zell, River & Joyce Higgenbotham, Shauna Aura Knight
Of all the festivals I've never been to but badly want to get to PUF tops the list. Much of that is because I've heard nothing but truly great things about it over the years, but I'm also an old Tennessee-boy, a graduate of Gallatin Senior High School. How about it PUF? Next year Jason Mankey as a VIP speaker? I know both speakers and just regular old attendees who have attended PUF and they've all been consistent in their praise of this festival. Hopefully one of these years . . . .
Rites of Spring
Location: Southwestern corner of Massachusetts
Dates: May 21-26
Cost: 260 for the week, Meal plans available starting at 90 dollars. Heated cabins available.
Names: The Bardo Brothers, Orion Foxwood
Rites of Spring is one of the oldest gatherings in the United States, thirty-six years and counting! Rites of Spring is so old that it doesn't even get carded any more. The location for this festival is gorgeous and nestled near the Appalachian Trail to boot! If I lived in the Northeast I know where I'd be this May.
Heartland Pagan Gathering
Location: Camp Gaea, McLouth Kansas
Dates: May 22-27
Cost: 100 dollars for the week with camping, meal plans also avaialble.
Names: Alaric Albertsson, Ed Fitch, Tuatha Dea
Heartland has always been the festival I "almost made it to." I've had lots of friends who have talked up Heartland over the years and when I was living in Michigan I began putting together some plans to make the 16 hour drive. Somehow I ended up not getting any workshops picked up and had to cancel my plans, bummer, but I'm not one to carry a grudge. Music, drumming, workshops and all in America's heartland, I like that.
Free Spirit Gathering
Dates: June 10-15
Location: Ramblewood Retreat Center, Darlington Maryland
Cost: 280 for the whole event, sliding scale and day passes too.
Names: Tom Swiss, Keva, Dynasty Electric
I've never had the pleasure of going to Free Spirit, but I've been to Ramblewood before and it's a fine place to hold a festival. Free Spirit always boasts a diverse amount of programming, including a sacred sexuality track of workshops. The lakeside drum circle at Ramblewood is a great setting too.
Wic-Can Fest
Dates: June 11-15
Location: Mansfield Outdoor Centere, Mansfield Ontario Canada
Cost: 192 with camping, 210 for a spot in a cabin. Meal plans for 75 dollars.
Names: The Dragon Ritual Drummers (and it doesn't get better than those guys), Donata Ahern, Jeremy Tool
Wic-Can Fest ranks as one of my all time favorite festivals. The folks going to this festival and putting it together are just some of the best and nicest people I've ever met. I haven't been in a few years now (it's a pretty long drive from out here on the West Coast) but because of Facebook and things many of the individuals I've met there over the years have remained a part of my life. Also, absolutely the best drum circle in North America! (Special mention for having the best website out of all the festivals on this list, I want to steal all of the graphics!)
Pagan Spirit Gathering
Dates: June 15-22
Location: Stonehouse Farm in Northern Illinois
Cost: 250 dollars, weekend passes also avaialble
Names: T. Thorn Coyle, Selena Fox, Kathryn Hinds
PSG was the first Pagan Festival I ever attended and to say it was a life changing experience would be a complete understatement. At that PSG I made life-long friends, was initiated into the mysteries of Jim Morrison and The Doors, and presented my first ever workshop outside the state of Michigan. PSG has always been a great festival, but since moving back to the upper Midwest it feels completely reinvigorated. One of the great things about PSG is its focus on community and workshops. Every time I've attended an event held by Circle Sanctuary I've felt very much at home.
Wisteria Summer Solstice
Dates: June 19-22
Location: Wisteria Campground, near Athens Ohio
Cost: 120 for the four days, day passes available
Names: Primal Rhythm, Paul Stranahan
Wisteria is one of the prettiest campgrounds in all of Pagandom and one of my favorites. Their amphitheater-like concert stage is a wonder to behold (and hear-the acoustics are great!) and makes for some truly magical musical experiences under the stars. I also love the drum circle, which is tucked into a small clearing surrounded by trees. It can get a little cramped in there, but it's truly spiritual. Like most festivals it's also populated with some truly fine folks.
Chrysalis Moon
Dates: July 9-13
Location: Tippicanoe River State Park, Knox Indiana
Cost: 80 dollars, cabins available
Names: Joyce & River Higgenbotham, Corirose Anjali, Murphey's Midnight Rounders
I'm having another "what could have been" moment now . . . . . I got asked about presenting at Chrysalis Moon earlier this year and at the very end they chose to go another way. I completely understand, I'm just a lowly blogger after all, but it looks like a great festival! I think I have reasons for being disappointed. This is another festival I know some people at so I can say with complete confidence that CM is full of fine Pagans.
Starwood Festival
Dates: July 8-14
Location: Wisteria Campground, near Athens Ohio
Cost: 175 dollars for the week, weekend passes also available
Names: Oberon Zell-Ravenheart, Ian Corrigan, Daniel Harms, Rev. Ivan Stang
(I just saw that Daniel Harms was going to be at Starwood, he edited the new edition of The Long Lost Friend that Llewellyn released two years ago. I'm so bummed that I won't be there to meet him. OK, fan-boy moment over.) Starwood is one of the longest running Pagan-friendly festivals in North America and was for many years the biggest too. I've been to a lot of Starwoods over the years, and to this day I can't thank the organizers enough for being nice folks and giving me a place to lead several crazy-ass Dionysian/Jim Morrison Rituals. Starwood is a great party, but it also features an eclectic and strong list of speakers from year to year. It's also the only festival I know to feature a yearly "devival." Starwood also has a pretty strong trance and dance community these days too, in addition to the great bands they bring in every year.
Sirius Rising
Dates: July 14-20
Cost: 180 dollars for the week, sliding scale after the 14th
Location: Brushwood Folklore Center, Sherman New York
Names: JASON MANKEY (damn it!), Peg Aloi, Lilith Dorsey, Cu Dubh
All right, I'm completely biased, I'm speaking at Sirius Rising this year, but I'd be ranting and raving about Sirius even if I weren't going to be in attendance this July. Brushwood has been my summer home for nearly fifteen years now, and with the exception of my first year in California the visit is annual. Brushwood is the perfect combination of "rustic and developed" when it comes to private completely Pagan-friendly camping. Hot (clean) showers, a hot tub, a shady pool (perfect for warm hot Western New York days), the legendary four flushers . . . . . plus it's all nestled in Mennonite country ringed with rolling hills and lovely trees. The facilities at Brushwood are top-notch and it's yet another place with truly great people. They've also got the best soundman in all of Pagan music running the nightly concerts, Roofy you are appreciated my friend! I leave a small piece of myself at Brushwood when I visit these days too (I have a cooler, a tent, and a chair in storage there). Sirius is also now flanked by the Sankofa Festival (July 7-13, prices start at 150 dollars), which should make for two fine weeks of camping, art, and ritual.
Summerland Spirit Festival
Dates: July 12-20
Cost: 320 bucks for nine days with a meal plan, 160 without. Sliding scale after the start of the festival.
Location: Turtle Creek Glen, Clayton Wisconsin
Names: Wendy Rule, Steven Posch, Teri Leigh
I got a random email the other day informing me of this festival, and after checking out their website I can't believe I'd never heard of it before! They've got some really great musical performers lined up this year, and their website lists an impressive array of workshop offerings too. A "How to Judge Beer" class!?! If only I wasn't allergic to the stuff! (The scotch tasting is a whole different story . . . .) This looks really fun and the pictures of the campground look very picturesque.
Kaleidoscope Gathering
Dates: July 30-August 4
Cost: 130 loonies for the whole festival, day passes and sliding scale after the festival starts.
Location: Raven's Knoll, Eganville Ontario Canada
Names: Fiddlehead Soup, Jamfola,
During my many Wic-Can Fest visits I ran into lots of folks who talked about a festival in Eastern Ontario named Kaleidoscope. Due to the vast distances involved (even from Michigan) I was never able to make it that far East, but it always looked like a great festival. I still don't know that much about it, but there's a lot of really diverse music on their schedule this year (I think I saw a picture of a guy with just a turntable . . . you don't run into that at very many Pagan festivals). The campsite looks nice too, and it's completely affordable (as are most of these festivals). If only my bank account was self-replenishing and there were more days in a year.
Sacred Harvest Festival
Dates: August 4-10
Location: Southern Minnesota
Cost: 120 dollars, day and weekend passes available too
Names: Crystal Blanton, Tony Mierzwicki, Yeshe Rabbit
Sacred Harvest is another of those festivals I've heard a lot about over the years but have never had a chance to attend. I know Crystal Blanton speaks highly of Sacred Harvest quite a bit and her opinion counts for a lot in my book. This year's line up looks like their best yet (I'd love to listen to Tony Mierzwicki), and should result in some great workshops and rituals. I've also heard that Sacred Harvest is especially family-friendly.
Dragonfest
Dates: August 6-10
Location: Rustic Creek Ranch, Pike National Forest, Colorado
Cost: 87 dollars until July 1, weekend passes available
Names: Phil Catalano, Lady Eva Michenet
Dragonfest might be the only festival on this list that has intentionally downsized. At one point Dragonfest was attracting 1000 or so Pagans and now they limit attendance to only 500 folks. (That's still a big number for a Pagan festival.) No bands that I can see on their schedule, but past editions of this festival have featured a lot of varied and imaginative programming. It's right next to a national forest, how much more Pagan can you get?
And that concludes my not even close to comprehensive list of major, Pagan festivals this summer. If you can't make any of these great events, poke around, there's probably something worth doing happening near you.
Princes quoted are accurate at the time of this writing and sometimes represent "early bird" registrations. Make sure to check up on any festival you are interested in attending.
(Also if you liked this article share it with your friends via social media. I know it doesn't read that way, but this took forever to write with all the links and stuff!)