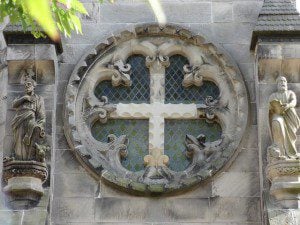 I'm fascinated with history and sacred spots. I was lucky enough to recently visit the (still) United Kingdom and wanted to share some of my experiences there on Raise the Horns. Instead of a boring travelogue I thought I'd provide a little context on the places I visited and perhaps help the next Pagan traveller. If enough people read this article I'll also write about Stonehenge, Bath, and Glastonbury. So if you like this piece (and the pretty pictures, all taken by my wife and I!) please help a guy out by sharing it on social media.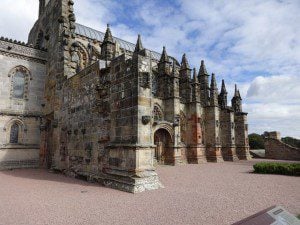 Why visit Rosslyn Chapel ?: That is a very good question (especially for Pagans). Maybe one visits Rosslyn because it's weird? You are a fan of Dan Brown novels? There's really nothing "Pagan" about Rosslyn Chapel. It's a Christian Church and has been (at least when its been in use) since it was built in the mid-1400's. What makes Rosslyn interesting is that it's been linked to the Holy Grail, the Knights Templar, and lots of other conspiracy type theories over the years.
The walls of the chapel are home to all sorts of interesting carvings which is a lot of the draw. For instance there are over 100 Green Men on its walls, I guess that's the Pagan connection. It was certainly the biggest reason for my visit. (It's worth mentioning that if Green Men are ancient pagan symbols it's very unlikely that anyone thought of them that way in the year 1450, things had been pretty Christianized by that point.)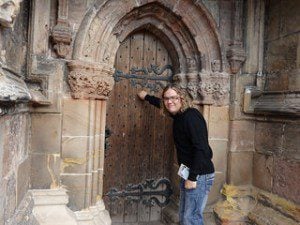 Rosslyn Chapel has become a popular tourist destination over the last ten years because of Dan Brown's The Da Vinci Code novel. I've been familiar with the Chapel for a couple of decades now, but it's only really entered the extended public consciousness because of Brown's book and the movie adaption directed by Ron Howard. That's not an opinion either, that's what the tour guides at Rosslyn freely admit to.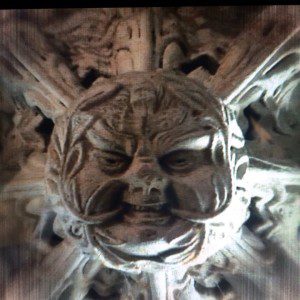 What Should One Look at when Visiting Rosslyn Chapel?: As a Pagan I was interested in looking at the Green Men on the walls, and in that regard Rosslyn didn't disappoint. The chapel is littered with them, and they appear on both the inside and outside walls of the place. Since photography isn't allowed inside, if you want to snap a picture of a Green Man you've got to do it outside. The most famous Green Man image from Rosslyn (just to your right) is located in a very prime spot, so whatever the Green Men are supposed to represent it's apparently important.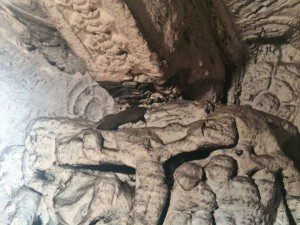 There are also what appear to be carvings of maize in the chapel. This wouldn't be that big of deal if the chapel had been build in the Seventeenth Century, but the carvings pre-date Columbus's visits to the Americas. This has led to all sorts of conspiracy theories over the years. Speaking of conspiracy theories, a depiction of Jesus's crucifixion has been alternatively interpreted as the execution of Jacques de Molay, the last leader of the Knights Templar. I don't find this very convincing, but a lot of ex-Templars did move to Scotland when the order was destroyed in 1307. It's certainly worth a look.
Also worth taking a close look at is "Apprentice Pillar," an ornately decorated pillar that has had what is most likely a Masonic-myth attached to it. According to legend an apprentice decorated the pillar when his master was out of the country. When the master returned he murdered his apprentice for creating such a lovely piece of art. A carving in the chapel had its beard removed (vandalized) to better look like an "apprentice." I don't believe the story, but the pillar is a work of art. The stylized Devil is also really cool.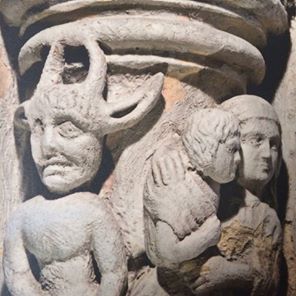 According to some pretty crazy books Rosslyn is the home to a missing Templar treasure, the Holy Grail, or perhaps the Ark of the Covenant. As the tour guides take pains to point out, the chapel was abandoned for nearly 200 years. If the chapel does serve as a hiding place for the Grail (or perhaps Jimmy Hoffa?) the Sinclair family (owners of the chapel then and now) must have forgotten about the secret that was a part of their holdings.
There are also some exhibits inside the Visitor Center at Rosslyn and some displays outside commenting on the building of the chapel. These exhibits are of varying quality and we found most of them to be pretty boring. We were much more interested in ooing and ahhing at Green Men.
Jason you sound kind of negative, did you like Rosslyn Chapel?: Sorry about that, I loved Rosslyn, even if I don't believe in some of the crazier theories attached to it. It's a gorgeous chapel, and it is weird. It's also impossible to explain all of the carvings, maybe there is some giant conspiracy here after all.
Getting to Rosslyn Chapel: Rosslyn Chapel is only a few miles outside of Edinburgh and easily reached via the public bus line. That's how we got there and the ride offered a lovely view of the city and a couple of outlying villages. There are also frequent private bus trips to Rosslyn on a daily basis.
Admission Fee: A mere nine pounds, which I thought was a bargain. Nine pounds get you into the chapel, the exhibits, and includes a tour if you are so inclined. When we entered the chapel a tour guide was giving a brief overview and I found it very helpful. Once you enter Rosslyn you can stay as long as you wish.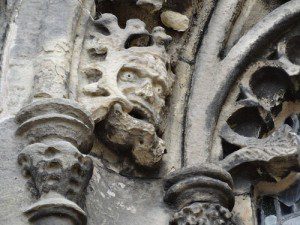 What I didn't like: A few years ago Rosslyn instituted a "no pictures" inside the chapel policy. Since the tour guides were shining laser pointers on every interesting carving in the chapel I have to assume the no pictures policy is a ploy to sell more things in the gift shop. The no pictures policy isn't rigorously enforced, a Dutch tourist walked around with a camera around his neck snapping shots of whatever, but I couldn't quite claim that I didn't know English.
There are also some weird exhibits in the visitor center that didn't quite sit right with me. A cartoon presentation on the Green Man contained a cockamamie story about the Biblical Adam, his son Seth, and the origins of the Green Man motif. The Green Man may or may not be a pagan relic, but it's certainly not a myth featuring Old Testament characters. The video presentation was in complete contrast to the offerings in the gift shop which promoted the Green Man figure as a nature deity. Rosslyn does it best to have things both ways apparently.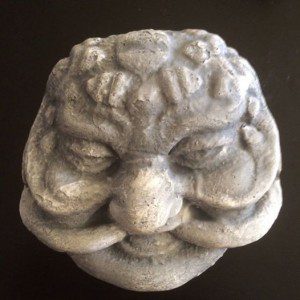 To Take Home: The gift shop was a weird mix of Christianity, Paganism, and Freemasonry; so no matter what one's attraction to Rosslyn might be the gift shop has you covered. There are some lovely Green Man casts for sale, molded from the original carvings in the chapel. They are also made in Scotland and are reasonably priced at only twenty pounds. I had to take one home with me. It was the only item we purchased at Rosslyn.
What They Don't Tell You: Rosslyn Chapel its self is pretty small (in truth, it was never actually finished being built!), and so are the carvings inside of it. The Green Men for instance are all about the size of my hand. I actually had trouble finding some of my guys because of it, even the ones clearly marked on the visitor map. They just aren't very big.
Should you visit?: Absolutely. It's worth visiting just because it's such a curious place. I wasn't overcome with any great spiritual insights while visiting but I enjoyed being there and the Green Man images will stick with me for life.
Photos Aren't Allowed, How Did you Get All of These Pictures?: I've got secrets folks, that's all I'm going to say.