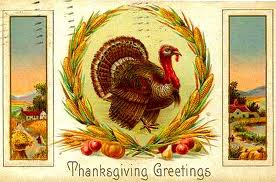 I love holidays, big and small, and Thanksgiving is my favorite holiday of them all. I like it because it's a "low expectation" holiday. About the worst thing that can happen on Thanksgiving is that my football team loses and I overcook my turkey a little bit. It's about eating, being with friends and family, and taking a moment to reflect on life's good moments. I don't have to worry about getting or giving, setting up a ritual, or even dressing up.
Thanksgiving is the simplest and most basic of holidays. At its core it's a harvest celebration, perhaps the last "pure" agrarian holiday shared by most Americans. I used to joke that "if the Pilgrims had been better farmers we'd be celebrating in September instead of November" but that's not really true. Late November is the perfect time for a harvest feast. The harvest has been gathered, the apple juice has fermented, and there's enough free time to cook a variety of holiday dishes. For the Puritans with their restrictions on work, Thursday was also the most convenient day for a large meal.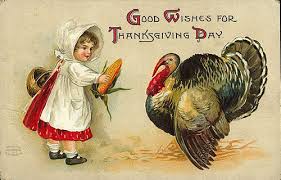 The history of Thanksgiving is not nearly as cut and dried as we like to think it is. Only within the last 100 years has it settled into its niche as the "start of the holiday season," and I realize that holidays evolve and change over time. However what's happened to Thanksgiving over the last five years is an absolute tragedy. The holiday isn't just changing, it's being devoured like my Grandma's mashed potatoes.
Thanksgiving has been a "gateway to Christmas" holiday for over 100 years now. I grew up watching the Macy's Thanksgiving Day Parade and waiting for Santa Claus to show up at the end, and I've never known a time when the mall wasn't decorated for Christmas by November 5. Those sorts of distractions have never taken me away from the simple joys of Thanksgiving. The TV gets turned off and it all sort of disappears for an hour or two (or in my house Christmas is pushed out by Lions football), no problem.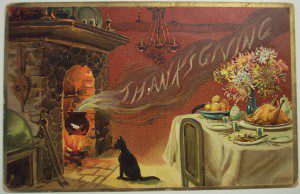 I've also grown up with Black Friday and have generally enjoyed it. I never do it much for the deals, but I like that it gives me an excuse to get out of my house for a few hours. When I was young my parents used to drop my brothers and I off at the mall. Today I pretty much do the same thing (though my wife and I often engage in "shot and shop" to lighten up the experience), though I don't get up early to do it or any of that other nonsense.
Over the last fifteen years Thanksgiving has undergone a fundamental change, and that change has frighteningly accelerated over the last five years. It used to be that retail stores opened on Black Friday morning, slowly that was pushed back to "early Black Friday morning" and then finally to "technically early morning but more like the middle of the night." I didn't particularly care for the 2:00 am business openings, but at least they were solidly on "Friday" if only by a few hours.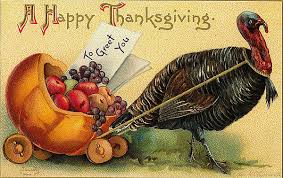 Now every big box store under the sun is open on Thanksgiving, and "under the sun" is the correct terminology here. Retailers like Target and Macy's are opening at 6:00 pm and Walmart is open all day. Thanksgiving is now less about a leisurely meal and more about devouring a piece of pumpkin pie before going out in search of a HDTV. "Thanks" has been replaced with "more" and ridiculous lines that might result in someone saving five bucks on a hand mixer.
There's no way "everything" in America will ever close down, but until recently Thanksgiving was one of the few days a year that most Americans were given off. Sure essential services have always been open (police, firefighters, hospitals, etc.) along with the Waffle House and a few gas stations but for years that was pretty much it. Until recently Thanksgiving and Christmas were the only days on the calendar where retail and dining were closed, not so much today. (The biggest exception to that rule has always been K-Mart, they've been open on Thanksgiving for a few decades now. Of course most of us are more surprised that there are K-Marts still open, not so much that they are open on Turkey Day.)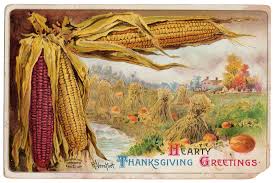 By pushing the "shopping on Thanksgiving" narrative companies are literally ripping Thanksgiving out of the hands of their workers. "Enjoy your dinner kids, Mom has to get to work," such statements are now a part of our reality. Many of the folks working on Thanksgiving are also among America's lowest wage earners, creating a situation of "haves" shopping and "have nots" waiting on those shoppers. Much of the Thanksgiving myth is about people coming together as equals around the harvest table, that idea gets more and more lost every year.
Most of us are aware of the false narrative that is the "War on Christmas" but the "War on Thanksgiving" is a very real thing. It's happening before our eyes and Thanksgiving may never be the same ever again. I'm fearful that "Happy Thanksgiving" will soon be replaced with "Happy Black Thursday" as my favorite holiday is superseded by an orgy of shopping, corporate greed, and "door buster" deals. You might see me at the mall on Black Friday, but on Thanksgiving I'll be home with loved ones. I'm not going to tell you what to do or how to shop, but I hope you're home that day too.
Happy Thanksgiving!