Over the last four years my wife and I have taken half a dozen or so trips to the Pagan-mecca of Las Vegas. What, Vegas doesn't sound very Pagan-friendly to you? I understand, it's a giant city built in a desert and it really shouldn't exist. In a lot of ways Vegas is everything wrong with America: it's loud, selfish, environmentally shitty, and speaks to our nation's collective gluttony and greed. It can also be fun, has great food, and is a giant art museum (at least between the slot machines).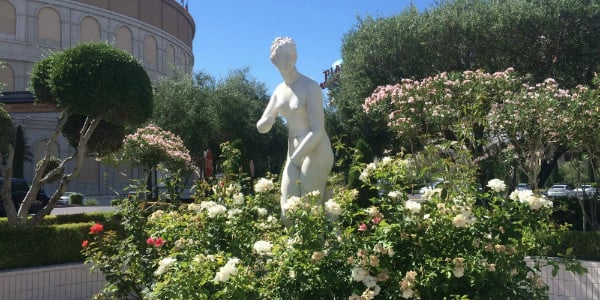 For another look at Las Vegas through Pagan eyes check out The City of Light and Illusion by John Beckett on Under the Ancient Oaks.
What follows is a tourist's look at Vegas. Beyond the gambling and glitz of the Strip there's a thriving local Pagan scene, but that's not really a world I'm a part of so I don't feel qualified to write about it. What I do feel comfortable writing about are the spots where tourist-Vegas feels sort of Pagan. It will never feel Pagan in the way that sitting in a cathedral of trees or staring down the ocean does, but it feels "pagan" in a more classical sense. Every time I visit Vegas I can't help but think of Rome at the height of its Empire. If the United States is the new empire, then Vegas is our Rome.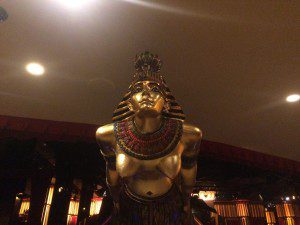 The Theme Motels & The Strip   Most people when they visit Las Vegas stay at and party on "The Strip" a four mile stretch of hotels and casinos containing over 62,000 guest rooms. Most of the casinos, shows, and restaurants that people associate with Vegas today can be found there. Starting in the 1990's it became especially popular to build Strip hotels around specific themes, even when those themes had nothing to do with gambling. Much of the best Paganish art to be found in Vegas can be found on the Strip.
The best hotel in Vegas for sight-seeing is Caesar's Palace. I'll admit to being a little biased towards the gods of Mount Olympus, but Caesar's is truly spectacular. The whole place is full of sculpture and art celebrating the gods of antiquity. Walk down a random hallway and you'll stumble into statues celebrating Caesar Augustus or perhaps Cleopatra's barge (just to your left). The Forum Shops at the hotel feature a very loud animatronic sculpture chronicling the destruction of Atlantis, complete with gods of course. For those of us who haven't been to Rome, I'm not going to argue that Caesar's is close, but it is pretty cool for gawking around.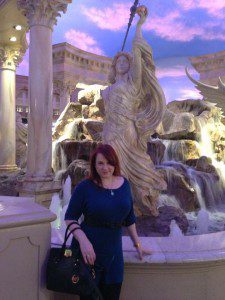 Caesar's also has a gift shop complete with statues of the gods. Did we take home a new Aphrodite or two? You bet. Even the grounds are full of odes to the gods. My wife's favorite part of Caesar's is probably a gigantic sculpture featuring dozens of classical deities. That's her on the right next to Aphrodite, and yes she's holding Eris's golden apple. Something about discord seems appropriate in Sin City.
Next door to Cesar's is the relatively (comparatively speaking) tranquil Bellagio. Since the Bellagio was built in 1990's it's required by Vegas law to have a theme, in this case Bellagio Italy. It's not quite as Pagan as Caesar's, but there are still things worth looking at, most notably The Conservatory. Exhibits in the Conservatory are mostly made up of flowers and it's pretty awe-inspiring. There are five themes in the Conservatory: the four seasons and Chinese New Year. The Summer theme tends to be a bit too 'Merica for my tastes, but the Chinese New Year displays are amazing. Since this is the year of the goat (or sheep or ram depending on translation and region) I was especially delighted by this year's exhibit. This is one of the busiest spots in Vegas, but worth the effort.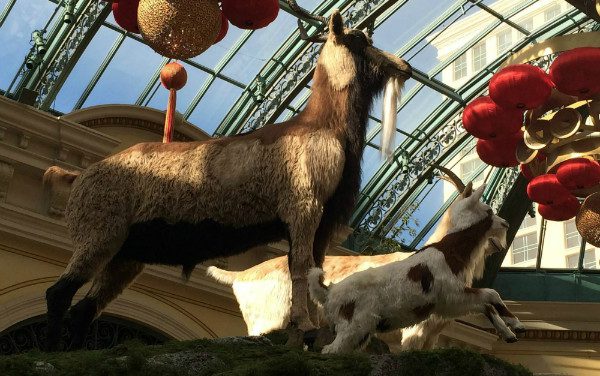 The Bellagio is also home to the The Fountains of Bellagio, because a trip to New Rome wouldn't be complete without giants jets of water in the middle of a desert. Set to music, and with an accompanying light-show, the Fountains are rather magical at night. My rational brain is often bothered by their presence, but my "ooohh pretty" brain enjoys watching the shows. Shows run every thirty minutes during the day and every fifteen minutes after sunset. The quality of the shows often varies depending on the music each show is set to. Celine Dion, bad. Frank Sinatra, good.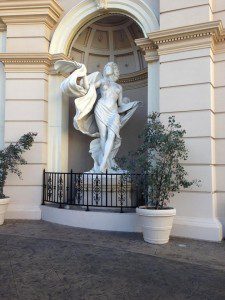 A bit lower on my list but still worth a look are Excalibur and Luxor, with Arthurian and Egyptian themes respectively. Luxor feels almost as old as the pyramids it celebrates (and not in a good way) but there's still some cool Egyptian-inspired art, though not a whole lot of deity sculptures like Caesar's. Still being able to see a Sphinx without traveling to the Middle East is rather appealing right now. (Luxor used to have an incredible gift shop full of Egyptian-deity statues made in Egypt. Sadly this closed about two years ago and the remaining stock was moved to a much more mundane trinket store.) Excalibur is even more of a relic than Luxor but it has suits or armor and that sort of thing.
After the Bellagio, Excalibur, Luxor, and Caesar's there's not a lot left on the Strip with pagan themes. I'll admit to being a partial to The Venetian, probably because it houses The Bourbon Room, a whiskey bar that plays hair metal and other 80's "gems" every evening. There's also Paris with a stunning lobby and some gorgeous French inspired art. Further down the Strip there's also Treasure Island, which features a live pirate show out front. I've never been a pirate-guy, but if that's your thing . . .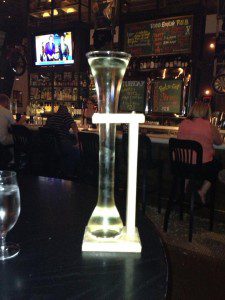 Sin City  Vegas has a reputation as "Sin City" but I find that appellation a bit silly. Most of Vegas isn't so much about "Christian Sin" as it is about over indulgence. It's more about: "Look at me! I'm drinking a yard of shitty frozen alcoholic drink while walking around in public" and "I'm smoking indoors." When it comes to vice Vegas feels rather on the light-side of things to me.
There are trucks that drive up and down the strip advertising girls that want to meet me (really? they want to meet me?) but prostitution is illegal. I guess gambling is kind of a vice, but as long as one isn't sacrificing their house payment I don't see it as all that big of a deal. (I understand that for some gambling is a real problem, and I sympathize and don't wish to make light of it.) Perhaps America is just so repressed that the idea of smoking indoors is a game changer? There are plenty of strip-clubs around town, places where simply using an ATM will cost you ten bucks, now that's a sin.
Fremont Street  To continue with my Rome analogy . . . The Strip is where the patricians play, and Fremont Street is where the plebeians spend their time. Fremont Street is old Vegas, and in many ways best captures what most people think of when they picture Vegas. It's full of neon, cheap drinks, ten dollar steak dinners, and features some awesome people watching. I love Fremont Street!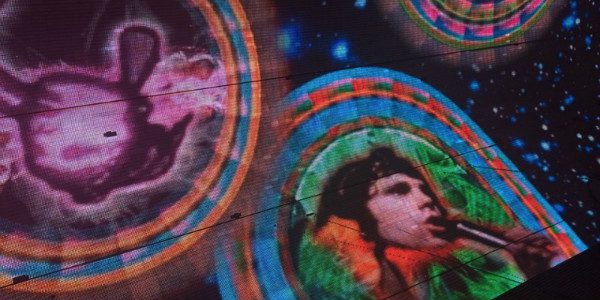 Fremont Street is a giant outdoor street party flanked by slot machines and a few restaurants. Fremont's main drag is covered with a large roof that hosts musical montages every hour or so. This past January I literally danced through Fremont Street as The Doors were visually and audibly blasted over my head. It was one of the best quarter hours of my entire life.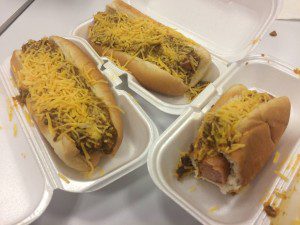 There are several stages on Fremont Street featuring free music, generally by highly competent cover bands and Elvis impersonators. This really adds to the outdoor party feel, and if you don't like one of the bands playing just walk 50 yards and you'll run into the next one. Fremont is lots of fun, but the party doesn't start there until the sun goes down. I've tried visiting during daylight hours and it just doesn't work as well.
Part of my love for Fremont Street is linked directly to my love of chili dogs. Right next to The D (a Detroit themed hotel with the best drinks and bartenders in Vegas) is an American Coney Island restaurant. What's so special about an American Coney Island? Well it's the only place outside of Detroit Michigan to get a proper coney. Detroit chili dogs are the best dogs in America and a trip to Vegas is not complete without a chili-cheese coney (no onions for me).
Shows  I've had a few people ask me about shows on the Strip and the Pagan themes sometimes found in those. Certainly the twelve Cirque du Soleil playing on any given day in Vegas seem a bit magical, but alas, I've never gone to one. I did check out Absinthe a couple of years ago, and it was bawdy fun mixed with Cirque-type feats of human daring, but I usually hit Vegas for hair metal shows. That's one of the great things about Las Vegas, it is a music lover's dream with all sorts of concerts on any given night (I saw Elton John there!).
There are also lots of burlesque shows (and even "zombie burlesque" whatever that is) and bits of broadway here and there. Probably more so than the gambling, it's the shows that attract a lot of folks to Vegas. If you do go see a show scout around for the best deals, if a show isn't sold out there's no reason to pay full price.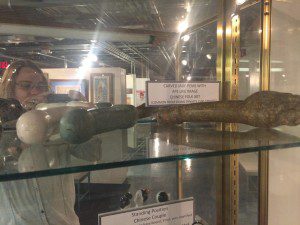 Bonus! The Erotic Heritage Museum  This past Winter while my wife and our traveling companion were engaged in some retail therapy, I paid a visit to The Erotic Heritage Museum. I'm not sure my trip was worth the thirty dollar cover price, but it was a reasonable waste of two hours. In between some rather childish exhibits (cardboard cutouts of porn stars!) there was some actual ancient art of an erotic nature. Any place that's got old Pan statues is probably going to appeal to me.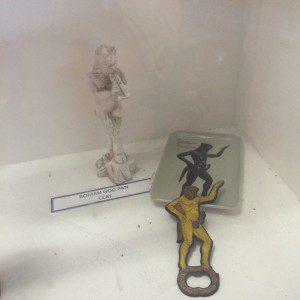 For about an hour of my visit I was the only one in the museum, and while running around unsupervised I managed to take about a dozen photos of every antique phallus on the premises. In the middle of my trip I noticed a "no photos" sign and decided I should probably stop breaking the rules. The exhibits at the Erotic Heritage Museum are rather hit and miss. I hope that one day they'll get around to re-labeling "The Roman God Pan" as "the Greek God Pan." If you folks at Erotic Heritage read this, I'd be happy to help put together an exhibit dedicated to my favorite hooved god. At the very least I could help you update your "literature display" that features the Necronomicon and LaVey's Satanic Bible.
So that's Vegas. Is it like going to Glastonbury? Certainly not, but if you get a chance to go out there be sure and walk through some of the hotels and most certainly visit Fremont Street. As the Great Lady says "All acts of love and pleasure are my rituals."
More Pagan Pilgrimage:
Glastonbury
The Roman Baths
Stonehenge
Rosslyn Chapel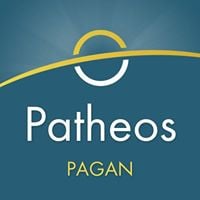 CLICK HERE TO "LIKE" PATHEOS PAGAN ON FACEBOOK
It's easy to do, like Patheos Pagan and Raise the Horns on Facebook!