Day three of our vacation in the UK was not much of a vacation. Our alarm clock rang a little after 5:00 AM (which is just about when I get to sleep) and at 7:00 AM we began our three hour journey from Bath to Cornwall and our first stop Tintagel. Not familiar with Tintagel? Shame on you! It's been in the news a lot lately and is allegedly the birthplace of the King Arthur Legend (and it's not quite out of the question either). We know for sure that there was a settlement there during the early Middle Ages and that its port hosted ships from throughout the Mediterranean and Europe. The castle ruins there today date from the 13th Century, and were built by Richard, the First Earl of Cornwall.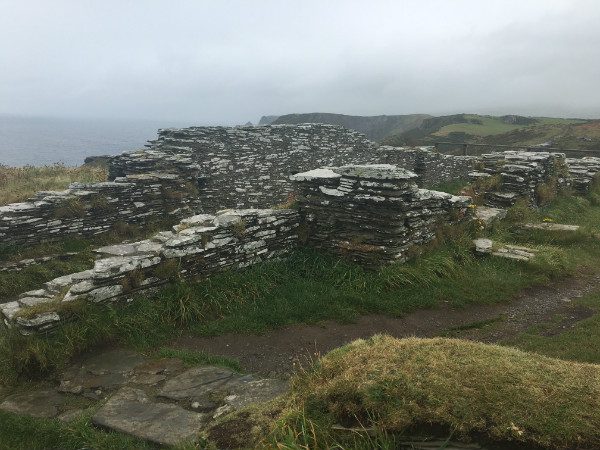 It was drizzling when we started our journey into Tintagel Castle and the rain there seemed to be keeping everyone away. We had the place pretty much to ourselves. During our walk back down from the castle we were overrun with tourists. The walk to the ruins of Tintagel Castle is not for the faint of heart, it's long and the slate rock paths are slick. Right before the English Heritage ticket window is "Merlin's Cave," if you are willing to walk down to the beach below.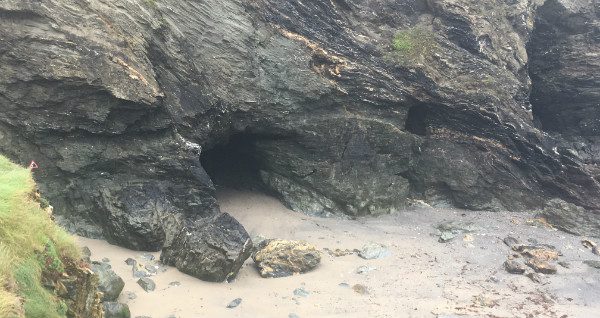 Of course I was willing to walk down to the cave, and walk through it! My wife had some reservations, but she joined me eventually. I took the photo below from inside the cave, that's about as far as Ari wanted to go in. The cave we visited has only been associated with Merlin since the 19th Century (most likely).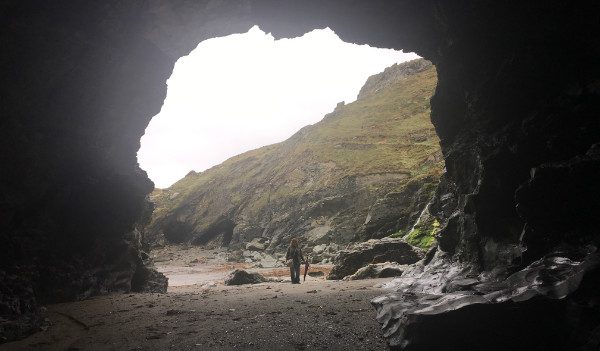 We found Tintagel Castle (and it's accompanying views) quite spectacular. My wife and I really enjoy ruins, perhaps more so than actual castles, probably because they leave more to the imagination (at least this is what Ari says). Tintagel is also the name of the city above the ruins which is why I sometimes call it "Tintagel Castle" in this article.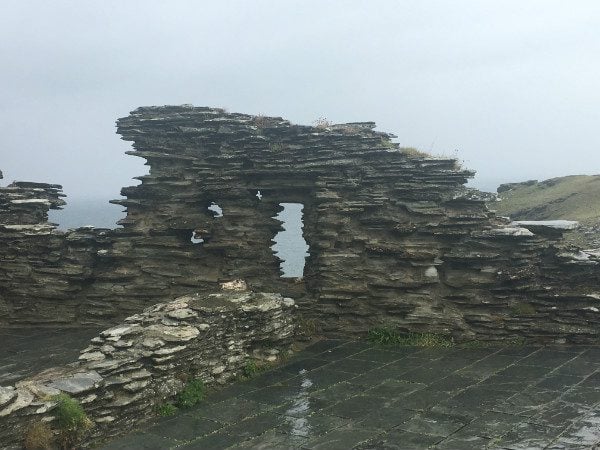 There's more to Tintagel than just King Arthur and ruins, it's early history is also interesting. During the early Middle Ages (or the "Dark Ages" according to the literature they give you) it was a port, and hosted ships from across the Mediterranean. In an era and area where that was rare, this is astounding achievement.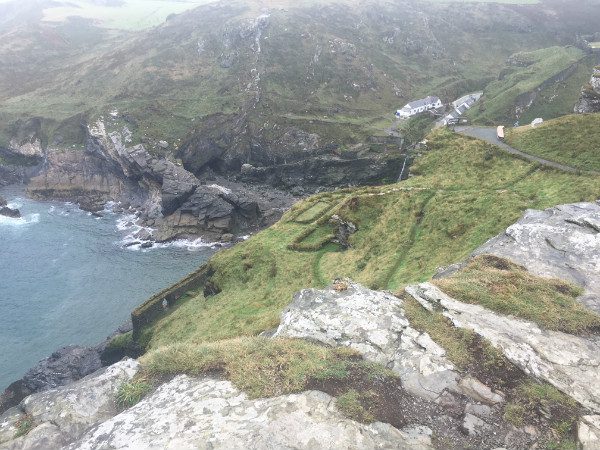 I'll admit to being a bit of an Arthur nerd, so it was great to also be at a place associated with his legends. There's a cool statue there of the "King of the Britons" overlooking the sea. Did I want him to look like Graham Chapman? Yes! But he did not.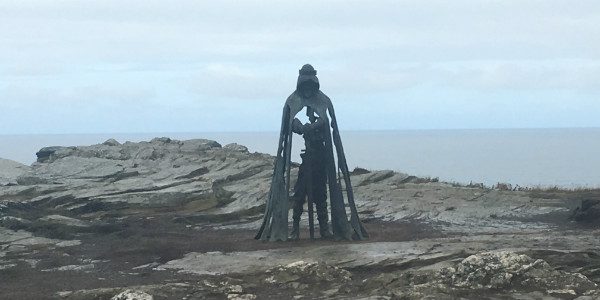 Five miles from Tintagel is the village of Boscastle, and the Museum of Witchcraft and Magic. I'm just going to call it the Witchcraft Museum here because that's what I went for. Magic is fine of course, and I practice it, but I was most excited about Witchcraft things, and besides, I'm a Witch.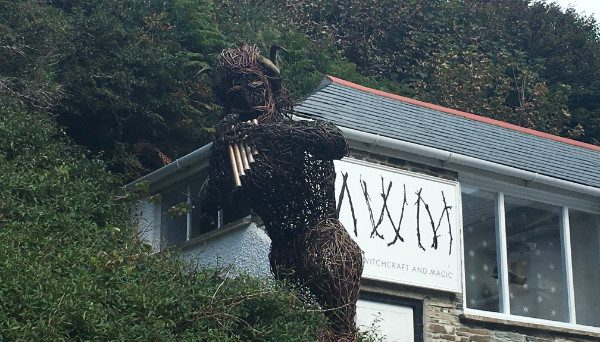 Had I made my wife visit Cornwall just for the Museum I would probably be sleeping on a couch tonight in Glastonbury, but between that and Tintagel we had a find adventure. The museum goes heavy on the magic, but that shouldn't be surprising, it's a lost easier to curate! It's a small spot, but totally worth it, especially towards the end.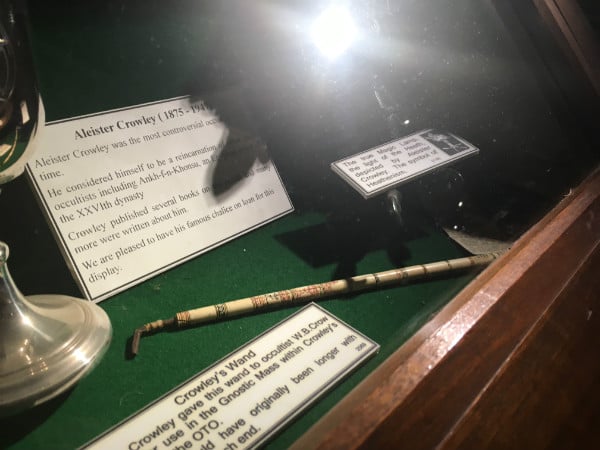 Crowley's Wand (just above)! Are you kidding me? Just when I thought I was going to be disappointed the museum decided to turn on the awesome. Stuff from Crowley and the AA (an offshoot of the Golden Dawn) I found to be absolutely delightful. There were also some of Stewart Farrar's old working tools too. But the thing I'll remember most was at the end . . .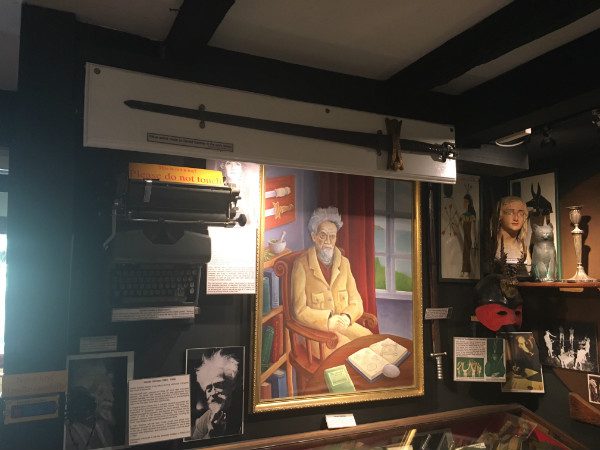 Yeah, I love my Gerald Gardner stuff. There were letters, a sword he made himself, and various other things. Next to that were some of Alex Sanders' old working tools too. Alex's athame? Yes please! So totally worth it. Spent a lot of money in the gift shop too. I'm glad my American credit card works!
Next: Glastonbury!