I met Damh the Bard at Michigan Pagan Fest in 2011 and instantly became a fan. Sure, his songs are great, but he's also just a terrific person. We were actually on a panel together at that event and I remember thinking to myself "Wow! I really like this guy!"
Over the years my admiration for the man has only grown, and I think he's not just an important singing voice in the Pagan Community, but an important voice period.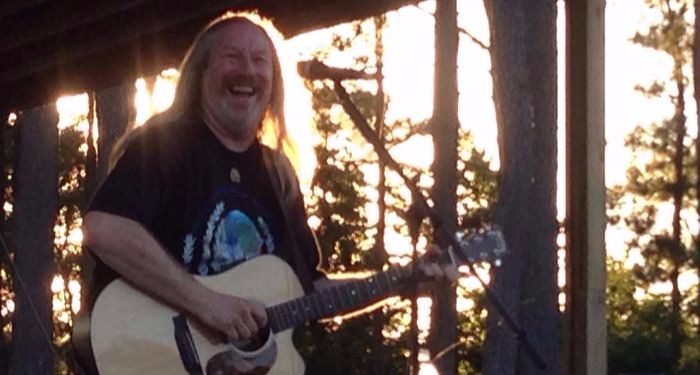 Jason: Let's start at the beginning . . . . . .you were originally a drummer in a heavy metal band and then somehow morphed into a guitar playing Pagan bard. How did that change happen? What inspired you to pen songs about horned gods, sabbats, and cauldrons?
Damh: It was probably my love of rock music that originally led me to explore magic and the occult. I loved Black Sabbath, Judas Priest and the Otherworldly music and lyrics of Rainbow when the great Ronnie James Dio sung for them. I remember hearing 'Tarot Woman' opening 'Rainbow Rising' and thinking, hey, what is Tarot? So that music was part of the influence. In the mean time I was learning the guitar and my teacher was an Irish folk musician called Tim O' Leary. I was his first student, when I was 8 years old. He couldn't read music so taught me in a very Bardic way – learn music by ear – the relationships between notes and chords, the structure of songs. It was perfect really. But when I decided to join a band all I could play was Irish folk! I couldn't play electric guitar! The thing was, and I think it had something to do with the way Tim had taught me, I had a natural rhythm. So I took up the drums instead.
I had a double bass drum, Premier Black Shadow Resonator kit. My band, Targa, did pretty well. We got a headlining gig at London's prestigious Marquee Club, the launchpad for many a well-known rock act. But our guitar player quit just before the gig and it had to be cancelled, and that was it for me. I had a new-born baby son, and much less time on my hands. So hung up my sticks.
About the same time my interest in the Occult had turned my gaze to something a little more earthy. I was exploring Wicca and Druidry and I was invited to help at an initiates-only Wiccan camp. I couldn't go to any of the talks or workshops, but I helped out, mixed with people, had great conversations, and then in the evening joined the camp fire. I remember that first night. How magical it was, hearing people sing those classic Wiccan chants around the fire. The next night was the same. And the next. It was lovely, but by the fourth night I thought to myself, man, we need some songs! I hadn't heard of Gwydion Penderwen at the time, and there were only about two Pagan bands in the UK, so I thought, well, if those songs don't exist, I'll write some! That's how all of this started. The very next week I went to my first OBOD Druid camp. I lay by the fire under a star-filled sky when I heard a voice say, "Would you mind if I joined you and played my harp?" It was the first time I had heard a harp played live. I fell in love, completely and utterly. At the same camp I saw the Bard Andy Letcher do his Bardic thing (he was later one of the founders of the band 'Telling the Bees'). I saw what he did and thought, that's it! I want to do what he does. So my path led me to the Druid tradition, and more distinctly, that of the Bard. When I got home from that camp, I sold my drum kit, bought a Celtic harp and a mandolin, and got on with it.
In addition to being a Pagan musician, you are also the Pendragon of the Order of Bards, Ovates, and Druids (OBOD). What is it about OBOD Druidry that appeals to you and what exactly does a Pendragon do?
I have always loved to openness of OBOD Druidry. Of the way the learning is split into three grades (or more accurately I think they are three 'schools'). Between the Bard, Ovate and Druid all of my spiritual wishes are covered. The Bard deepened my relationship with the physical world around me. It helped me to realise that I didn't need to escape reality, I needed to actually be more grounded within it. The Ovate taught me of the Otherworld, of magic, of journeying, and of the mysteries of the night. The Druid taught me how to be of service.
What does a Pendragon do? There have been three Pendragons of the Order. Nuinn's (Ross Nichols) Pendragon was Vera Chapman, a writer, and founder of the Tolkien Society. The next was Will Worthington, artist of the Druid Animal Oracle, the Druidcraft Tarot, Wildwood Tarot and many another deck. Then me. So we have had a writer, an artist, and a musician. Each of us have presented Druidry to the world in our own way, and I think that artistic communication is part of the role of the Pendragon. The Pendragon also forms one of the 'Triad' within the Order. The other two roles are the Chosen Chief and the Scribe. Three is a great number to have in leadership. It's impossible to have stalemate, so decisions can always be made. The Chosen Chief is Philip Carr-Gomm, he's the head of the Order, the buck stops with him. The Scribe is his wife Stephanie Carr-Gomm, and she is the Order's engine room. She keeps the office going, makes sure the monthly mailings go out on time, keeps everything flowing. To me the best word to describe the Pendragon role is Ambassador. With my music and the podcast I have one foot in the Order and the other in the wider community. The system works very well.
You are probably the most popular "Pagan musician" I know, but do you ever feel limited by that designation? For instance have you ever wanted to release an album of T. Rex or Status Quo covers and thought "I can't do that because it will confuse all the Pagans?"
Haha! No not at all. My music is the way I show my praise to my Gods and the Land. It's an all consuming path and keeps me very busy. It's also where my soul is. I couldn't be happier with my musical expression, and there's plenty of scope for experimentation.
You've been playing music since the late 1990's and have been out on your own since 2000? What's changed over the last 20 years? Are things better or worse for the working musician?
When I started in 1997 there wasn't even a MySpace. I had to send out a CD for review to magazines and hoped people read about it. Then along came MySpace, YouTube, then Facebook, Twitter etc. Add to that services like CDBaby that get your music on iTunes without the need for a record contract and boom! We are no longer in an age where you are chosen from many. We are in an age where you chose yourself. You can record at home, release worldwide at the push of a button, and then you can let people know it's there through social media. It's amazing how much has changed.
Has streaming changed anything? I'll admit I'm an Apple Music subscriber and find it easy to simply pay fifteen bucks a month for all the music I can listen to.
I was a little scared when I first saw Spotify and heard the tiny amounts they were paying per stream. But I think these streaming services are saving the music industry, both the indie one and the signed label industry. Why would you bother risking a nasty PC virus downloading a dodgy illegal download from Pirate Bay when for $15 a month you can have access to almost any song ever written? As a music consumer it's amazing. The only real downside is the perceived value of music is, I think, falling.
When I had to save up for an LP, walk to my local record store, part with money, bring this amazing disc home, with all of the album art, sleeve liner notes, and lyrics. Then carefully place it on the record player, drop the needle, sit down, and listen to the whole thing. I'm not sure people do that so much any more. A new album comes out on Spotify, add it to your collection at the push of a button, then maybe listen to your whole collection on shuffle and maybe, just maybe, one of the songs will come up to listen to. Imagine doing that with Dark Side of the Moon! Yes. I do miss the ritual of the new album. So it's swings and roundabouts really.
You play at least once a year in the States, are there differences between English, European, and American crowds? How weird do you think our food is?
Travelling is the thing that shows me that we really do have a worldwide Pagan community. There are differences. For instance I had a crowd surfer when I played the Czech Republic. I'll never forget that. A crowd surfer at a folk concert. Beat that Dylan! Haha! Some countries are much more conservative, singing and clapping, others are desperate to get up and dance. Those things do vary depending on where you are. But what touches the heart of a Pagan in Europe, is the same as that in Australia, the USA, and home in the UK. No matter where we are, we can still, for instance, picture that Christian priest, walking out on Beltane morning, and having the conversation from Green and Grey.
American food? Don't tell anyone but I try to make a pilgrimage during my visits to Cracker Barrel. And Biscuits and Gravy. OMGs. When I was originally asked if I'd like some biscuits and gravy I realised how, although we speak the same language, we are also quite different. To me, as a Brit, a biscuit is a cookie. And gravy is the rich brown liquid you pour on a roast dinner. So it was with trepidation that I agreed to try this American delicacy. Thankfully it wasn't at all what I expected, and I loved it. When I sit down with a plate of good Biscuits and Gravy now, well, I know I'm back in the USA.
We got to hang out a lot together last Summer at Pagan Spirit Gathering and I felt like I was a presence of a rock star the entire time. Is it weird to be treated like that? What's the adjustment like to go from playing four times in a week and selling 100 CD's to being back in your study?
I felt the same about you brother. With your fabulous blond locks and charisma.
It can be a little weird. But music is a universal language. A song may come on the radio, or your Apple Music playlist and it will bring to mind an exact moment in life. A memory real and tangible. I'm just a songwriter. I sit down and allow the Awen to flow and words and music pour out. It really is the greatest gift to a songwriter when one of your songs touches another person's soul. When they walk up to you and tell how your songs have been the soundtrack of their Paganism, how they have affected their lives. It's incredibly humbling. Some of the stories I've been told have brought me to tears. As much as those people feel my music has been a gift for them, so their words have been a gift to me. Coming home to my study from those moments. I like that too. I really wouldn't want to be properly famous. I like that I can go to the shops and just buy stuff without being mobbed. I guess I am well known, but only within a very distinct community. And your friends can always be relied on to keep your feet on the ground.
QUICK REVIEW
Y Mabinogi-The First Branch, by Damh the Bard

I'll admit I was a bit skeptical when I first heard about this album. "You mean half of it is going to be just you telling stories?" but I'll admit that my skepticism was misplaced. This album works, and it works for all the right reasons.

To start, The Mabinogi is meant to be heard and not read! The ancient Welsh bards who put the stories of the Mabinogi together were sharing them out-loud, and Damh is the perfect person to recreate that. Just like when he's singing, his voice is expressive, enthralling, and keeps you on the edge of your seat. This isn't someone simply reading a script, the "spoken word" sections of the album are storytelling and are meant to be listened to over a good set of speakers with the coven or circle.

If you are fan of Damh the singer you won't be disappointed either. Tunes like Rhiannon and These Hollow Hills are as good as anything he's ever recorded. With the Y Mabinogi Damh has given the Pagan world a gift, and a gift we'll be listening to for years and generations to come.
What songs of yours get the best reaction? Are there tunes that are "always on the set list." (What's Damh's "Stairway to Heaven?") Is there a song that you just LOVE that audiences have been kind of cold to?
I think Green and Grey is one of those songs. Sons and Daughters (of Robin Hood) has fast become an anthem, and is now used among the Anti-fracking protest camps here in the UK as a clarion call. Hills they are Hollow, again, hearing a Pagan audience singing along at the tops of their voices 'These are the things I believe!" It's a statement of power and unity. A song I wrote that I love that audiences have been cold to? That's a harder one. I actually had to look at my albums to see if there was one. I'm very happy to say I couldn't think of one.
So the new album is fascinating and challenging (a lot of it is story telling), how did the project come about? Were you worried that people might react poorly to the story telling segments? Were you worried that you might be butcher all the Gaelic pronunciations while putting things together?
The Mabinogion has been a love of mine for years. the second song I wrote was Oak Broom and Meadowsweet, which tells some of the Fourth Branch of the Mabinogion. So I always knew I would do something more focussed with the stories. After Sabbat I knew the time was right. My initial thoughts were that I'd do the Four Branches in one album. I told that to my Bardic buddy Arthur Hinds and he laughed and laughed. Then I thought I would tell the stories purely with song, but that began to feel like an Andrew Lloyd Webber musical. So I realised it needed to be told in spoken word, with the songs only there to deepen and progress the story. The other thing is that I didn't just want another retelling of the tales.
The word Mabinogi comes from the Welsh 'mab' meaning 'son of'. Maginogi means Tales of the Divine Son, and that son is Pyderi. He is the only character to appear in all four branches. These stories are his tales. So I thought what if Pryderi was the narrator? That was it. I had a very different angle. Me and Cerri went on a working holiday to Wales, and I wrote the spoken word section in that week.
I admit that I was a little concerned how it would be received. But I'm Damh the Bard, not Damh the Singer, and I really needed to do this. It was a calling, a wish. I did it for me, my Gods, and from the love of the tales, and hoped people would get that. Happily they did.
I love how BIG the new songs sound, there's orchestration in some places, a guest appearance from Kristopher Hughes, and even a rocking electric guitar solo, how did you record all of that? How long did it take? Were there lots of extra challenges getting all of those different pieces together?
I had some experience with orchestration with Lady of the Silver Wheel, but this needed an extra bit of epic oomph. When people make films of Lord of the Rings they are epic, and these tales deserved to be treated like the epic tales that are. I did an online course with Hans Zimmer, the film score composer, and that really helped me understand not just the orchestration, but also the concept of the score. The songs are in specific places to draw people deeper into the tale. For instance in the story Pwyll just steps into Annwn, the Otherworld. But I wanted people to really feel that change and Journey and some of the lore of Annwn, so that's where I placed that song. The lead guitar solo on Who is this Coming? is the guitarist from Targa. We'd reconnected and kept in touch via Facebook and Alan is about the best lead guitar player I have ever met who didn't make it in the music business. I could hear the solo in the song, but I still can't play the guitar that way. So I asked Alan if he would do it, sent him the song, and he came over and played it on the track. If any God deserves a shredding guitar solo, it's Arawn.
When it came to putting the album together I recorded the spoken word first. Then recorded the songs, the dropped them into the story. When the songs began to fall in place I suddenly heard for the first time the journey I'd created for the listener. And the way the songs fitted in was amazing. Like the whole album was being guided by some Other hand.
How is this all going to work in live performances? Will you be doing nights where you just do one of the song cycles or are you going to come up with some self-contained live versions of the new material? (If you don't play "These Hollow Hills" next time I see you at a festival our friendship will likely be over.)
Some of the songs don't make sense out of context, so they might be harder to play live. Rhiannon is already in the set. In fact I played that song at PSG before the album was released. It was the first time I played it live. These Hollow Hills is meant to be played live, with the call and response chorus, so our friendship is safe. Maybe, in the future, there is a place for a touring production of Y Mabinogi, with the spoken word, and the songs, but that's a way off yet.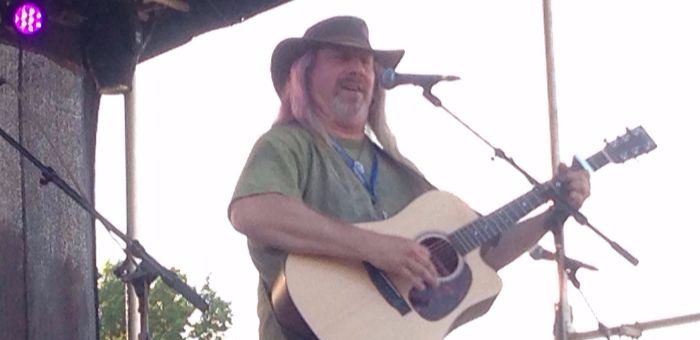 The new album is labeled "The First Branch." How many branches do you envision recording? Will it be a thing done over several years in between more traditional albums or something you focus almost entirely on?
The are four branches and I've started work on The Second Branch already. After that I'll likely have a break and record an album of songs, then back for branches three and four. This is going to keep me busy for a while. But in years to come the Four Branches will have been written, recorded, and released. My plan is to then create a colour card sleeve that all four double alums can fit into, and there we will have Y Mabinogi – The Four Branches. How amazing will that be! I'll also more than likely release them as a book too, with Cerri's full colour illustrations, and the chords for the songs.
For years I suffered under the delusion that you were "Damn the Bard," I'm not the only one right? And do you ever regret not just being Dave the Bard?
Not at all. The only issue seems to be Google searches!
Almost done . . . will you ever write a book and where can people pick up the new record?
I think I have a book in me (in addition to the promised Y Mabinogi book). I'm in awe of writers to be honest. How you can focus that much on just words. It would be amazing to write a book for Llewelyn one day.
The album is available from the hub of all things Damh at my website at www.paganmusic.co.uk. It's available in the USA via CDBaby. Downloads are on iTunues, Amazon MP3, and all of the usual streaming services, but I have a request of your readers… The first time you listen to Y Mabinogi – The First Branch, treat it like a movie. Give yourself an uninterrupted hour and forty minutes, pour a good single malt, or whatever you like to drink, dim the lights, light a candle, and let me take you on a journey.
All photos by Shawna Elzy from Pagan Spirit Gathering, 2017, used with permission. Thanks Shawna!!!!