Welcome to the fifth edition of Summer Pagan Festivals: A Guide!. For reasons I'm not quite sure I remember, I put together the first edition of this list back in 2014 and I've been doing it ever since. This whole endeavor is a labor of love, and it's a very long endeavor. Putting together this list takes somewhere over ten hours! There are dates to check on, informations to seek out, and all sorts of other things. I don't often ask for people to share my articles, but in this case, I'm going to!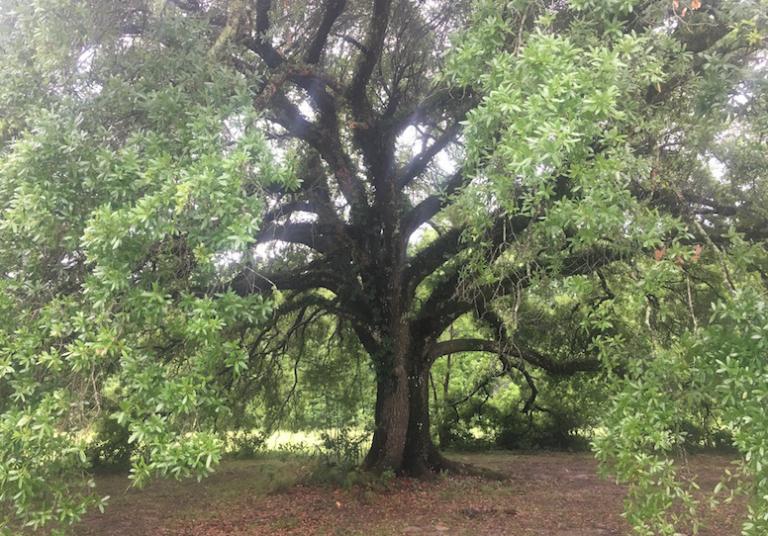 Before we start, a few notes:
-I'm one guy, and I'm one guy who is overly prone to making mistakes. I will get a date wrong, or mess up a speaker, and all the rest. When that happens and if you notice it, don't be an asshole about it. Leave a kind message in the comments section and I'll fix it. I don't claim to be infallible.
-I try to limit this list to longer festivals-ones that run at least a weekend, and don't cater to any one specific group. That means there are no Heathen events here, no Reclaiming Witch Camps, and no Gardnerian Gathers. There are a few Druid gatherings listed, but that's because they invite Witches to speak, which makes it more than just a Druid event!! See how that works!?!? I love almost everything, but the list just gets too long if I include absolutely EVERYTHING.
-Oh no I forgot your festival! There's a place for it and that's in the comments section! Yes, people will read the comments. And then usually that's how I know to add something for the following year.
-And sometimes I don't know exactly how to write about a festival or event space. A place like Four Quarters Interfaith Sanctuary, is hosting a whole lot of stuff, but each event has a pretty specific focus, which sort of breaks all of my rules! If you live near Artemas Pennsylvania you should check out their website.
-The tone of this is all meant to be glib, a bit sarcastic, and most of all fun. You are not supposed to take everything I write here super seriously or as the last word on a given event. There are over 50 events listed here. I've obviously not been to them all so I don't know very much about most of them, but it just seems boring to only list dates and things.
-Since this past December saw the fortieth anniversary of the movie Saturday Night Fever I thought I'd include a classic hit from 1978 with every festival. Yup, there's going to be a lot of disco on the list this year! Bonus the movie Grease was released in 1978, it was a banner 13 months for John Travolta.
-This post is over 8000 words long so it's divided into sections. If this bothers you, I'm sorry, but it should make for faster page loading times so it's not just about getting extra page views or something.
-I list presenters and groups when that information is available, and sometimes last year's guests. I don't list all of them, and who I list reflects my biases. Of course my name is in huge letters as this is my blog. I've also extended that courtesy this year to my fellow writers at Patheos Pagan because I love them a lot, but in case if you were wondering if I've gotten all soft, I haven't. My name is not also capitalized, it's in bold font.
-There are other lists out there too, Linda Kerr's list of festivals is amazing, and Witchvox will have lots of events near you! I urge you to seek out those additional resources.
 
April & May Festivals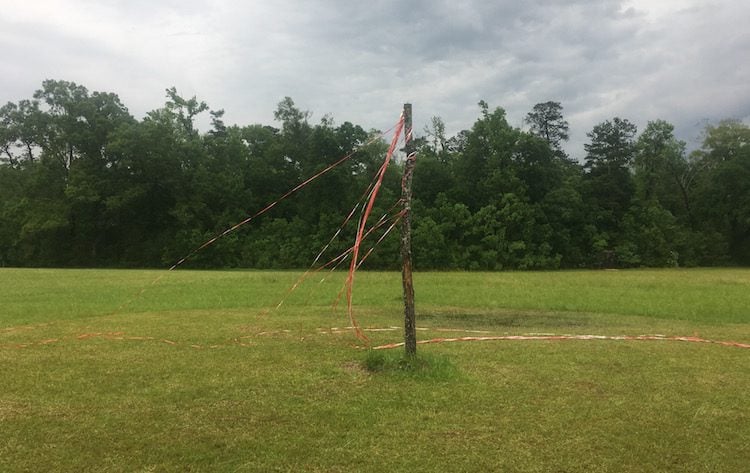 FLORIDA PAGAN GATHERING
Location: St Petersburg, FL
Dates: April 25-29
Cost: 85 bucks, weekend and day passes available too.
Names: Ivo Dominguez, Aaron Leitch, Jason Augustus Newcomb, Christiana Gaudet, Dru Ann Welch
I went to last year's Beltane of the Florida Pagan Gathering and had an absolute blast! I LOVED IT! Everyone was so nice, the evening entertainments were golden, they had great vendors, and most of all I made friends there that I'll take to my grave! This year they've changed locations but it should still be great! Also, a change in venue resulted in a reduced admission rate! Win win!
And they've got Ivo! Ivo is awesome! He's someone I actively seek out when I'm at a Pagan festival. You should both seek Ivo out in a non-stalkerish sort of way, and you should seek out the Florida Pagan Gathering! It's the kick off of the Summer Pagan Festival season!
Terrible Awesome Song From 1978: STAYIN' ALIVE by the Bee Gees! Much like I love Florida Pagan Gathering I also love the Brothers Gibb. All of my metal cred is slipping away, but I don't care. I love the Bee Gees. I'm going with STAYIN' ALIVE because Florida is full of alligators, and when I'm there and come out triumphant I feel as if I've somehow cheated death.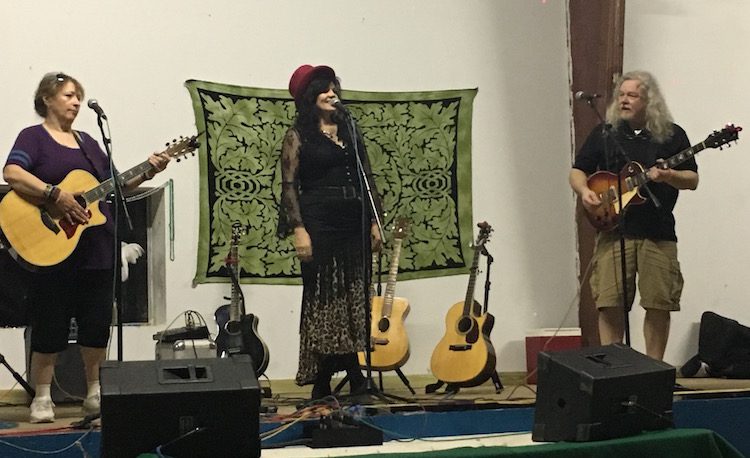 WYLD FIRE BELTANE HUNT
Location: Springfield, Louisiana
Dates: April 27-29
Cost: 50 Bucks
Names: Ty Siddiqui, Clifton Eiken, Spooky LeStrange
Just like Florida Pagan Gathering above, I went to the Wyld Fire Beltane Hunt just last year and it was so great! The campsite where the festival was at, complete with a pool and a hot-tub, was most excellent, and there was lost of cool stuff to see and do. There was a giant Wicker Man set aflame, a most excellent fire-pit and drum area (though I spent most of my time at the pool), and then there was the Wyld Hunt its self which was tons of fun, and was done in such a way that it was totally inclusive. In short I had a blast at this festival, and while it was a three day party, it was also a moving weekend of Beltane related festivities. Highly recommended! Organizer Ty Siddiqui also won a Hornie Award last year so you know she's legit.
Terrible Awesome Song From 1978: MISS YOU by The Rolling Stones. I know that MISS YOU sounds like some sort of maudlin ballad, but it's a slick and sexy rocker. And "Miss You" sums up how I feel about not being in Louisiana this April.
BELTANIA
Location: La Foret Conference and Retreat Center, Colorado Springs, Colorado
Dates: May 17-20
Cost: 190 to 290 bucks depending on camping/cabin options, includes meals.
Names: Selena Fox, Jhenah Telyndru
Trance drumming, great speakers, and dancing around the maypole . . . sounds like Beltania is a perfectly named festival. This year marks a new start for Beltania as it evolves from a music/Pagan gathering to a retreat for deep spiritual work. The festival is capped this year at 250 attendees, so if you are interested in going I'd register ASAP. And why wouldn't you register? It all sounds great and I'd sit in a briar patch to listen to Selena Fox.
Terrible Awesome Song From 1978: TAKE A CHANCE ON ME: Abba. Don't worry Beltania, Jason loves ABBA so this is not a slight. I like that you are "taking a chance" as a festival on a new approach to things.
PAGAN UNITY FESTIVAL (PUF)
Location: Montgomery Bell State Park, Burns TN
Dates: May 17-20
Cost: Day passes start at 44 bucks, 115 for a weekend spent in a tent.
Names: Janet Farrar and Gavin Bone, Belladonna Laveau and Dusty Dionne
Did you know that PUF is about an hour from where I grew up in Gallatin Tennessee? Did you know that most years I lament in this space about how I've never been to PUF and how sad it makes me? Now that I see Janet and Gavin are going to be there along with Dusty Dionne (who I thoroughly enjoyed hanging out with at this year's PantheaCon), and there's even more than the usual gnashing of teeth as I write this part of the Guide. Saddest part was that I was invited to visit this year, but I'm going to be in Greece researching a book praising the gods and drinking wine. As always, this festival is the bomb, and Janet Farrar! She's been a huge influence on me as a Witch. ~Shakes head~ I'm envious of all of you going.
Terrible Awesome Song From 1978: HERE YOU COME AGAIN by Dolly Parton. Dolly is from Tennessee and is one of the state's greatest exports. Who doesn't love Dolly? Also, who doesn't love PUF? It's a marriage made at the summit of old Rocky Top.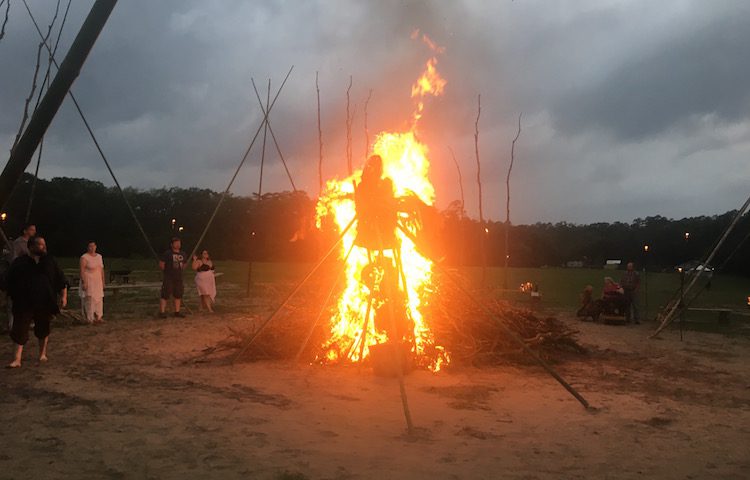 THE GATHERING OF ALL PATHS-OUTBACK WITCH
Location: Casa, Arkansas
Dates: May 18-20
Cost: 50 Bucks for three days, day passes available
Names: Byron Ballard, Brian Henke, Mama Gina, Rowena Whaling
While we don't often think of Arkansas as America's Witchcraft capitol, people have been doing Witchy things there for centuries. One of the most influential books about magickal practices released in the early 20th Century was Ozark Magic & Folklore by Vance Randolph, and Arkansas just happens to include a chunk of the Ozarks, score! It seems especially appropriate to have one of my favorite Southern Witches, Byron Ballard, leading workshops in Arkansas too! This is the third year of the Gathering of All Paths and reading their website they seem to have some big plans for the future!
Terrible Awesome Song From 1978: I LOVE THE NIGHTLIFE by Alicia Bridges. I'm just thinking I'd love the nightlife at the Gathering of All Paths because they've got my buddy Brian Henke playing guitar in the evenings. Maybe he'll play this song if you ask, but I bet he won't!
THE GATHERING OF LIFE ON EARTH
Location: Vancouver, BC
Dates: May 18-21
Cost: 270 Canadian Dollars, includes food!
Names: Dragons and Dragon Lore
I always wonder how many Canadian festivals I miss while doing this guide. I think one year Sable Aradia put together a guide for Canadian festivals because I missed so many. One I never miss is the Gathering of Life on Earth because it probably has the coolest name out of all the festivals I write about in this space. Question though, are dragons life on Earth since I'm going to guess they live in another plane of existence? Does that plane count as this world or just something adjacent to it? Lots of deep questions as I write this morning, I probably need more coffee. One think that I like is that the festival organizers include "have fun" amongst the festival's objectives. I think we sometimes forget this when it comes to festivals, have fun and commune with the Earth sisters and brothers!
Terrible Awesome Song From 1978: HOT CHILD IN THE CITY by Nick Gilder. There are no songs that include dragons in the Canadian or American Hot 100 for 1978, but there is this song with hot in the title! Also, Gilder is Canadian so I feel like I nailed this song selection.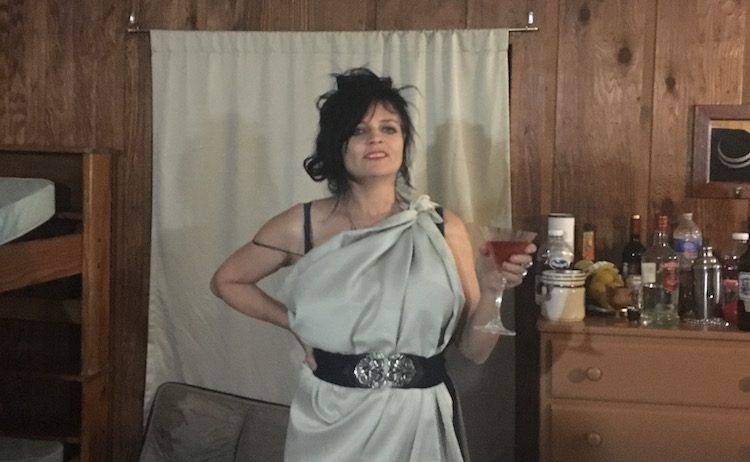 RITES OF SPRING
Location: Southwestern corner of Massachusetts
Dates: May 23-28
Cost: 310 for the week, weekend only passes available too. Meal plans end at 100 dollars. Heated cabins available.
Names: Selena Fox, Wendy Rule, Andras Corban Arthen, Orion Foxwood
This is the 40th Rites of Spring gathering! 40 years, that's longer than just about every Hollywood marriage, and predates the release of Starhawk's The Spiral Dance! That's truly something to be proud of and celebrate. This is one of those festivals that I've heard about numerous times while on the road, it's a good sign when the people who go to your festival talk about it all the time. There's a mix of all kinds of great stuff here, but if you want to go do it soon, registration ends on May 13. Also poking around EarthSpirit's site, everything they do seems to be made of awesome.
Terrible Awesome Song From 1978: DON'T LOOK BACK by Boston. I know this is kind of lazy, because Boston the band is from Massachusetts, but any festival that's been around for forty years hasn't spent a lot of time looking back, instead it's more like onwards and upwards!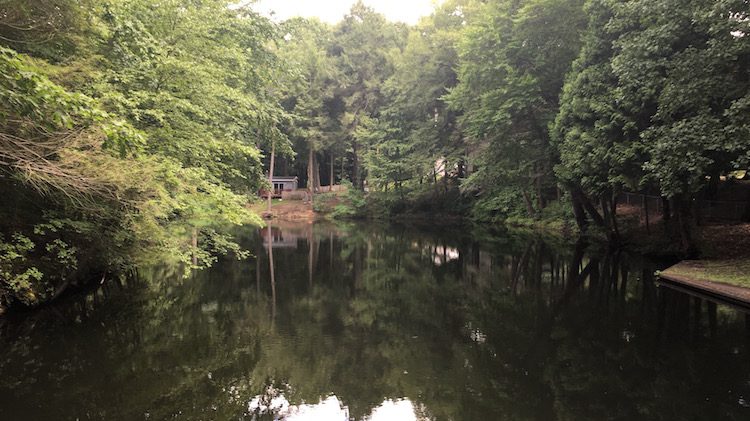 HEARTLAND PAGAN FESTIVAL
Location: Camp Gaea, McLouth Kansas
Dates: May 24-28
Cost: 150 dollars for the week with camping, day passes exist, and meal plans also available.
Names: Ed Hubbard, Byrond Ballard, Brian Henke
This is another one of the festivals that I've always wanted to go to, and of course I got invited to this year but I'll be on my way back from Greece. (Don't cry for me Argentina, apparently my life is pretty awesome, but I have always wanted to go to Heartland!) But the speakers look great, there are lots of musical guests, and Heartland has pretty much everything you want in a big Pagan festival. I've always liked what I've seen of Camp Gaea too, probably because it looks like a camp for Pagans by Pagans. That's good stuff and we need more of it. Also, this is another one of those festivals that everyone talks to me about while I'm on the road, so it has to be awesome.
Terrible Awesome Song From 1978: DUST IN THE WIND by Kansas. Most certainly Heartland is not DUST IN THE WIND, but it is in Kansas so they had to get the band Kansas. There are rules to how I do this list every year and this is one of those moments where that came into play.