Witch Rock: Occult-laced low-fi hard rock (most often) with female vocalists and psychedelic influences. Black Sabbath inspired doom metal is common place as are old fashioned recording techniques.
Witch Rock is not a real genre of heavy metal, but it should be.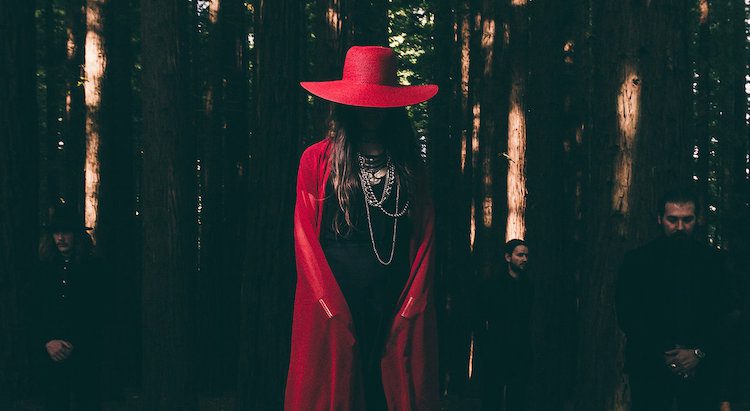 This is a follow-up to an earlier post featuring a whole lot of other Witch Rock bands such as Blood Ceremony, Jex Thoth, and Purson.
Originally formed by Candlemass bass player Leif Edling, Avatarium has evolved into one of my favorite bands of the last five or so years. For those who dig the heavy, their self-titled debut is an epic hellscape of atmospheric doom metal highlighted by the powerful vocals of Jennie-Ann Smith. Their most recent release, Hurricanes & Halos takes things in a more melodic direction (think Dio mixed with Ghost), but I'm still really digging it. If you are looking for some rock and roll to get the juices flowing this is the band.
Essential Albums: Avatarium (2013) for those wanting the heavy, Hurricanes & Halos (2017) if you want a little more melody (Really this band is excellent).
Psychedelic Witchcraft is the brainchild of Italian Witch (yeah, I really think she's one of us) Virginia Monti, and is absolutely essential for anyone interested in the genre. Monti's tunes are washed in 70's reverb, great melodies, trippy vocals, and full of occult imagery. I'm more partial to the early records because the occult overtones are more pronounced, but the band's most recent album, 2017's Sound of the Wind shows their ever increasing songwriting chops.
Essential Albums: The Vision (2016) All three of their albums are worth a listen, but this article is about Witch Rock, and few songs hit that nail more squarely on the head than Witches Arise.
I can't say I'm wild about the name "Wucan" but the band is heavy with some great grooves, and it all comes with a giant dose of flute, they even call their style of music "Kraut-fueled Heavy Flute Rock." (The flute has long been an essential of occult-tinged rock and roll, starting with England's Black Widow way back in 1968.) The band's sound and appearance both seem like they just emerged from a time machine that set sail in 1976, which is exactly why I like them.
Essential Albums: Reap the Storm (2017), Sow the Wind (2015) Really, pick up Sow the Wind for the one/two punch of Father Storm and Owl Eyes.
Melbourne Australia's Devil Electric have only released one album and an EP so far, but good gods is that first album freaking fantastic. Less lo-fi than some of the other artists featured here, but still full of old fashioned heavy guitar and psychedelic breaks, and all held together by the stunning vocals of Pierina O'Brien who just crushes all within her path. You'll be humming to tunes such as Lady Velvet and Shadowman after one listen, but it's the moodier musical offerings that you'll be setting your altar up to.
Essential Albums: Devil Electric (2017), The Gods Below (2015, EP)
Chicago's Black Road have only released a single and one EP's worth of material, but what they have released is pretty great. 2017's self-titled EP chugs along with early Sabbath doominess, strong melodic breaks, and catchy choruses. 2017's Witch of the Future is a ten minute ode to divination, deftly moving between various musical styles (pure metal, doom, psychedelia), and all held down with Suzi Uzi's soaring and menacing vocals. (Yeah, she might be one of us).
Essential Album: Black Road (2017, EP)
Portland Oregon's Blackwater Holylight is an all female group of out of Portland Oregon. More psychedelic than heavy metal, Blackwater Holylight have a sound all their own. It's the kind of record I want to put on after a long night of summoning the Watchtowers and building the Cone of Power when I'm not quite ready to go to bed yet. There are peaceful musical interludes interrupted by heavy fuzzed out guitar that's just well, holy. There's also a lovely sense of foreboding throughout the proceedings that gives their debut record a delicious occult atmosphere.
Essential Album: Blackwater Holylight (2018)
When a song opens with confused clips from Christians talking shit about Halloween and Samhain (the appropriately named All Hallow's Eve) you know you are in for a treat. Mixing doom rock, more conventional heavy metal riffage, a great duel guitar sound, the occasional prog-rock keyboard, and the haunting vocals of Sarah Moore Lindsey, Book of Wyrms (despite their weird name) is definitely not one for the compost bin. They've got a new album coming out this Summer that sounds promising too, the first single Spirit Drifter rocks.
Essential Album: Sci-Fi/Fantasy (2017)
My first Witch Rock overview included a band called The Oath which featured German vocalist Johanna Sadonis. Sadly, The Oath would only last for one album, but the band that came out of its wake, Lucifer, is a worthy successor and probably better. More straight up heavy rock and roll, The Oath is closer to occult-tinged Heart and 70's style arena rock than Black Sabbath, and that's OK with me. Sadonis is a supremely kick-ass vocalist, capable of both sweetness and peril all in the same chorus. With a different name, Lucifer is the kind of band I could see sneaking onto rock radio (and maybe it's not quite out of the question in the age of Ghost).
Essential Album: Lucifer II (2018), Lucifer I (2015)