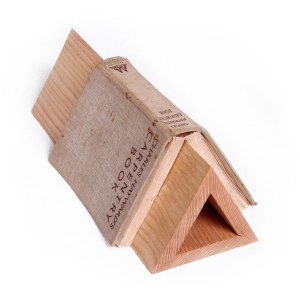 As a book lover, and I don't mean to be harsh, I find most of the gift ideas for book lovers to be terribly disappointing. Trust me, pajamas with books on them will be more likely to appeal to those who don't read books. We don't want bookmarks, nor do we want–wait for it–a bedtime story duvet cover (yes, it's a thing). Here's what we want: we want books. We want cool ways to organize and display our books. We want ways to play with the books we already have. We want a deeper connection to the authors we love, and to their work.
So here are my Top Ten Ideas for Book Lovers, 2014 edition. You can see lists from 2013 here, 2012 here, and 2011 here.
01. Books
If your book lover is indeed a book lover, then they mostly want more books. A big fat Amazon.com gift card is hard to beat, unless you are willing to find a local bookstore and buy them a mother of all store credits. Indiebound has a local bookstore finder. I also highly recommend Audible.com. You can choose from several plans: 1 book/month, 2 books/month, or a 12 or 24 book plan. Top plan ends up being 25 books for about $250.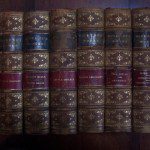 02. Complete or Collected Works
Find out you book lover's favorite author and buy them the collected or complete works. A hard cover edition is always better This is a great idea for children who love books. The entire sent of Harry Potter or Narnia for each child in the family is a decent gift. If you don't want to spend a ton of money, hop on ebay and buy an antique collection of Shakespeare or Dickens like this one to the left.
03. Signed Copies and First Editions
Some of these are surprisingly easy and affordable. If the author is alive, a politely worded note tucked in the box of their own book, with a prepaid padded return envelope will usually do the trick.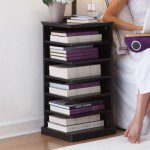 04. Creative Collections
If they have a favorite book buy them a copy of that book in every edition of the hardback, paperback, graphic novel, children's edition, and movie. Email your book lover's hero or mentor and contact them. Ask them to write out a list of 10 great books. Give your book lover a copy of the list, along with a copy of each of the books.
05. E-Readers
If they don't have an e-reader, buy them one. If they already use one, buy them a cover like this antique book iPad cover like this one from Twelve South.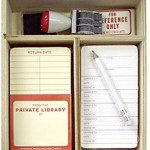 06. Personal Library Kit
If you are buying for a person who loans out a lot of books, this is pretty cool.
07. Book Shelves
Desktop bookshelves come in all shapes and sizes, and they are nearly always welcomed by the reader.
08. Book Stands
This is a good portable book stand. I love the triangle book stand at the top of the post. I'm also a big fan of the old fashioned Manhasset Music Stand.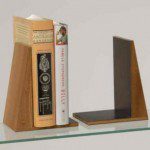 09. Book Ends
One can never have too many cool bookends. Everything from the standard metal bookend to a more artistic, personal, or ornate option. Bookends always come in handy.
10. Book Weight
Most people wouldn't think of this as a big deal, but the Book Weight is essential equipment for the reader who often takes notes or types with a book open. The book weight is a leather covered lead weight which will keep even a very stiffly bound book open on a flat surface. It works great in tandem with a books stand, or just as a way to prop a book open while you read or take notes. Every nerdy book lover needs one of these. You can also by a clear acrylic one that seems pretty handy.