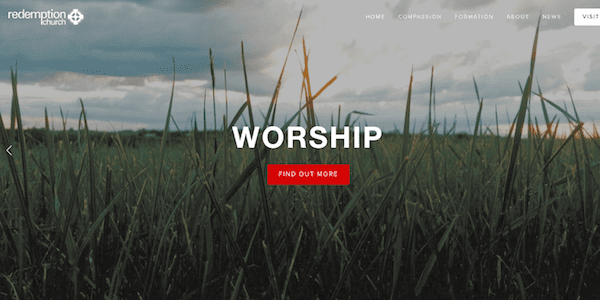 I confess that I led worship with some excellent musicians yesterday and had such a good time. I felt like the sermon was pretty decent, but all I could think about for the rest of the day was how much fun I had playing with this band, and how often I leave church feeling like that. Redemption Church is incredibly blessed when it comes to musicians. It's an embarrassment of riches. This MMC is a tribute to the musicians who make things beautiful at Redemption Church each and every Sunday morning.
We have more great female vocalists than we know what to do with. Mandy Hill and Jess Carstens both have amazing voices & are such a big part of what we do on Sunday mornings. I can think of so many times when both of these women have nailed a song and a moment so perfectly that everybody in the room knew something special just happened. Jessica Pinkerton is amazing as well. Jess and I have spent so much time singing together. She was part of the last album I did (Grammatology), and spent a lot of time in the studio with us. Jess puts more time into the worship at Redemption than any other person. She takes the lead on the administration for the music team. She schedules the musicians, calls the rehearsals, prints out charts, finds replacements, cajoles and finesses this bunch of (sometimes temperamental) musicians, and puts together a great line up week after week at Redemption. Jess also generates a lot of the new material, sifting through tons of songs to find good ideas for our church. She does all of this as a volunteer. We owe you big, Jess.
Chaim Carstens leads worship as well as anybody I know. He has such a strong voice, and a strong musical presence, plus he's really good at leading a band, picking songs, running rehearsals, and consistently producing something that works in our environment. Give Chaim a few days with pretty much any instrument, and he'll learn how to play it. I think he's most at home on guitar. One of my favorite things, however, is when he comes in as a utility player when the band is full. He'll use a violin bow on an electric guitar, play harmonica or bells or keys or pretty much anything that will add to the song. Chaim's fingerprints are all over the worship music at Redemption, whether or not he's playing that day. But, more and more all the time, his presence as a worship leader seems to impact what's happening in the room.
Chad & Bret Borquin are the driving force behind an up and coming country band called Big Time Grain Co. They made the jump back to being full time musicians over the past year and seem to have tapped into something really special, yet they still take time to play at their church when they can. Chad Borquin is an amazing lead guitar player. The tone he's getting right now with his tele is one of the best live guitar tones I've every heard, and I've heard a lot of guitar tones. (Chad's using a Michael Kelly guitar, Dr Z and Vox AC15 amps). Chad is really great at live sound as well, and constantly works to keep our system tuned in (which is not easy in our sanctuary). Bret Borquin is the front man for BTGC, and he leads worship sometimes. He can also play bass, guitar, and keys. I say he can "play" bass. Bret is a monster bass player and made his living at it for many years. Sometimes when Bret's on bass I'll forget what I'm singing because I'm listening to what he's doing. But, what I love most about both Chad and Bret Borquin is that, whether it's a show with their band or a worship set, they both play with a quiet confidence in who they are as people. They don't need to show off or draw attention to themselves. They are genuine… that's the best word I can think of, and it comes through when they play.
Ferdie Guinto has only been playing with us all for about a year. In just a short time I have been blown away by his ability. Ferdie plays guitar, bass, drums, and keys. He also sings really well. My favorite is when Ferdie is on piano. He knows when to get in and get out, and is able to deliver at crucial moments with these amazing fills and runs. For a guy who made a living as a worship leader for many years, I'm always struck by his willingness to play a small role with grace & humilty. Will Darter is the newest to the bunch. Will is at home on guitar or bass, and knows how to lead a band. Will's musical ability is top notch. If he wanted to find a band and make it as a pro, I have no doubt that he'd be able to pull it off. The best thing about Will, though, is his spirit and heart. He's just so fun to be around. His presence lifts the heart of the group. Tyler Pittenger is one of my favorite musicians. I knew Tyler for years as a sound engineer, but I had no idea how well he could play. Then one day we were hanging out and he grabbed a guitar and started singing & playing… we had him playing in the band soon after. What I love about playing with Tyler is that Tyler loves playing as much as I do. If he never got to play in front of people, he'd still be working at music, improving all the time. If I only had one or two Redemption Church t-shirts to give out, I'd give one to Tyler Pittenger. His life has always been at the heart of this community.
Ryan Green was on the drums yesterday morning. Ryan is an Irishman, which is to say that he is a passionate human being. He plays the drums with his heart first, then with his hands. He's played all over the country with several bands, and yet is incredibly consistent for us at Redemption. I'm guessing that in the nearly 13 years Redemption Church has met on Sunday mornings, Ryan Green has played drums at least 90% of the time… probably somewhere around 500 Sundays. That's an incredible ministry. The first time I met Ryan he was playing drums. The first time we hung out together was a band rehearsal. We spent so many years on the road together with Satellite Soul. My musical life is completely intertwined with Ryan's. He is an excellent drummer and and even better husband and father and friend.
Josiah Heintzelman was on bass this past week, and he is a naturally gifted musician from a musical family. Josiah plays guitar, bass & sings really well. I love the way Josiah still works hard at being a good musician. He also knows gear really well & is always willing to share! My favorite thing about Josiah's bass playing is that he understands presence. The bass is all about presence. Dropped notes or too much movement can tank a song. Josiah is always present with the low end & tasteful with his fills. He's fearless, too. He'll try just about anything.
Todd Way was on keys and backing vocals yesterday. Without a female vocalist in the mix, Todd did a lot of singing. It was really good to hear his voice up in the mix. Todd is one of the best musicians I know. He can play at the professional level on at least four instruments: guitar, piano, bass, and accordion… although you can probably just hand him any instrument & he'll figure it out (he's been known to break out a banjo or ukelele. Todd can also sing and write songs. I'm always thinking about starting up a new band, and I never do so without imagining Todd Way in the mix. Next to Ryno, Todd Way has played at Redemption more than any other musician.
Josh Svorinic was on lead guitar. Josh is one of those guitar players who transforms the sound of any ensemble. You could put him with pretty much any group of musicians and Josh's playing will define the sound. He words really hard at his craft, too. Many days while I'm in my office working, Josh will be in the auditorium practicing guitar for hours at a time. I absolutely love playing with Josh. I know that he's going to fill the room and take the entire group to another level. Guitar players like this are rare, especially in a church of our size. But, maybe my favorite thing about Josh is his enthusiasm and generosity as a bandmate. Josh spends so much time working on the environment, the behind the scenes tech stuff, the gear, the instrumentation, the way we do what we do. Josh puts a lot of energy into everything he does, and Redemption has been so blessed by that.
Shouts out to Michael Sturd who often comes to sit in on drums. It means so much to us when you come to play. Ryan Carr is freakishly talented, and has been a huge blessing to us over the years. Rains Wall has played drums with us as well… so good. Ramin Zangeneh has played violin with us several times, and always adds so much. Alaina Thomsen, Taylor Stewart, Morgan LeBlanc, Matthew Heintzelman, and many others have served with us over the years. To each of you and those I forgot to mention, I am grateful.
Late edition: Oscar Allen Guinn is an amazing musician who played so many Sundays at Redemption Church over the first few years, often without really sleeping, or only sleeping in his car after a gig the night before. He's off to see the world with Baby Birds Don't Drink Milk.
Okay, that's my confession for this Monday. Your turn…