In those days a decree went out from Caesar Augustus
that the whole world should be enrolled.
This was the first enrollment,
when Quirinius was governor of Syria.
So all went to be enrolled, each to his own town.
And Joseph too went up from Galilee from the town of Nazareth
to Judea, to the city of David that is called Bethlehem,
because he was of the house and family of David,
to be enrolled with Mary, his betrothed, who was with child.
While they were there,
the time came for her to have her child,
and she gave birth to her firstborn son.
She wrapped him in swaddling clothes and laid him in a manger,
because there was no room for them in the inn.

Luke 2: 1-7

For a child is born to us, a son is given us;
upon his shoulder dominion rests.
They name him Wonder-Counselor, God-Hero,
Father-Forever, Prince of Peace.
His dominion is vast
and forever peaceful,
from David's throne, and over his kingdom,
which he confirms and sustains
by judgment and justice,
both now and forever.

Isaiah 9: 5-6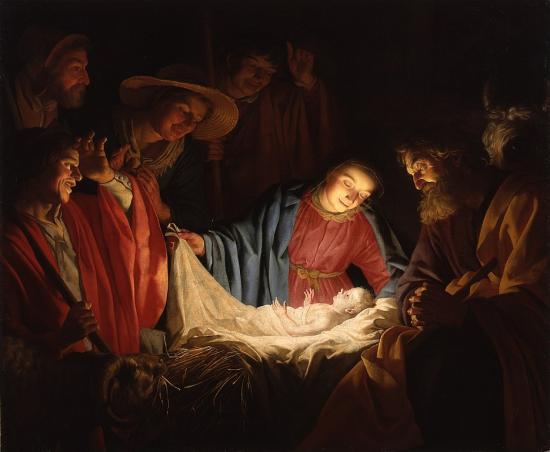 I don't know about you, but I wore my nicest, newest dress to Christmas Mass. I washed my face and put on makeup. I cajoled my children into their best clothes and–more importantly–their best behaviour. We tidied the house and I baked and my husband has been cooking up a storm.
All of these things communicate, "This day is special." They say that something out of the ordinary is going on. These are the preparations for receiving an important guest: "Love, the Guest," as the hymn says.
But in the middle of it all, I find myself thinking of the shepherds. Did they have a change of clothes, these ordinary men (and possibly women) who camped out with their sheep for days at a time, moving to where the grazing was best? Did they have enough clean water nearby that a grimy shepherd could splash some on his face and hands, try to scrub off some of the sheep smell, some of the ground-in dirt from days spent alongside his charges?
Was there even time to think of these things? The shepherds were told of Christ's birth by angels, the gospels say. Maybe, when you've seen angels, some of these other things seem less important. Maybe we all seem so small in comparison to the wonder of the news that there's no room or time for vanity and preparations.
So the shepherds went where they were told to, and found the babe, just as the angels had said–in a stable, in a bed made of animal feed. Far from being beyond the ken and comprehension of common shepherds, the Child came in the lowliest way, in humility. He didn't wait for them to rid themselves of their dirt and smell, didn't wait until they were ready for him.
He came to them, in the dirt and the mess of their lives, and they came to Him, and it turns out that even a stable can be beautiful.
God-made-man came into the world in a stable, with the manure and flies, straw and dust. Let's avoid the mistake of thinking our own hearts too dirty, stained, or cluttered to receive Him. He will come into the mess and the dirt. He will come make our dirty, stinking, broken hearts beautiful with His presence.
For unto us a child is born, unto us a son is given, into the stable of our hearts.
Merry Christmas, everybody!