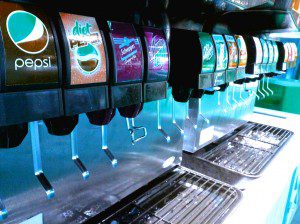 In the 1980s, America was subjected to a bizarre race to the bottom between competing soft drink marketing campaigns from Coca-Cola and Pepsi. In 2015, it there is a whole new war brewing over fizzy beverages, and it's taking place between two Utah-based drive-thru soda fountain companies, St. George based Swig and Provo's Sodalicious. It's like the American Civil War if the Civil War was fought not over the nation's soul but which side wanted the greater responsibility in cases of diabetes.
As the Salt Lake Tribune reported, Swig is suing competitor Sodalicious over their use of the term "dirty" to describe a sugary fountain drink infused with even sugary-er flavor syrup. Swig trademarked the word, a move that Sodalicious fans apparently find utterly ridiculous, even though they're perfectly fine waiting in a line of cars to guzzle down 64 ounces of insulin-corrosive fluid.
So now there's a hefty social media backlash against Swig, with the inevitable hashtag battles popping up in defense of Sodalicious. Swig, on the other hand, is trying to stay above of the fizz (pardon the pun), probably because their caffeine buzz wore off.
how I felt when I found out @swig is suing @Sodalicious as told by the cast of The Hills pic.twitter.com/fUC1MDbz6N

— mallory moon (@mallorymoon2) September 14, 2015
@Sodalicious NEWDRINK IDEA:the 'bitter swig' just straight lime juice.To commemorate how effing bitter Swig is that yall are doing it better — mary arndt (@MaryPerson) September 14, 2015
LN I dreamed the spirits of the prophets cried out from the dust to warn us. You can't copyright the word dirty, they said #TeamSodalicious

— JJ Feinauer (@jjfeinauer) September 15, 2015
I mentioned these soda fountain places in
my previous post
, because I think they are such a brilliant evolution of Utah Mormon culture. You can tell a lot about a place from their choice of caffeine consumption, from the Chinese and their green tea, to France's obsession with espresso, and England's prim and proper tea presentation. America is known for guzzling copious amounts of coffee to keep up with their exhaustive work ethic, but in Utah, where tea and coffee are largely taboo, soda is the dominant beverage, and both Swig and Sodalicious are a natural market response to a longstanding cultural norm. I guess you could say this war goes far deeper into Utah's cultural identity than mere flavor shots.
In the end, Swig may have a case, since they did legally and wisely trademark the term "dirty." However, both companies are guilty for using the word "dirty" to sell sugary drinks in the first place, which is gross and weird.