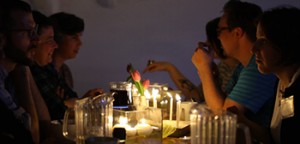 My church is the subject of a fantastic article, "Dinner — and the gospel — is served, at St. Lydia's" by Ansley Roan in Duke Divinity's publication Faith & Leadership.
Volunteer cooks arrive at the Brooklyn Zen Center around 6 p.m. on Sunday nights. A chalkboard sign, the kind that might advertise a restaurant's nightly specials, pops up on the sidewalk. As guests show up, they're given a name tag, newcomers are introduced to the regulars, and all are invited to chop vegetables, set tables or fill water pitchers.

Around 7 p.m., someone strikes a gong and announces, "Come and gather around the candle!" The crowd of about 30 comes together, a volunteer taps out a rhythm on an African drum, and a song leader begins singing "Jesus, We Are Gathered."

This is not a spirituality meet-up taking Christianity for a test drive. It's not family-night supper for hipsters. This is church…
The article does a great job of capturing what's special about St. Lydia's, and also distills that into some suggestions to be used by other congregations, like this one:
In what ways are countercultural acts — like a home-cooked meal in NYC — vital to the life of a church?
Full disclosure: I'm quoted in the piece as a congregant. (Kinda dissing the competition. Oops.)
That sense of the sacred appealed to Phil Fox Rose, who visited other churches before he found a home at St. Lydia's about a year ago.

"A lot of nondenominational and emergent stuff has an overtly irreverent, unstructured, even anti-church vibe," he said. "St. Lydia's is reverent."
While Lydia's messes with people's expectations of church, it doesn't do that to maintain ironic distance, but rather to look for better ways to fully engage congregants in worship in a serious way. It's one of the main things that appealed to me from day one.
The article also goes into detail about how St. Lydia's navigated the issue of how to affiliate. It's a great read whether your interested in picking up tips about church organizing or just want to learn a little about this awesome congregation I call home. I highly recommend you read the whole thing.