Today's daily meditation in Living Faith is one of mine. The reading is: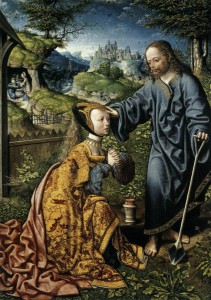 Jesus said to her, "Woman, why are you weeping? Whom are you looking for?" She thought it was the gardener and said to him, "Sir, if you carried him away, tell me where you laid him, and I will take him." Jesus said to her, "Mary!" She turned and said to him in Hebrew, "Rabbouni," which means Teacher. — John 20:15—16
Here's part of my reflection:
Mary Magdalene is the first witness of Jesus' resurrection. He appears after the male disciples leave. Not only does she see him, but he calls her by name, like the Good Shepherd: "the sheep hear his voice, as he calls his own sheep by name and leads them out" (John 10:3). In Jesus' time, women couldn't even be witnesses in court …
Please read my full reflection here.