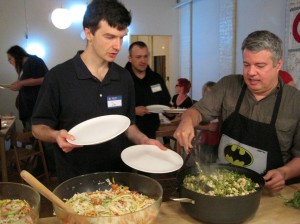 Once every month or two, I get to cook dinner for 30+ people at St. Lydia's. As I've mentioned before, my church structures its service around a meal. To be the cook is fun, but it's also intimidating — kind of controlled chaos as I coordinate all the prep and cooking with helpers, working against a one-hour countdown clock. It's like being part of a cooking reality show.
It was my turn last week. I knew there would be a lot of basil coming from our church's plot at the local community garden, so I decided to make a Thai dish. Of course, the classic Thai basil dishes are meat-based and we make all our meals vegetarian, so those were out. I landed on the idea of making green beans, some of which could also come from our garden. It's always easiest to make a one-pot meal for these events, but I needed a starch and also knew there would be lots of tomatoes and cucumbers from the garden, so I accompanied the green beans with a cold rice noodle and veggie salad.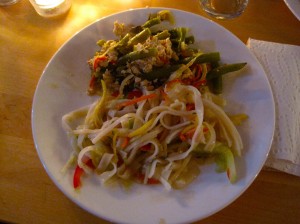 I'm my own worst critic when it comes to cooking for others, but I have to say I was really happy with both dishes. And it was also a bit of a special event at church, because Rev. Donald Schell from St. Gregory's of Nyssa in San Francisco was visiting and guest preaching to celebrate the 40th anniversary of his ordination. (St. Gregory's is kind of the parent church of St. Lydia's.) So pictures were taken.
I just wanted to share the pictures and recipes with you. But of course there's this too: sharing a meal together is so entwined with Christian fellowship as to be inseparable — we have some hermits in our history, but even our monastic tradition is mostly about hospitality and community. When I visit a monastery, we come together as a community for two activities: chanting the Hours and meals — singing together and eating together. I'm grateful to be able to do that every week.
Click the links for the recipes scaled back to normal meal proportions (just multiply by 8 or more if you want to feed a multitude):
Thai green beans with basil
Thai rice noodle salad
and click here for a gallery of the images.