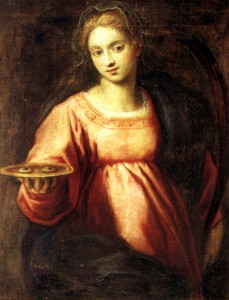 For today's Advent post, because it is the Feast of St. Lucy, the 4th century martyr, I offer this original contribution from my friend Helen Lee, manager of social media and video on demand at CatholicTV Network. It's a reflection on St. Lucy, violence and the least among us. I'm delighted Helen is letting me share this with you all here.
***
The gospel reading for the Feast of St. Lucy is brief, and at first glance appears pretty basic. Jesus spells out the parallel between Elijah and John the Baptist for his audience, and reminds them that the greatest of those born of women is less than the least of those in the Kingdom of Heaven:
Truly I tell you, among those born of women no one has arisen greater than John the Baptist; yet the least in the kingdom of heaven is greater than he. From the days of John the Baptist until now the kingdom of heaven has suffered violence, and the violent take it by force. For all the prophets and the law prophesied until John came; and if you are willing to accept it, he is Elijah who is to come. Let anyone with ears listen! (Matthew 11:11-15)
It is brief and basic, if a bit of a tongue twister. But I would challenge you to join me in a closer reading of the passage, paying particular attention to Jesus' use of the word "violence."
Violence is prioritized among sins against God, along with arrogance and oppression, throughout the Old Testament and New. The Prophetic and Wisdom books return again and again to these three offenses as those that most incur God's wrath. Proverbs 10:6 tells us "Blessings are for the head of the just; but the mouth of the wicked conceals violence." The Psalmist proclaims the promise that God will deliver the victims of violence and oppression. Isaiah 59:1-6 paints a gruesome picture of God shielding God's own eyes from the wicked, who have blood on their hands and are full of deceit and weave spiderwebs, concluding, "Their works are evil works, and deeds of violence are in their hands."
So Jesus naming "violence" as something the Kingdom of Heaven itself suffers is really fascinating given that he has already told us at this point that the Kingdom of Heaven is at hand (Matthew 3:2; 10:6). God is with us, the kingdom of God is among us, and it is, as we speak, suffering violence.
Also interesting is that little word "least" which I think holds a double meaning. Jesus says that the least of those born of water and the spirit (those in the Kingdom of Heaven) are greater than the greatest of those born of women. But he will tell us later that the last of us will enter first (Matthew 20:16), and that whatever we do to the least of us, we do to him (Matthew 25:40). It stands to reason that the ones Jesus refers to in today's reading as the "least in the kingdom of heaven" could appear to be among the least of us as well, since they both suffer violence. And we know that the least among us will enter the Kingdom first. Could we be forgetting that they are already the Kingdom of God in our midst?
St Lucy, whose feast we celebrate today, is believed to have been tortured (some accounts say by having her eyes gouged out) by the Roman magistrate Paschasius after the pagan bridegroom she refused to marry exposed her as a Christian. Like many of the virgin martyrs, her choice to refuse marriage and give herself to Christ was her undoing.
Lucy's plight reminds us that women have been victims of tremendous violence throughout history and remain so today. The realities of rape, sexual assault, domestic abuse and genital mutilation continue to serve as evidence of violence against women — as do pornography, eating disorders, ridiculous and flawed standards of beauty, hook-up culture, teen pregnancy rates and abortion rates, and the day-to-day misogyny experienced by women of every race and economic background.
Women have made great strides in terms of legal fights for equality, but violence remains, and women still suffer. And that's because they remain among the least of us, along with children, the poor and all the vulnerable. They are Christ among us.
"The Kingdom of Heaven is at hand," says Jesus. As we continue to move through Advent, let us examine the ways in which we may be accessories to violence against that kingdom, and let us reflect on how we can counteract this violence with the peace of God among us.
— Helen Lee

Helen Lee is a recent graduate of Fordham University, where she studied Theology and Communications. She currently works at The CatholicTV Network in Boston as manager of social media and video on demand.
You can see all my Advent-themed pieces together at patheos.com/blogs/philfoxrose/tag/advent/. Please share this link, or just one to my blog, with anyone you think might be interested. Thanks!