NBC mysteriously and without comment skips past the rings for the American men.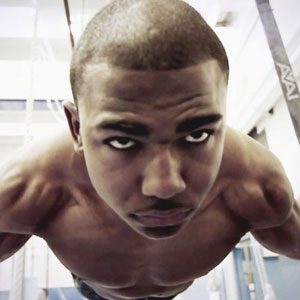 They return to show John Orozco crumble on the vault.  His foot placement on the springboard was not great — he was far to the back, where there is little spring-power to return all the force you punch into the board.  He generated little in the way of power or rotation off the board, came in low and under-rotated and so he was unable to explode off the vault.  The contact with the vault happens in the blink of an eye.  You don't have time to bend your arms and then push.  You need to be mostly extended already, in position just to pop or explode off the event.  Orozco had all the momentum from his sprint down the runway, and it just folded into the horse.  He pushed off with all his strength, but there was no way he was going to get the height and rotation he needed to perform the vault successfully.
I've had my share of bad vaults.  Once, when I was about eleven years old, I ran full-speed down the runway, leapt completely over a half-sized springboard (I blame it on the bad equipment!) and slammed full-speed into the vault.  Yes, just like that famous video of Brian Meeker:
I've also had plenty of occasions when I couldn't get my steps right.  Halfway down the runway, you start to feel as though you're either too far back or too close to the springboard.  So you shuffle your steps or you cut short your jump, and you end up with your feet badly placed on the board.  Your chances by that point are virtually nil.  You need all your speed and all your power to perform these exceedingly difficult skills on the vault.
Now, you might find yourself wondering: these gymnasts have performed these skills and these routines hundreds, in some cases thousands of times.  Why can't they do them perfectly, every time?
When I was a child, I used to ask the same thing about NBA players.  Kareem Abdul-Jabbar had shot tens of thousands of free throws.  Why couldn't he hit it every time?
In gymnastics as in most sports, there's an irreducible element of chance.  You could compete a routine you'd hit every time, but it would be too easy a routine to win a high score.  You have to push yourself — and others push themselves — and you have to push yourself harder.  The sport progresses until everyone is just on the edge.  Everyone is doing the most difficult routines they can, within reason, and the person who perfects the routine and performs it in the crucial moment wins.
But there are other factors as well.  In the Olympic Games, you've traveled half way around the world, you're dealing with time zone changes, different foods, different atmospheres, a body full of jangling nerves, an incredible amount of pressure, and quite often you'll find the equipment and the facility itself are different than what you're accustomed to.  I traveled to Brazil for the Junior Pan American Games and we competed in an arena where there were chickens in the corner and pigeons flying overhead.  In another competition, these massive spotlights were directly overhead and they were causing a lot of confusion amongst the gymnasts, who need to be able to see the world as it rotates and twists around them.
I've also had lots of competitions where the pommel horse felt peculiar.  You would think that the equipment — at this very elite level — would be so standardized that you wouldn't notice a difference.  But it's not.  Sometimes the pommels (the handles) felt thinner, sometimes they felt lower and closer to the horse, or sometimes the horse itself feels slippery.  On the floor, some are more bouncy than others.  The rings are more or less the same wherever you go, but there's a fair amount of variety when it comes to parallel bars and high bars.
In any case, Orozco scored a 15.8 in the qualifying round, and now had a 14.6 on the vault.  He's having a terrible meet.  I feel awful for him, and he's clearly fighting back tears.  Most gymnasts really dream of the individual titles — the all-around or the events.  But before the Olympics, you spend a lot of time with your team, and this team had high hopes.  Every gymnast is going to feel horrible about letting the team down, and John has melted down on the pommel horse and the vault both.  That's tough.
A 15.966 from Sam Mikulak will help with their average.  And another Tsukahara-triple-twist from Jake Dalton, and a 16.066.  Great second and third vaults.  John Orozco will be happy for that, and yet feel even worse.