I've been fortunate to come to know a lot of extraordinary people.  One of them is Ivy Ku, an exceptionally talented doctor (a Harvard, Johns Hopkins and Harvard pedigree isn't too shabby) who is also an exceptionally committed follower of Jesus.  My wife grew up with Ivy, and Ivy and her husband are seeking to love the least of these at the call of Christ.  Here is one story from Ivy, reflecting on the challenges of communicating a godly attitude toward "possessions" and generosity:
*
Red Envelopes and Clean Water: A Mother's Lenten Reflection
By Ivy Ku
My parents escaped from Communist China and grew up sharing one outdoor latrine with a whole community of "temporary" shacks. My husband was born in a Thailand refugee camp during the Vietnam War. Our parents' main concern was that we would have enough to do something with our lives. One generation later, my concern is that my children have so much they might do nothing with their lives.
My husband and I are regularly amazed at how much has changed so quickly. We grew up acutely aware of familial sacrifice. There were limited resources for education, so one sibling would go to public school so that another could go to private school. Vacations were rare. Activities that now seem commonplace (like skiing) were unthinkable then. Nowadays, our 3 year-old Karina assumes anything we want shows up on our doorstep within two days, thanks to the Amazon Prime fairy. She attends a private pre-school with a built-in "ski-week" break every February, and she's already vacationed twice in the tropical extravagance of Hawaii.
When we are tempted to take life's blessings for granted, we remember our roots and see these blessings as grace. But we often wonder: how will we teach our children, who are surrounded by abundance, not to take things for granted and to see resources as precious gifts to steward? Even when we ask Karina to give away some toys, it's not much of a stretch because she still has so many more!
For our own spiritual health this Lent, our small group of five families is actively engaging in the global water crisis to remind ourselves of the fact that almost a billion people in the world don't have access to clean water, and that every 19 seconds a child dies of a water-related illness. To tame our efficiency-obsessed lives, we're walking 6 km a day as a reminder of the great efforts some go through daily just to fetch disease-infested water. And to cultivate generosity, we're raising money and then personally matching it in order to build 10 clean water wells in Ethiopia (It will take $100,000 total). We call it Project 1040 — 10 wells in the 40 days of Lent. 
Our conversations with Karina along the way have been both fun and eye-opening. One of them went something like this:
Me: Karina, there are kids in Africa who die because they don't have clean water to drink. We want to help by digging some wells.

Karina: I'm going to use my red envelope money to buy water for poor kids in Africa! (Every Chinese New Year, family elders give red envelopes full of cash to children.)

Me: How much do you want to give?

Karina: All of it.

Me: Really? But what if you need to buy stuff?

Karina: I'll just use Daddy's and your money!
True to form, she spoke out of a paradigm of abundance. But it struck me that her perspective is a great illustration of what our attitude should be toward giving away what God has given us: I can give it all, because if I need anything, God will provide more! As much as I wanted to impart values on her, she was unwittingly challenging me to trust more in God's abundance. At the same time, by integrating the needs of the world into our daily conversations, her pretend play has taken on a sense of mission and purpose. Whereas she would normally hop on an imaginary plane to visit family, she's lately been hopping on imaginary planes to shuttle clean water to Africa! (We'll explain cost-effectiveness to her some other time.)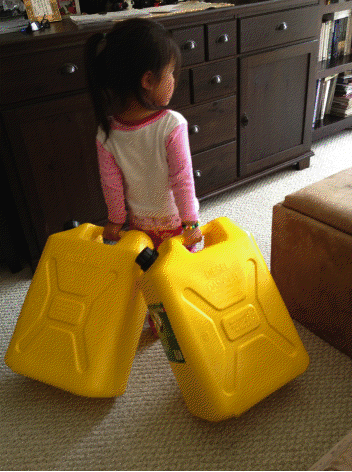 My husband and I are realizing that while sacrifice was a useful paradigm for the previous generation, we cannot recreate the conditions of our upbringing. Instead, we're learning and practicing the paradigm of stewardship, that nothing is really ours to begin with, and God entrusts us with resources in order to bless others.
Project 1040 is a small step in living out our faith values tangibly: if we succeed in our fundraising, 5,000 people will have lasting access to clean water. But at the same time it's a vitally important practical exercise for our entire family. We are trying to live out the truth that what we have is not ours to keep but ours to give. Project 1040 is a challenge to me, and an early lesson to my children — to act justly, to love mercy, to walk humbly.
Editor's Note: Go here to support Project 1040 and help deliver clean water to those who desperately need it.