Word is that the new Pope is Cardinal Bergoglio, and the best summary I could find suggests that he straddles the divide between conservatives (he resisted the movement of Jesuits toward liberation theology in Argentina) and liberals (he presses hard for social justice), the developing world (he was born in Buenos Aires and has served in the global south for most of his career) and the developed world (he's an Italian).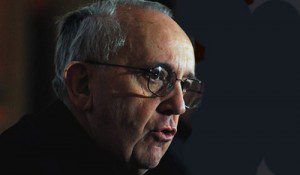 Sounds like an eminently reasonable decision to me — and evangelicals like myself who care for the unborn and for the family will be glad to hear that he's strong on these issues (see the end):
…the general consensus is that Bergoglio was indeed the "runner-up" last time around. He appealed to conservatives in the College of Cardinals as a man who had held the line against liberalizing currents among the Jesuits, and to moderates as a symbol of the church's commitment to the developing world.

Back in 2005, Bergoglio drew high marks as an accomplished intellectual, having studied theology in Germany. His leading role during the Argentine economic crisis burnished his reputation as a voice of conscience, and made him a potent symbol of the costs globalization can impose on the world's poor.

Bergoglio's reputation for personal simplicity also exercised an undeniable appeal – a Prince of the Church who chose to live in a simple apartment rather than the archbishop's palace, who gave up his chauffeured limousine in favor of taking the bus to work, and who cooked his own meals.

Another measure of Bergoglio's seriousness as a candidate was the negative campaigning that swirled around him eight years ago…

Born in Buenos Aires in 1936, Bergoglio's father was an Italian immigrant and railway worker from the region around Turin, and he has four brothers and sisters. His original plan was to be a chemist, but in 1958 he instead entered the Society of Jesus and began studies for the priesthood. He spent much of his early career teaching literature, psychology and philosophy, and early on he was seen as a rising star. From 1973 to 1979 he served as the Jesuit provincial in Argentina, then in 1980 became the rector of the seminary from which he had graduated.

These were the years of the military junta in Argentina, when many priests, including leading Jesuits, were gravitating towards the progressive liberation theology movement. As the Jesuit provincial, Bergoglio insisted on a more traditional reading of Ignatian spirituality, mandating that Jesuits continue to staff parishes and act as chaplains rather than moving into "base communities" and political activism.

Although Jesuits generally are discouraged from receiving ecclesiastical honors and advancement, especially outside mission countries, Bergoglio was named auxiliary bishop of Buenos Aires in 1992 and then succeeded the ailing Cardinal Antonio Quarracino in 1998. John Paul II made Bergoglio a cardinal in 2001, assigning him the Roman church named after the legendary Jesuit St. Robert Bellarmino.

Bergoglio has supported the social justice ethos of Latin American Catholicism, including a robust defense of the poor.

"We live in the most unequal part of the world, which has grown the most yet reduced misery the least," Bergoglio said during a gathering of Latin American bishops in 2007. "The unjust distribution of goods persists, creating a situation of social sin that cries out to Heaven and limits the possibilities of a fuller life for so many of our brothers."

At the same time, he has generally tended to accent growth in personal holiness over efforts for structural reform.

Bergoglio is seen an unwaveringly orthodox on matters of sexual morality, staunchly opposing abortion, same-sex marriage, and contraception. In 2010 he asserted that gay adoption is a form of discrimination against children, earning a public rebuke from Argentina's President, Cristina Fernández de Kirchner.

Nevertheless, he has shown deep compassion for the victims of HIV-AIDS; in 2001, he visited a hospice to kiss and wash the feet of 12 AIDS patients.
You can read the whole entry here.