I know, those adjectives don't always go together; but Benedict is a unique case. I was just in Rome where I was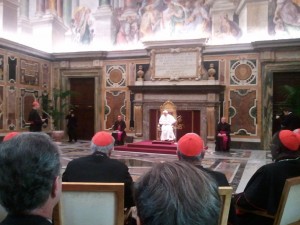 able to be at a private audience with the Pope on Thursday. I was there for his address to the Order of Malta on Saturday, when the Order celebrated its 900th anniversary. And I was there on Sunday for the Angelus.
When I left Rome on Monday morning, the news had not broken yet. Landed at Dulles and, well there you have it! History had been made just a few hours before. It's taken me a while to get to posting since the rest of our trip turned into much more of an ordeal than planned. Nevertheless, we reached our destination early this a.m.
So here are some quick thoughts. Benedict is a servant. He understands that being Pope is not simply an honorary title but that he actually has to serve all of the people of the world. He has not shunned the commitment to a deep spiritual life on behalf of the world. The problem is that he lacks the physical stamina to be the active leader that the global Church (and the rest of the world) needs. It took great courage and humility to make this decision.
Obviously, it's a groundbreaking decision because this has not happened in several hundred years. It will probably do a lot to define how the papacy moves forward in the coming years. The globalization of the world has changed the reality of carrying out the duties of the Petrine office…and others as well.
Fr. Robert A. Gahl, Jr, a professor in Rome, has a good reflection here. John Allen has a helpful q&a here.
Stay tuned…