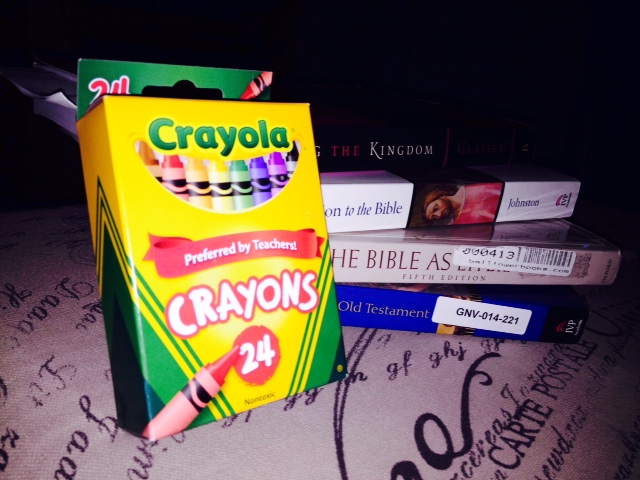 In September, I brought my textbooks, my computer and a brand-new box of crayons to my first day of class at Northern Seminary. Since it had been thirty-five years since I was last in a classroom, I figured I'd better come prepared for any eventuality. When I showed my crayons to a couple of classmates during a break, one of them broke out the neon pink and blue Doc McStuffins folder he'd brought along to hold his course syllabus.
It turns out that both of us may have been on to something. Though the course required an adult's mind to absorb the reading and handle the quizzes and writing assignments, those in the class discovered that seminary also demands of us a childlike heart.
As the class – which included an Orthodox priest, an Assemblies of God pastor, and a whole bunch of others with life and ministry experience – worked our way through the lecture and class discussion each week, our professor, Dr. Gile, would intentionally present perspectives on the material that many in the class may have never considered. He wasn't doing so in order to topple anyone's faith, but in order to help us all consider that in many cases, there were wise, believing people who'd come to different conclusions on a matter.
One young man in the class had grown up in the church and had been, I think, a youth pastor for a time before coming to seminary. Some of the professor's observations seemed to rock or rattle him, each week he had questions about what he was hearing in the class. And then, during one class discussion about the person and work of the Holy Spirit, we saw the Holy Spirit at work in him and among all of us. After hearing what was shared, this student said softly, "I have never thought about these things before. I always simply believed what my pastor said about an issue." He paused a moment, then said, "I need to look into this for myself. This is why I'm here."
There wasn't a drop of disillusionment or bitterness in his voice. Eternity poured into that classroom for a sacred moment. He'd had a breakthrough of heart that had opened his mind; both would help him follow God well as he continued his studies. He became in that moment a child, at once teachable and wise. In doing so, he modeled what it was to love God as a student.
When people ask me how I liked being a seminary student, this moment is what I recall. I relished being in the classroom. As a 19 year-old college student, my modus operandi was to attend as few classes as possible (easy when most of them were giant lecture halls) and did as little as I could to get a solid B. At 54, I became That Gung Ho Student eager to participate and learn. The last week of class, one of my fellow students asked me if I'd started work on the final paper. Before I could answer, he laughed and said, "You already finished it, didn't you?"
Busted.
I am registered for one more class next quarter. I am not sure how I'll pay for any courses beyond this point, but I'm praying for provision, a metaphorical box of crayons resting in my outstretched palms.
* * * * * * *
For those who may be wondering, I finished the manuscript for my book If Only: Letting Go Of Regret and sent it to my editor at Beacon Hill Press last week. Now I wait for her feedback in that way that requires me to ignore the enormous purple elephant stomping around the room chanting, "Will she like it? Did what you wrote make sense? Will this book connect with readers?"
Stay tuned. I'm hoping I can shove that elephant out the door soon so she can go pester someone else.