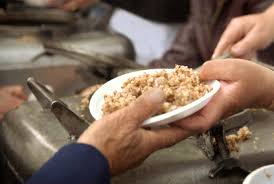 They're more willing to serve. They're less willing to serve.
The pastors and leaders who responded to my survey querying pastors and leaders about the joys and challenges of ministering to congregants over age 40 reported both as the case in their churches.
Those who reported that older members were more willing to serve were talking about this group – the 53% of age 40+ congregants who responded to a survey I did last summer telling me they were more or equally involved in their local church than they'd been a decade earlier. Here's a sampling of the positive responses about their experience with this group given by some leaders:
"More able/willing. Equally easy to work with. Of course the ones that volunteer/serve are more prone to serve where the need is."
"Most able and willing. Highly motivated and competent team workers. Easy to work with because of these traits."
"Very willing; they are the ones who don't have young children and have a bit more flexibility (and money!)"
"This has changed for us over the past couple of years. We used to have a very difficult time getting those over 40 to participate in ministries outside of Sunday morning attendance. Thanks be to God, now it seems that those over 40 are very willing to participate in the ministries of the church, and sometimes more able because they don't have young children. In my experience, many in this demographic are easy to work with, because they are mature both spiritually and emotionally, and want to serve; but others are so busy with other activities that they are inconsistent in church attendance, etc., particularly if they are well-to-do."
"I would say more willing but I don't know that they are easier to work with."
Nearly 60% of the pastors who responded to this question reported the opposite in varying degrees and for a mix of reasons:
"Usually not a matter of ease to work with. The question is whether they can overcome their rigid perceptions to engage."
"Less able – they both work."
"They are willing but reluctant. Sometimes they feel tired from all their previous involvement and want others to step in. When they do commit, they are different to work with: they are more reliable but less enthusiastic."
"Difficult due to commitments of family and job per their report."
"They want to be cared for and do as little as possible. They are not interested in and have not passed on the faith because theirs is so limited."
"With respect to serving, this gets to be a challenge. We are living busy lives, and the idea of serving on one more committee often is a challenge for all of us. We do manage to field a full slate of candidates for about twenty-five to thirty people who serve on our congregation's program boards and committees each year." 
"More difficult in the sense that it is harder to design programs that attract this age group. Children and youth programs seem to require little promotion, but adult programming, especially for the empty-nesters (50-60 somethings) is very difficult to get people to come to."
"Our Gen X servants are less willing to get bogged down in waiting for permission to act. Our Boomers have to be lured into things that hold up a mirror to themselves. Our Silent and GI generations need permission from authority figures before acting."
"Getting more difficult. I think elderly (65/70 and up) have been sidelined enough that now, many of them don't want to serve because they are tired of being treated like they have nothing to offer. I think the 40-65 group is difficult because they are (by and large) either very selfish or have been raised in guilt-based performance-based faith, so either they offer nothing or they offer everything, even the very blood in their veins, and end up burnt out and weary of church."
"Those between 40 and 65 are very active and easy to work with those in the 70-90 age group have health issues and many do not want to drive in the evening."
I realize that a person or organization doing scientific survey would likely further divide the "Over 40" category into at least two: 40-65, and 65 and up, as some pastors did in their comments. (And perhaps a surveying group would even further segment the younger group into those with kids in the home and true empty-nesters.) My unscientific survey was meant to simply sample the attitudes of some pastors as a way of listening to where the connects and disconnects may exist between older members and the local church.
A number of leaders noted busyness with work and family commitments was a factor among this age group. To a far lesser degree, health issues came up as a factor, too. Interestingly, the proportion of those who'd decelerated or dropped out of church entirely because of health issues (theirs or a family member's) among the congregants who'd taken my earlier survey was far, far greater. I wonder if once they've been sidelined from involvement at church, they tend to drop off the radar of some pastors.
Quite a few respondents noted their members over 40 challenged them with attitudes of entitlement, rigidity, and selfishness. Some recognized a trend among some older members toward ministry burn-out, and a couple of others noted that the attitudes of their members fit into larger trends characteristic of varying demographics. If coming up with a program targeted to reach older members won't "work" in the same way this approach does with children, teens and families in a church, what will?
In my next post, I'll take a look at what pastors and leaders had to say about whether they believe that those over age 40 have spiritual/emotional concerns that are not being adequately addressed within their church before I offer some thoughts about how these attitudes intersect with what I heard from the people who took my first survey.
Pastors and leaders, it's not too late to take the survey! Click here