One of the benefits of being a Patheos blogger is the opportunity to participate in a book club-themed conversation about a particular book during a certain two-week or so time period. It's interesting to get a lot of different perspectives from a variety of good thinkers on an author's work. If you decide to purchase the book in question for yourself, you'll bring all the questions and insights from book club bloggers into the pages as you read it. If you don't choose to read the book, the posts serve to acquaint you with the work, which can be helpful if the either the title or subject matter arises in conversation.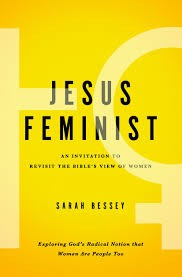 I missed the first round of internet conversation about blogger Sarah Bessey's Jesus Feminist: An Invitation To Revisit The Bible's View of Women (Howard, 2013) when it released last fall, so I'm glad to catch a second wave in order to interact with Bessey's thoughts on the topic. Bessey is a well-known Canadian blogger who had a mostly-positive, egalitarian Vineyard church experience as she grew up. As she headed to college in the Charismatic Bible belt of Tulsa, she discovered that her experience in the church with women in leadership was far from universal. After graduation, Bessey and her husband Brian moved to Texas so Brian could become a youth pastor in a large church. It was there that the dissonance she was feeling crystallized into questions about the way some churches do a work-around on the issue of women in leadership:
A woman managed the children's ministry. Her role was almost identical to my husband's as youth pastor; she preached, prepared sermons, organized programs, counseled, loved kids, trained leaders, attended strategy meetings, managed a budget, among other staff duties such as prayer meetings and hospital visits. And yet the church called my husband Pastor Brian, and she was just Lisa. I couldn't figure out why her official title was director instead of pastor. I was told the omission of "Pastor" from her title was "for appearances" – to avoid a direct challenge to certain passages of Scripture about women being silent in the church, or "You know – how women can't be pastors."
Many complementarian congregations in which we've worshipped play the same sort of semantic game. Women have the responsibility of leading (not adult men, of course…but of course…but just about everyone else), but they're told they do not have titular or directional authority within their churches. Bessey's experience in the renewal movement within her childhood church demonstrated to her that spiritual gifts did not come wrapped in pink or blue paper.
Jesus Feminist is equal measures rebuttal of complementarian practice, motivational speech for women to get out there and do what God has called them to do without waiting for someone else to give their (artificial) permission, and love letter to God. The book is remarkably free of angry kicking against gender "goads", while at the same time urging herself and her readers to act as the Spirit is calling them to do. She renounces the battles to drag her chair up to a table where there never quite seems to be enough room for her, and renounces the bile of anger and frustration that grew in her heart over the electrified boundary lines drawn by others.
We are among the disciples who are simply going outside to freedom, together, intent on following Jesus; we love him so. We're finding each other out here, and it's beautiful and crazy and churchy and holy. We are simply getting on with it, with the work of justice and mercy, the glorious labor of reconciliation and redemption, the mess of friendship and community, the guts of walking on the water, and the big sky dreaming of the Kingdom of God.
Her examples of what the expression of this freedom might look like focuses primarily on mercy and service ministry, noting that Jesus is "…interested in seeing us share our food with the hungry, invite the homeless and poor into our lives, put clothes on the shivering ill-clad, and be fully present to our own families."
Bessey's audience is younger Evangelical and post-Evangelical women, and her words which call for a response to God that is simultaneously love-struck worship and courageous action will resonate. This isn't a "do big things" pep talk, as much as it is "do small things with great love…but do them, women!" cheerleading of the best kind.
One style note: Bessey has a very, very distinctive writing style which may be off-putting to some readers. I found myself occasionally distracted by a bit of preciousness and had to re-read to refocus on what she was saying. Her popularity as a blogger may demonstrate that I am in the minority when it comes to this issue, however. Those stylistic excurses never obscured the main point of the book, which is simply that women are "…part of the revolution of love, sometimes unnamed, sometimes in the background, sometimes the receiver, sometimes the giver – just like every other man in Scrpture, to be engaged on their own merit in the midst of their own story."
Those are words we can not hear enough. And Jesus Feminist says them with unvarnished grace. Recommended.
*I received a comp copy of this book from the publisher so I could participate in the Patheos Book Club, but the free cost did not influence my review here.