When I talk about money with others, the conversations tend to head in one of two directions: either toward Dave Ramsey-type personal finance issues or toward anxiety-tinged discussions of general economic trends, like dim job prospects for recent grads or the real estate meltdown.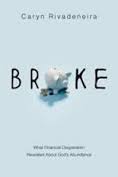 The conversation I wish I were having a little more frequently with others is the kind of conversation Caryn Rivadeneira is having with readers in her newest book, Broke: What Financial Desperation Revealed About God's Abundance. "When my husband and I asked God if we were really living as we should be, as he would want, when we asked him to put us on the path he'd have us, God let us go broke," she wrote. "He was using our time near the poverty line, treading in debt, to draw me near, to make me over, to answer a prayer bigger than my material needs." But connecting the dots between that prayer and God's answer was a journey that exposed areas of self-sufficiency, comparison and fear in her, even as she learned some valuable, relatable truths about the nature of God's abundance.
After a season of sticking to the "why" prayers…I ventured back into real prayers. After all, exploring God is all well and good, but so is eating and keeping a roof over my family's head. So as our financial crisis moved from bad to dire, my prayers became more specific. Send a job already! Send me some work! Kill some distant, ancient relative for whom I'm the secret heir! Anything! Just help! Help! Help!

And this time, as each prayer was met with nothing – no new job, no more work, no dead relative – I'd decided there could only be two options: (1) God didn't care, or (2) God wasn't there. I'd grown weak and weary believing God was having us wait for some "purpose", that God was just waiting to answer prayers for the "right time".
The weakness and weariness highlighted the toll the combination of stress and unanswered prayer had taken on Rivadeneira. But it was also the place from which she gradually learned to trust God in new ways. She doesn't sugar-coat the difficulty of the process, and her vulnerability (leavened with a good measure of humor) makes the medicine of her message easy to digest. One small quibble: though the book focuses on the spiritual lessons she learned, I would have liked to have seen a page at the end of the book with a list of resources for those who are in tough financial straits.
A whole lot of us are just a couple of paychecks away from the situation in which the Rivadeneiras found themselves. Some of us are even closer than that. And if we slide over the edge, we may discover, as the author did, that we may be broke in more ways than we realized. I'd recommend Broke to those of us who've been there, those who are living on the edge of broke, and for some of those who feel they currently possess a measure of financial security. As the last few years have taught us in our society, our stuff, houses or 401(k)'s can't protect us from being broke. Caryn Rivadeneira's book affirms that there may be far worse things than a drained bank account.
* I received a review copy of this book from the publisher. Thanks, IVP!