An update from the Women's Ministry front:
I've been at pastel tables featuring tea cups and doilies, making small talk with church ladies. I've gone to women's "retreats" that were nothing more than glorified teachfests with a side of craft projects, teary testimonies and awkward ice-breaker activities. I've been a part of women's Bible study groups that have been a reader response echo chamber: "What do you think this verse says?"/"I don't know. What do you think it says?"/"The notes in my study Bible say that the verse means…"
I didn't really imagine I would ever learn anything much from most of these women's ministry efforts other than how to buff up the surface of my Christian life. They certainly didn't factor into my actual discipleship journey. But in search of church friends, I swallowed hard, held my nose, and gave women's ministry events the ol' college try. I've accepted the reality that I'm an odd duck who likes reading theology, involvement in serving the community, and tends to gather friends who'd rather go deep than have a shiny, doily-covered surface. It was validating for me to discover a few years ago that other women struggled with women's ministry "norms", thanks in large part to Amy Simpson's words, Halee Gray Scott's spot-on letter, and Sarah Bessey's seminal post on the subject.
When we moved to this community three years ago, I hoped to get to know some other believers. I contacted Carol, a woman I'd met through a writer's group, to ask her if she knew of any good Bible study groups in the town. Based on my past experience, my expectations were pretty low, but decided that doing a craft project or two was the price I'd have to pay to get to know a few people in our new town. It turns out that Carol, a recent seminary grad, was at the time the head of women's ministries at a local church. I decided to attend the study she was leading that fall.
I am happy to report that I've done a total of zero craft projects. Not only that, the Digging Deeper study has become a meaningful, motivating part of my walk with the Lord. Carol's seminary training, intellectual and spiritual hunger, and teaching gifts have created a place where it is safe to ask questions, share stories from our lives and even disagree with one another. We've done studies developed from the "ground up" tracing the pilgrimage of the Jewish people through Ezra-Nehemiah, gleaning truths about grief and transition from Ruth, exploring the nature of faithfulness and joy in Philippians, and have even mixed it up with an occasional pre-packaged study like Ann Voskamp's One Thousand Gifts. During year two, Carol invited me to assist her in the teaching duties, and it's been a joy to pray and brainstorm with her as we've written material. Her seminary education and voracious reading habits make her teaching both stimulating and spiritually challenging.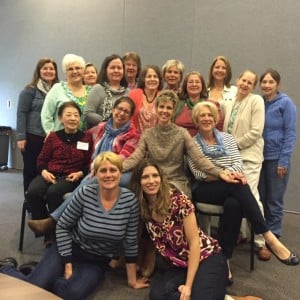 Carol has never been content to allow Digging Deeper to simply be another Bible study group. At least twice a year, we've gone out of the building as a group to serve at other local ministries. We've taken a few spiritual "field trips" as well, this year visiting both the South Asian Friendship Center and the Illinois Holocaust Museum. (Note: the latter wasn't even my idea – it was Carol's!)
The women of Digging Deeper are the real stars of the group. They span the decades from thirties to seventies, and reflect a wide variety of life experiences. I have learned so much about the Lord from both what they've shared in class discussions as well as how many among the group have endured adversity. Suffering tends to strip us of pretense, and I detect little pretense among my friends in the group.
I think part of the remarkable DNA of this group comes from the fact that the women come from a wide variety of churches – Catholic, Lutheran and a mix of Evangelical/non-denominational congregations. Those differences add color and texture to our conversation and prayer. In fact, those differences may be the greatest gift to our study time together.
In some of my earlier women's ministry experiences, the Bible studies and events seemed to be perfumed with a subtle peer pressure that pushed women in a congregation to be more like either each other or the pastor's wife or whoever was the leader. Perhaps this was because most everyone in attendance came from the same congregation, and discipleship was often framed in terms of imitating the leader as she imitated Christ. In the hands of insecure leaders, this peer pressure imitation often extended to an unspoken but tangible expectation that "disciples" would parrot a leader's speech patterns, clothing styles, and social habits in addition to her (perceived) spiritual life. In other words, fear – of being excluded, of being perceived as "less-than" the others – bubbled just under the surface.
There is no such pressure in Digging Deeper. We focus on the Author and his Word, and respect the viewpoints of the others in the room. It's easy to learn and grow when fear isn't a factor.
I have. And I'm grateful.
Have you had a positive experience with women's ministry – or have you given up on the whole enterprise because is it just too much peer pressure or teacups `n doilies silliness for you?