When it comes to event planning, I am a person who loves a themed event. Think a pirate party for a five year-old boy, complete with pirate-themed games, a cake that looks like a ship, and eye patches for all the mateys.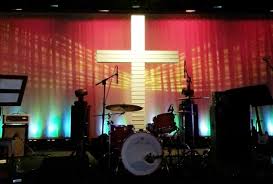 My love of themed-events played well when I was planning and producing church services. If you gave me a sermon series topic, I'd look for songs, videos, readings and other service elements that supported the theme. Since the sermon is the main course in most Evangelical church settings, making sure that all the other elements of the service complemented that meal. Those side dishes needed to be fresh, tasty and creative. There was no re-running ever a service element; it was understood to be the church equivalent of reheating great-aunt Edna's Lima Bean Surprise Casserole.  Though it was great fun for a brainstormer/creative like me to find a place in the church to use my event-planning skills, there were times when it occurred to me that the constant quest for the new (call it creativity if you must, but the two are not the same!) in content and delivery was often more about flash than it was about substance. Our inelegant but creative non-liturgies were too often marked by novelty for novelty's sake.
I have since learned to appreciate liturgical traditions, which stand as a time-tested rebuttal to faddishness in preaching and attendant flashy production values. There is nothing weirder than sitting in a room with a pastor and worship leader and batting around topics for the next sermon series. Those conversations often focused on perceived problems with the people in the church, which meant they were driven by reaction. The pastor would say, "I've had quite a few couples come in to see me because they're having money troubles." His counseling of these couples led us to conclude that the church was in need of a sermon series about finances. Frankly, most of the sermon series themes for the church were determined in this way. This fix-it mentality was well-meaning, but usually fell short of having a vision for whole-church discipleship. I've been a part of many conversations with leaders from a variety of low-church traditions, and have heard the same refrain. The problems in a congregation are the inspiration for an upcoming sermon series. This may explain why so many churches keep circling back to messages on marriage, money, and time management.
A.J. Sherrill addresses this constant, exhausting quest for novelty in his excellent Leadership Journal post entitled "Teach The Calendar, Follow The Story". He names the antidote in his piece:
…I have come to find a freedom in boundaries pertaining to following and preaching the Church calendar.

Following the Church calendar year after year is simply the spiritual discipline of narrative recall. We are like spiritual amnesiacs, often forgetting who God says we are before lunch.

In the Scriptures, the command to "remember" as a spiritual practice occurs at minimum 219 times. I'd call that emphatic. Therefore, living (and preaching) the calendar over the course of every year, the Church learns the movement of God toward and through creation.

But if God has a movement toward creation that we are called to remember, what is that rhythm? The calendar is one of the ways to best comprehend God's activity in creation. In short, it is among the best discipling tools to be formed by the shape of the gospel. God's relation to creation, which the calendar annually guides us into, is prepositional.
Sherrill, a pastor, learned the value of following a fixed worship calendar – and repeating it yearly! – from regular attendance at a Reformed synagogue. I commend his piece to you if you, particularly if your church is given to sermon series, or even if it is known for it's commitment to "verse-by-verse" exegetical preaching. Frankly, the verse-by-verse method through a book of the Bible is just another way to do a sermon series.
Due to some needs in our extended family, my husband and I are currently attending a "sermon series" congregation. We've heard sermon series about time and money management techniques, motivation for the needs of the global church, and conflict resolution tips. The creative programming around these messages is top-notch. But ultimately, this approach leaves me disconnected from why any of this matters. Though God is honored, each bit feels like a separate file folder of information made memorable by the creative service elements. There is no larger narrative that links any of it, save the one I already knew before I came to the church.
Certainly, a calendar-based approach has some downsides (boy, howdy, repetition can become rote). However, teaching and liturgy connected to God's Story removes the wearying process of trying to discern what's next. Interestingly, for congregations willing to go there, it also opens up both space and boundaries for creative elements. Many drawn to liturgical, calendar-based worship traditions cite the comfort of predictability in their services. I believe comfort and predictability are temptations, not assets. There should be space for creativity, as well as a willingness to go "off page" in response to the moving of the Holy Spirit.
What do you think? If you attend a church that relies "sermon series" or "verse-by-verse" messaging, how do you find this arrangement helps you best connect with God's redemptive work in your life, family and community? If your church adds creative elements to these services, do they function as entertainment or help cement the good news you've heard during corporate worship? If you attend a congregation that uses formal liturgy, do you agree with Sherrill about the value of following a traditional liturgical calendar of some kind? Why or why not?
I'll have more thoughts on this topic in the coming months, as my book on the subject of calendars will be released in 2016 by NavPress.  
Image via Creative Commons 2.0 search/Google